Punxsutawney Living Center
A Great Place to Start
Living large in a small community
Students at Punxsutawney enjoy a small-college atmosphere, making the transition from high school to a large university much easier. You'll take all the same courses that students at the main campus take, but you'll receive more individualized attention from your professors.
At Punxsy, everyone knows your name. Because the atmosphere is smaller, you'll easily make friendsfriends for keeps. And you'll make manyacquaintances, too, through all the great programming the campus has to offer during your downtime.
We're a small, friendly group of people, and we're looking forward to your arrival.
More Like a Home ... Less Like a Dorm
Our students said they wanted change. We listened.
IUP's Punxsutawney campus residence hall is conveniently located within walking distance of your classes. It offers more privacy, yet more space, for students who want to live in a place that's more like home.
Suites are available in two- and four-bedroom units, each withtheir own common area and bathroom.
The Punxsutawney Living Learning Center features the following amenities:
microwave and full-size refrigerator in each suite
high-speed wired and wireless Internet connections

individually controlled air conditioning and heating units
trash disposal and laundry facility

carpeting

Sample Floor Plans
Below are two of the common floor plans for the Punxsutawney Living Learning Center:
Four-Bedroom Apartment
One bed per room,two bathrooms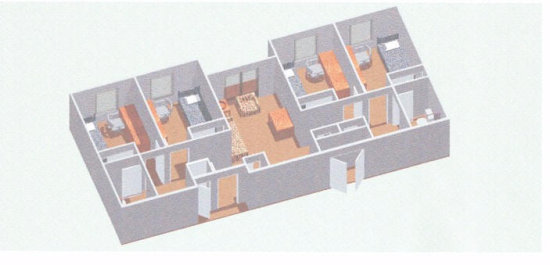 Two-Bedroom Apartment
Two beds per room,two bathrooms