Erika A. Fenstermacher, a junior psychology major with a sociology minor and a concentration in gerontology at Indiana University of Pennsylvania, has been appointed by Pennsylvania Gov. Tom Wolf as the student trustee on the IUP Council of Trustees.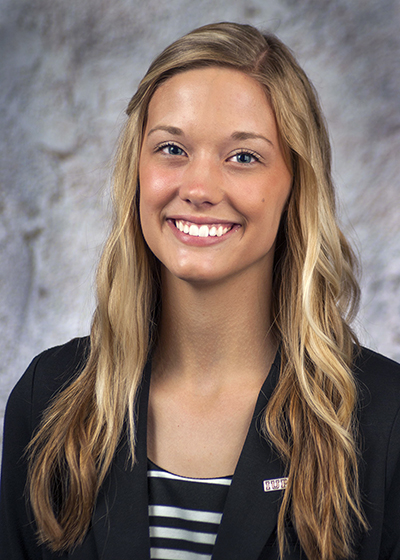 Fenstermacher is the daughter of Tricia Fenstermacher, of Corry, and the late Bruce Fenstermacher.
Her appointment was finalized on March 17, 2016. She will serve in the role of student trustee until her graduation in 2017.
"IUP's student trustees have been outstanding leaders and valuable assets to this university and to the Council of Trustees," IUP President Michael Driscoll said. "Erika continues this tradition—she has strong leadership and communication skills and is an involved member of the university community. Our student members offer a very important perspective, and I am pleased to have Erika selected for this position."
Members of the Council of Trustees are volunteers appointed by the governor to be responsible for financial oversight of the university and for ensuring compliance of university policy with state law. The Council of Trustees meets quarterly and other times as needed.
Fenstermacher is enrolled in the Psychology Department honors program. She is vice president of the IUP Ambassadors and a member of Psi Chi psychology honor society. She completed a practicum on the behavioral health unit (geriatric) at Indiana Regional Medical Center. She is a student worker in the IUP Office of the President, and she volunteers for the Indiana County Humane Society. She was a presenter for the university's opening of the academic year program and for the university's September 11 memorial program.
"I feel incredibly honored to serve alongside IUP's current trustees, some of the wisest and most generous people I have ever encountered," Fenstermacher said. "I know this position will present its challenges, but I am looking forward to professional and personal growth within these next two years."
A 2013 graduate of Butler Area Senior High School, she was editor of her school's yearbook at the high school and junior high levels. She also was a Butler Memorial Hospital Junior Auxiliary member (candy striper) and served as vice president, treasurer, and assistant treasurer of the organization. She was named candy striper of the year in 2013.