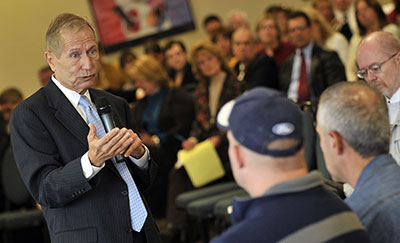 David Werner, interim president, addressed a crowd of about 125 during his second open forum for employees on Friday, October 1, 2010, in the Crimson Event Center.
Werner, who said he held similar events as chancellor of Southern Illinois University Edwardsville, plans to hold a forum each month on different days of the week and different times in order to accommodate as many schedules as possible. The intent is to give faculty and staff members an opportunity to ask questions about any issues they choose.
Werner opened the session with a moment of silence in respect for the passing of student Baria Miley.
He updated the group with information about the resolution of some issues that were raised at the first session on September 2, 2010. These included a request for consideration of creating a partnership with National Cyber-Forensics and Training Alliance and information about athletic scholarship funds requested from the Co-op board of directors. Meetings have been scheduled on both of these issues.
Werner also offered information about the university's Performance Funding allocation. (See Performance Funding for 2010–2011 Higher than Expected, Werner Announces.)
Friday's questions began with an inquiry about the rationale for moving from Moodle to Desire 2 Learn (D2L) for online coursework. Chief Information Officer Bill Balint explained the history of Moodle and the Pennsylvania State System of Higher Education's request that universities switch to D2L so that universities share a common technology for distance learning. Each university in the State System pays a "fair share" for this project, Werner noted.
Balint said that IUP will continue to support Moodle for as long as permitted, but training for new faculty will be on D2L (this training will start in February) and the software for migrating from Moodle to D2L just became available.
An AFSCME representative asked that Werner consider resuming monthly meetings with the IUP-AFSCME president, as has been done in the past. Werner said that he has already been in contact with the IUP-AFSCME president to begin discussions on this request.
Other topics addressed based on audience questions were as follows:
Would it be possible to establish a "speech zone" away from the Oak Grove to avoid disruptions to classes and events by other speakers? This concept has been dismissed by the courts as a violation of the First Amendment, but no one is allowed to use amplification during events in public spaces without prior approval by the Division of Student Affairs. University Police or the Division of Student Affairs should be notified with concerns.
When will information be available on the budgetary planning process? Werner said that two all-day meetings and one two-hour meeting have been held to date, but most of these sessions have been informational in nature. The executive team is in the process of reviewing all positions, including open positions. He said that it is too early to rush to judgment because of so many unknowns—state appropriations, enrollment, tuition, and a possible change in legislative position on supporting higher education. He agreed that periodic communication would be positive and he would work to offer that as clear information becomes available.
In light of the email about no retrenchment for tenure and tenure-track faculty, will there be furloughs for other employees? While the goal is to avoid that if at all possible, it is too early to say that furloughs will or will not happen, Werner said.
Can anything be done to address "embarrassing" and overly expensive Spring Commencement ceremonies? Werner said he is open to suggestions for changing Spring Commencement, which will likely be held in the Kovalchick Convention and Athletic Complex in Spring 2011. He agreed that it should not be an expensive event but an occasion for parents to celebrate their child's graduation.
President Werner closed by noting that good ideas are not limited to the second floor of Sutton Hall. He commented that there were some positive ideas forwarded by the Council of Deans. He also noted he is aware of issues raised by offices about the real need for reports and procedures that are time consuming related to the Purchasing Card, and that this needs to be examined.