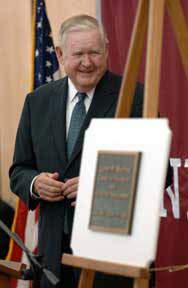 IUP President Tony Atwater provided the following remarks about U.S. Representative John Murtha, D-Johnstown, who died Monday, February 8, 2010, at age seventy-seven:
I am saddened to report the passing of Congressman John P. Murtha.
The nation and the commonwealth have lost a tremendous leader and public servant. Congressman Murtha was always about helping those in need and maintaining the security and strength of our nation. He will be deeply missed but revered for his passion, leadership, and devotion to others.
Congressman Murtha had a longstanding commitment to workforce development and worked closely with regional chambers of commerce to improve the economic situation in rural communities throughout Western Pennsylvania. IUP was privileged to recognize his efforts with the naming of the facility at Northpointe as the John P. Murtha Center for Education and Workforce Development.
Congressman Murtha also was a strong advocate for diabetes education and awareness. In 2007, IUP began its IUP Cares programming with a presentation on this topic, and we were proud to feature the congressman as a speaker during the event.
In 2003, we dedicated the John P. Murtha Institute for Homeland Security in recognition of his foresight and commitment to homeland security initiatives and his confidence in IUP's homeland security initiatives. IUP was privileged to present Congressman Murtha with an honorary Doctor of Laws degree in 1996.