PASSHE Chancellor Cavanaugh to Take Part in Forum with Faculty, Staff
Posted on 12/3/09 9:35 PM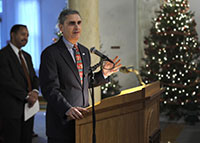 Dr. John Cavanaugh, chancellor of the Pennsylvania State System of Higher Education, will be on campus Friday, December 4, 2009, for an open forum with faculty and staff in Gealy W. Wallwork Hall (formerly the Sutton Suites) multipurpose room from 9:00 to 9:45 a.m.
During his time on campus Thursday, Chancellor Cavanaugh held a student forum—attended by some thirty students representing a variety of disciplines and organizations—and attended the Holiday Open House in Sutton Hall's Blue Room to meet informally with the IUP community.
Cavanaugh became PASSHE's chancellor on July 1, 2008. From 2002 to 2008, he served as president of the University of West Florida in Pensacola. He served as provost and vice chancellor for academic affairs at the University of North Carolina at Wilmington from 1999 to 2002. He also held various positions at the University of Delaware, including vice provost for academic programs and planning and associate provost for graduate studies.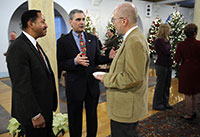 Cavanaugh began his academic career as an adjunct instructor of psychology at Indiana University at South Bend while completing work on his doctoral degree at the University of Notre Dame. His first permanent appointment was as an assistant professor in the Department of Psychology at Bowling Green State University in 1980.
He held various appointments at Bowling Green, including head of the developmental psychology program and director of the Institute for Psychological Research and Application. He also served five years as director for behavioral research at the Northwest Ohio Dementia and Memory Center at the Medical College of Ohio at Toledo.
Recently, Cavanaugh was selected to serve as vice chair of the American Association of State Colleges and Universities' Committee on Policies and Purposes. This committee serves as AASCU's think tank to help the organization remain on the cutting edge of issues in higher education and society at large that will have an impact on member campuses.