IUP Fairman Centre Ribbon-Cutting Ceremony Photographs
Posted on 9/21/09 6:52 PM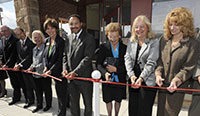 Photographs of the ribbon-cutting ceremony marking the completion of the IUP Fairman Centre renovation are now available on the President's office website: IUP Fairman Centre Ribbon-Cutting Ceremony Photo Gallery.
The ceremony took place Friday, September 18, 2009, at the center, located at 101 Mahoning Street in downtown Punxsutawney.
Photos were taken by Keith Boyer, university photographer.