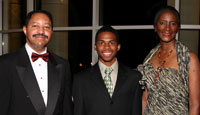 IUP freshman Sutan Aquil Nafis Magruder was selected as the second recipient of the Dr. Tony Atwater and Dr. Beverly Roberts-Atwater Presidential Scholarship. Tony Atwater is president of IUP.
Magruder, son of Michael and Kimberly Dzikowski, Lafayette Parkway, Williamsport, is a 2008 graduate of Loyalsock Township High School. He is a psychology major at IUP and a member of the IUP Marching Band.
The scholarship, established by the Atwaters, is designed to recognize and support outstanding high school graduates who are first-generation college students. The scholarship also honors students who demonstrate leadership qualities and who contribute to their communities.
Magruder received the scholarship at the annual IUP Homecoming Ball on Oct. 4.