Two Indiana University of Pennsylvania biology majors are just a little closer to their lifetime careers, thanks to Indiana Regional Medical Center's Pre-Med Undergraduate Summer Internship.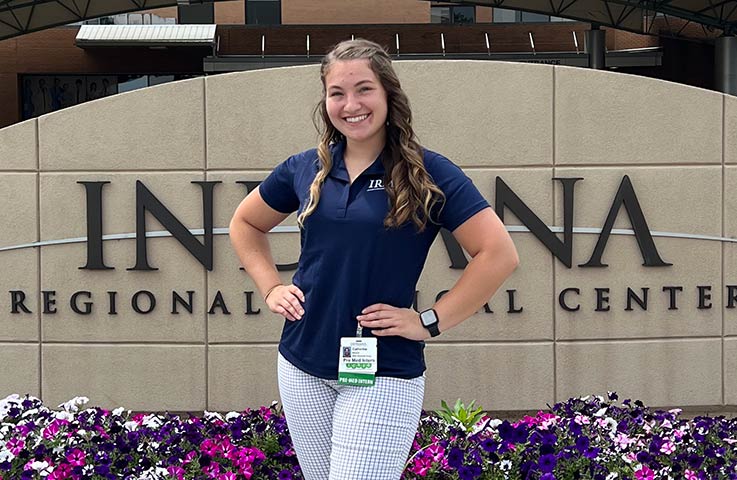 Catherine Martsolf, a pre-medicine biology and economics major from Clinton, and Noah Mattingly, a biology pre-medicine major from Harleysville, completed the eight-week internship in August. The internship provides students the chance to shadow physicians from eight different medical specialties, one each week of the eight-week internship.
The program, in its third year, was developed and is directed by IRMC's Dan Clark, director of minimally invasive and robotic surgery and director of the IRMC Comprehensive Breast Center.  In addition to offering interns one-on-one time with experienced physicians, it also includes networking opportunities and visits to medical schools in the region.
Only eight students are accepted for the program each year, based on a competitive application process.
Participants are required to attend every day of the eight-week session. Upon completion, participants receive a certificate documenting their 320 hours of participation that can be used for medical school applications. Medical schools require applicants to complete around 300 hours of clinical exposure, with at least 100 of them shadowing experience.
"I'm extremely proud of these students," Clark said. "They are some of the best and brightest, and they have been well prepared and are very eager to learn. I want to thank all of my colleagues at IRMC for their willingness to work with the interns, and I also want to recognize IRMC and president and CEO Steve Wolfe, the Indiana Healthcare Foundation, and Dr. Amanda Vaglia with the Family Medicine Residency program, for their support of this initiative, which will help to shape the next generation of physicians. It provides valuable experience for these students and often leads to career-long relationships, and I am very proud of IRMC for its willingness to provide this opportunity."
The interns shadow physicians in six core areas: general and vascular, orthopedics, family practice, pediatric medicine, anesthesiology, and emergency medicine and urgent care; and have the opportunity to choose from two of seven elective specialties: ear, nose and throat, obstetrics and gynecology, intensive care unit, pulmonary medicine, cardiology, oncology, and pain management.
"Last year was the first year for IUP students to be chosen for the program, and it was an incredible experience for them, and this year's experience was equally valuable," N. Bharathan, IUP professor of biology and coordinator of IUP's pre-medicine program, said.
"IRMC's internship program provides a significant advantage to the students for their medical school application process, but it also gives them an honest and real-life perspective on a career as a physician," he said. "We continue to appreciate Dr. Clark's commitment to the next generation of physicians and the valuable resource that IRMC provides to our students and to our community," he said.
Martsolf, daughter of Rich and Delilah Martsolf, a 2021 graduate of West Allegheny Senior High School, describes the experience as "truly amazing."
"It was incredible to be able to get the amount of experience and hours that the internship offered," she said. "I met so many great physicians who I now look up to as mentors, and the internship also gave me a chance to meet the IRMC medical residents and medical students. Building those ongoing relationships and networks is really important. They were great about sharing their experiences and guiding us—I don't think I could ask for anything more. The internship made me want to become a physician even more than when I started the program," she said.
Martsolf serves in the Pennsylvania Air National Guard at the 171st Air Refueling Wing located in Pittsburgh. She is president of the Student Veterans Organization and is a member of Rho Tau Chi military service fraternity. She is a student worker in IUP's Military and Veterans Resource Center.
She is vice president of the IUP women's rugby team, is a Crimson Guide (admissions tour guide), is a tutor for biology pre-medicine students, is a member of the American Medical Student Association, and volunteers at IRMC and at the local VA clinic. She also volunteers with IUP's Haven Project, which provides education and builds awareness about domestic violence and supports domestic violence survivors.
In addition to her service with the National Guard, she also has two off-campus jobs.
Martsolf joined the military in December 2020 while still in high school and missed her first semester at IUP because she was in basic training. She started out at IUP as a business major dual-enrolled at the Community College of Allegheny County while still in high school. She switched to biology when she attended her first semester at IUP but decided to continue her education as a double major.
"My involvement with the military has played a big role in my IUP journey," she said. She's worked to re-energize the student veteran's organization on campus, and her intention is to continue her military service while in medical school. She will be the first physician in her immediate family.
A junior at IUP, she's open to both an MD (medical doctor) and DO (doctor of osteopathic medicine) training program. "I'll be applying to as many schools as I can. I think it doesn't matter where you practice medicine, but how you practice medicine."
She learned about the IRMC internship through one of the medical residents, Tanvi Bharathan (daughter of N. Bharathan) and from Clark's presentation to the IUP medical school club. "Tanvi helped me to get a shadowing opportunity at IRMC, and Dr. Bharathan has been great at guiding students through the medical school application process," she said.
Mattingly, son of David Mattingly and Carolyn Mattingly, is a 2021 graduate of Souderton Area High School. A member of IUP's Cook Honors College, he is president of IUP's branch of the American Chemical Society and IUP's American Medical Student Association and is a supplemental instruction leader.
"I've been interested in a career in medicine for most of my life," Mattingly said. He learned about the IRMC internship through Clark's visit to the American Medical Student Association and through Bharathan.
"The internship provided great clinical experiences with so many different doctors," he said. "We really got a feel for what a day in the life of a doctor in many different specialties is like," he said.
Mattingly said that his IUP coursework was good preparation for the internship. "The doctors at IRMC in the program were really great teachers and allowed us to get a true first-hand look at medicine and the work that they do," he said. "I had some expectations about what life as a doctor would be like, but this experience provided a much better understanding of what the job really is and the workload of a doctor. When we shadowed a doctor, if he or she stayed for 11 hours, we stayed with them."
Mattingly is a junior at IUP, and his plan is to go to medical school after graduation. He'll be switching his biology major to biochemistry. He also has plans to shadow a doctor near to his Philadelphia hometown and is thinking about volunteer opportunities in the medical field.
"This has definitely been a great opportunity," he said. "We were able to get so many clinical hours, and very significant and meaningful experiences—this was not just about standing back and watching, we did hands-on work," he said. "This is a great opportunity, and having it at a hospital in my college town was very convenient."