Indiana University of Pennsylvania is one of only two universities in the United States chosen to host students participating in the Secretariat of Research, Innovation, and Higher Education State of Yucatan scholarship, a short-term, intensive English language and American culture program.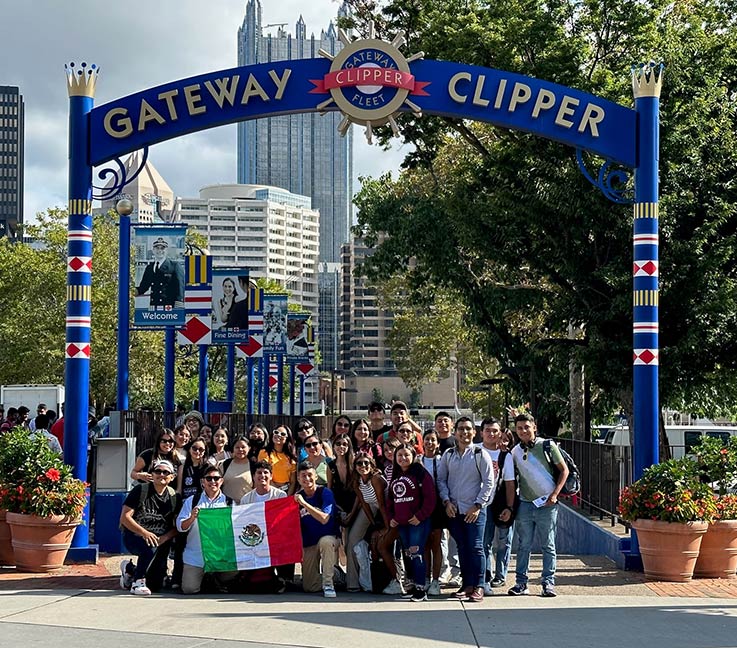 IUP will host 30 undergraduate students from a variety of universities in Yucatan from August 23 through September 13.
The visiting students will complete coursework at IUP's American Language Institute, IUP's long-standing intensive English program. The ALI has welcomed students from around the world for 40 years, providing intensive English programs for students who want to improve their language proficiency and cultural understanding of the US.
While the visiting students have a variety of majors, many are majoring in tourism and gastronomy at their home institutions, so they have been invited to visit classes in IUP's Hotel, Restaurant, Tourism, and Event Management program.
The students, who will live in IUP's Ruddock Hall and eat in North Dining during their stay, will participate in a number of excursions to local sites and to well-known tourist destinations like Niagara Falls.
IUP received $80,000 in funding from the State of Yucatan to host this year's program, which provides a full scholarship to the students chosen for the program, including travel costs.
"We had a wonderful experience during our inaugural year of hosting the Yucatan students," Associate Vice President for International Education and Global Engagement and Executive Director of the ALI Michele Petrucci said. "In fact, the program officials were so pleased with the educational and cultural opportunities we provided to the students while at IUP that they asked us to host double the number of students this year, which we were very happy to accommodate," she said.
"One of the goals of the program is to help the visiting students improve their English language skills and to expose them to American life and culture," Petrucci said. "However, it's also an incredible opportunity for IUP students to meet and learn from our visitors, providing a chance for them to meet new people from different countries and cultures."
Petrucci learned about the opportunity for IUP to host the students through an international education program. The proposal, developed by Petrucci and Emma Archer, director: International Student Scholar Services and director: American Language Institute, was chosen by the Yucatan program directors, who liked both the strong international reputation of IUP's Office of International Education and the programming offered by the ALI.
"It's very gratifying to be selected for this program for a second year, especially as one of only two American universities chosen to be host institutions," Petrucci said. "It's been an excellent partnership, enriching the visiting students and IUP students, faculty, and the community," she said.