Indiana University of Pennsylvania has received $290,000 to continue to host the Fulbright Distinguished Awards in Teaching Program for International Teachers.
This is the eighth year that IUP has been funded for the program; in all, IUP has received nearly $1.8 million for the initiative.
2023 Fulbright Participants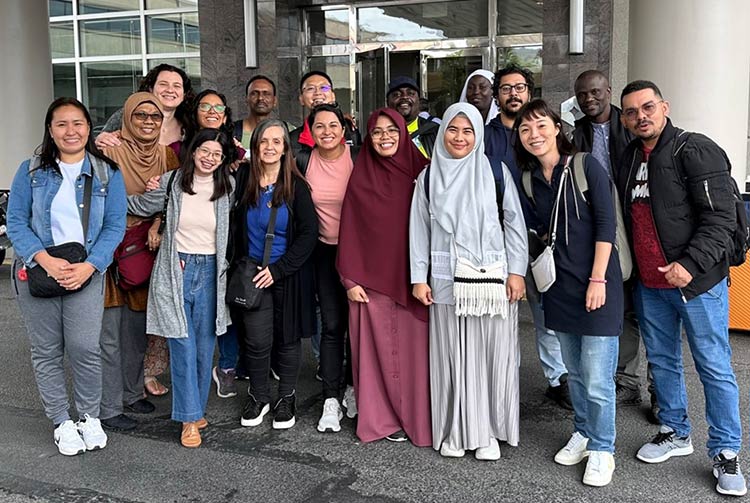 For fall 2023, IUP is one of only three universities in the nation chosen as a host institution for the program, which is sponsored by the US Department of State, Bureau of Educational and Cultural Affairs, and administered by the International Research and Exchanges Board.
The program brings selected international primary and secondary educators to the United States who have been selected as Fulbright recipients in their home countries. While in the United States, they will take courses for professional development, observe, and share their expertise with US colleagues, and take back what they've learned and share it in their home countries. The educators also will complete individual or group research projects, designed to be relevant to the educators' education practice in their home country.
This fall, IUP will host 17 educators from 10 countries, who will complete professional development coursework at IUP and be guest teachers in the Indiana Area School District and in the Pittsburgh Public School system. The international educators are a mix of primary and secondary teachers.
The visiting teachers will be at IUP and the area schools from August 16 to December 11. They come from Brazil, Greece, India, Indonesia, Mexico, the Philippines, Senegal, Singapore, Taiwan, and Uganda.
Since spring 2016, including the 2023 cohort, IUP has hosted 137 international educators through this program and its forerunner, International Leaders in Education Program. Eight scholars who participated in the program have returned to pursue graduate programs at IUP.
Michele Petrucci, associate vice president for International Education and Global Engagement and director of IUP's Office of International Education, is the grant principal investigator. For the second year, Sue Rieg, retired interim dean of the College of Education and Communications and professor, is partnering with Petrucci to oversee and fulfill the program goals and objectives. 
The program began as a joint initiative of the Office of International Education and the College of Education and Communications under Lara Luetkehans during her tenure as dean of the College; Luetkehans currently serves as provost and vice president for academic affairs at IUP.
"It continues to be an honor for IUP to be selected to host this prestigious K-12 educator program," Luetkehans said. "The Fulbright DAI participants are chosen for the program because they are some of the most outstanding professionals in their countries, so this program is a win for all involved—the visiting educators learn from their experiences here, and we gain a great deal from them," she said.
"IUP's ongoing selection as a host institution for this program reflects IUP's reputation and expertise in teacher education and the outstanding reputation of our Office of International Education," Luetkehans said.
"Our local school district and the Pittsburgh Public School District continue to be great partners and collaborators for this project," Petrucci said. "The administrators, teachers, and students have warmly welcomed our Fulbright educators, and the district leadership has worked very hard to provide opportunities for these teachers to interact with their teachers, students, and families."