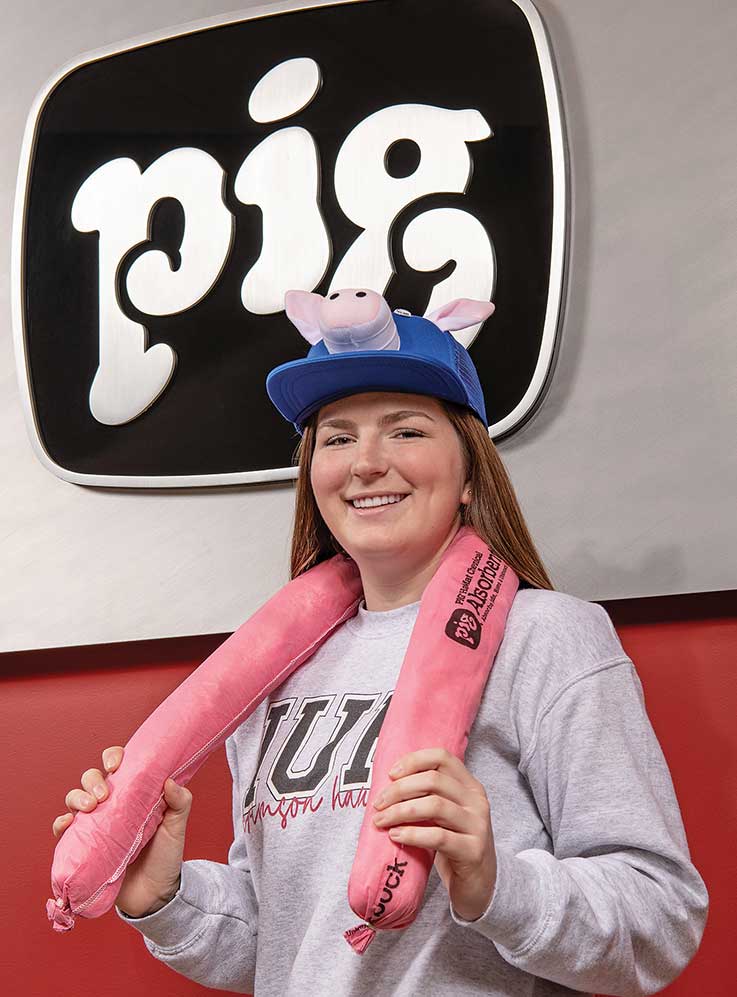 There were no slips or falls on Elizabeth Kinney's path to a full-tuition scholarship at Indiana University of Pennsylvania.
Kinney, a senior at Cambria Heights Senior High School and daughter of Mike Kinney and Pauline Kinney, of Dysart, is a 2023 recipient of an IUP Dean's Merit Scholarship to study safety sciences at IUP.
This renewable, four-year scholarship provides funding for tuition for up to 120 credits of undergraduate study for recipients who maintain at least a 3.25 grade point average at IUP.
Kinney was chosen for the scholarship based on her research project, "Slip Resistance," sponsored by New Pig, of Tipton, which Kinney presented at the eighty-third annual Pittsburgh Regional Science and Engineering Fair in fall 2022.
New Pig offers the world's largest selection of absorbent mats, socks, booms, pillows, and wipers, as well as award-winning spill control and liquid management projects. New Pig products have been used in more than 300,000 industrial, commercial, institutional, utility, military, and government facilities in more than 100 countries.
"The Pittsburgh Regional Science and Engineering Fair is an incredible opportunity for IUP to meet some of our region's best and brightest, and Elizabeth and her research project was extraordinarily strong," Steve Hovan, dean of IUP's John J. and Char Kopchick College of Natural Sciences and Mathematics, said.
"Based on her excellent research project, the IUP judges all agreed on Elizabeth as our recipient of the Dean's Merit Scholarship. We are truly looking forward to the wonderful things she will do here at IUP.
"Because of the support of New Pig for her research, and the experience she gained in the New Pig testing lab, Elizabeth will definitely hit the ground running at IUP," Hovan said.
Kinney will begin study in IUP's Department of Safety Sciences in fall 2023.
Kinney, who has been involved with the Pennsylvania Junior Academy of Science program since eighth grade and has won a number of awards for her presentations, has always done a laboratory project for the competition. She was doing research in her science class about slip resistance and discovered the New Pig website.
After talking with her father (an employee of New Pig), Kinney contacted New Pig about her interest in slip resistance research, and the company offered her the opportunity to use the on-site lab and the company's pendulum test machine, which predicts slip resistance.
Kinney set up a date to meet with the New Pig lab engineer and then did research on which materials she wanted to test. New Pig ordered those materials for her for the testing.
She tested 10 different materials and found that an unsealed stone paver was the most slip resistant in both wet and dry environments.
"The New Pig lab engineer was great—he showed me how to use the machine, we did a test run, and then he let me do my research," Kinney said. "It was a really great experience, and I was very proud that the company wanted my research."
"New Pig takes pride in supporting our employees, their families, and our community," said Chris Norris, lab technician at New Pig. "It was an honor to be able to provide the support needed for Elizabeth to successfully design and complete her chosen project for the Science and Engineering Fair. We are proud of Elizabeth's accomplishments and humbled that we were able to play a role in her achievement of earning a well-deserved scholarship to attend Indiana University of Pennsylvania."
Kinney, who earned three varsity letters in soccer and two varsity letters in softball, is vice president of her senior class, is a member of the National Honor Society, and is active in the school's Students Against Destructive Decisions, Spirit Club, Student Council, and Ski Club.
She is also a member of the Fellowship of Christian Athletes and has been a member of 4-H for 10 years, earning a number of 4-H awards and banners. She was also the 2022 American Legion County Fair Princess.
"I grew up wanting to try everything," Kinney said. "I really enjoyed athletics, but as I got older, I found that my love of science really grew. I've been very fortunate to be able to combine both of these and be successful with both of them," she said.
Kinney said during her college search, she looked at a number of majors offered at IUP, including athletic training, in great part because her high school athletic trainer is an IUP graduate—but in the end, she decided to follow her love of science.
"I remember the science fair very vividly," she said. "I was having sort of a bad day with one of the judges, and when I came back after lunch, I saw two people looking at my board. It turned out it was two people from IUP. We talked for the rest of the science fair about opportunities for me at IUP, and after they left, I ended up talking with Dean Hovan, who gave me a lot of information about majors in his college, including safety sciences.
"After the science fair, I kept the option of safety sciences in my mind, but I was also thinking about a biology major and a career in medicine," she said. "Then, I met a safety sciences professional who invited me to job shadow her for a day, and I knew it was the major and the career for me," she said.
"I'm really excited to begin my safety sciences studies at IUP and very grateful for the scholarship," she said.
IUP's Department of Safety Sciences offers a bachelor's degree and a minor in safety, health, and environmental applied sciences, and both a master's degree and PhD in safety sciences. IUP's program is one of the first safety programs in the nation and one of the only programs offering degrees through the doctoral level.
The Safety, Health, and Environmental Applied Sciences bachelor's degree program is accredited by the Applied and Natural Science Accreditation Commission of ABET. The Department of Safety Sciences has been in the forefront of safety education since its establishment in 1971.