Indiana University of Pennsylvania's Celebration Weekend honored alumni and friends for philanthropic support, volunteerism, service, and professional excellence.
Celebration Weekend began with the Celebration of Philanthropy on April 21, which honored donors and recognized the impact of this generosity on students.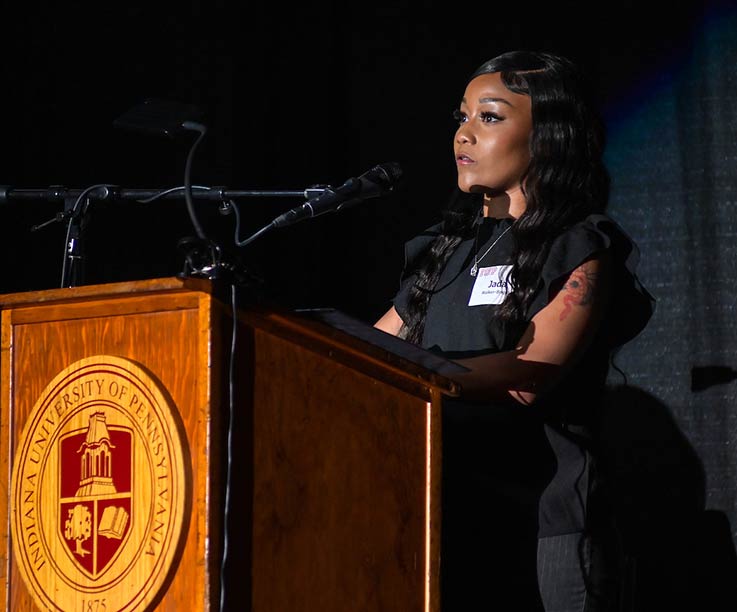 The Celebration of Philanthropy event featured remarks from Jada Walker-Briggs, a communications media major from Glassport. Walker-Briggs is a Welcome Week leader for IUP, works with IUP TV-Sports, and is a member of the first cohort of the IUP Crimson Scholars Circle, a program designed to increase retention of Black and Brown students.
The event also recognized several IUP athletic teams, including student-athletes and coaches from the football team, swimming and diving team, track and field and cross-country teams, women's volleyball team, women's soccer team, and men's and women's basketball teams.
Wally and Donna Putt, long-time Indiana residents and supporters of the university, were recognized for their service to the Indiana Advancement Council and the IUP Foundation Board.
Vice President for University Advancement Khatmeh Osseiran-Hanna recognized the gifts of time, talent, and treasure from many individuals, which resulted in 2,302 scholarships totaling more than $4.6 million awarded to 1,715 students during the 2021–22 year. Osseiran-Hanna also said that more than 2,600 students have used the IUP Food Pantry and Help Center during the 2022–23 academic year.
"At IUP, we are working under the guidance of our strategic plan that was designed to transform the culture at IUP to enhance the student experience by fostering exceptional student-centeredness," Vice President Osseiran-Hanna said.
"As we weave the goals of our strategic plan into our university priorities, we remain focused on student-centeredness, and the well-being of our students is always at center stage. As we set the course for the next 150 years, we will strive to lead the way in health and wellness; increase our focus on student success; and continue to strive for IUP excellence—increasing affordability and value, ensuring IUP is welcoming and accessible to all, and capitalizing on new technologies and breakthroughs," she said.
IUP President Michael Driscoll also offered remarks during the Celebration event, thanking everyone who has supported students and who continue to make an impact in the lives of IUP students.
"Perhaps the most significant impact that donations have on students is the sense of community that is fostered through philanthropy," President Driscoll said. "When donors give to IUP, they are not just giving to an institution, they are investing in the lives of its students. The support creates a sense of belonging and a shared sense of purpose among students, faculty, staff, and alumni, creating a community that is united in its commitment to making a difference in the world."
The Celebration event ended with students from Oliver Lo's musical theater workshop presenting "Found/Tonight."
Volunteer Recognition Breakfast
Weekend events continued with the Volunteer Recognition Breakfast on April 22.
During the Recognition Breakfast, the Award of Excellence for Outstanding Volunteer Leadership was presented to four members of the IUP community in four categories: Advancement Support, Affinity Services, Aspiring Alumni, and Regional Impact.
The Award of Excellence program is sponsored by the IUP Division of University Advancement, and awards were presented by Vice President Osseiran-Hanna.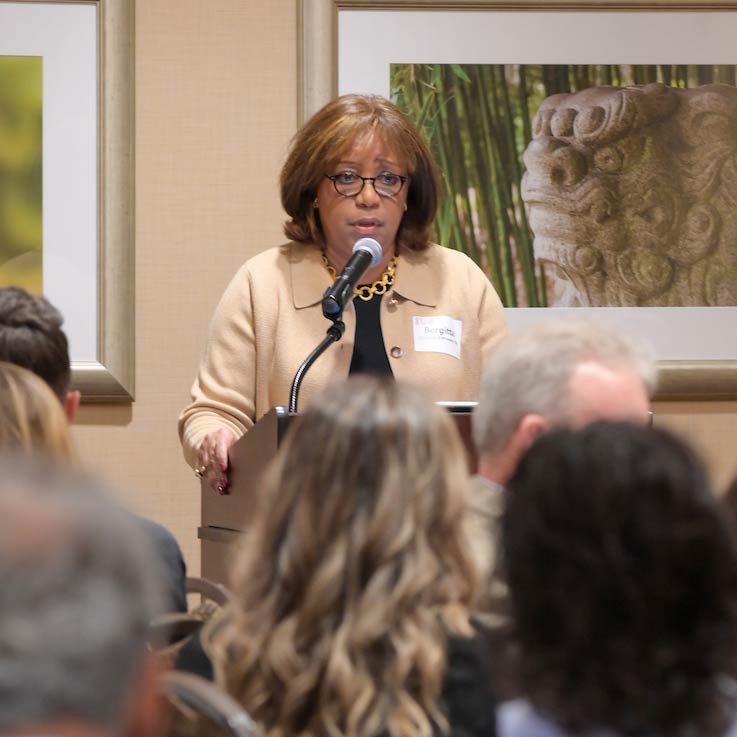 Bergitta Edison Cotroneo, a 1980 English major graduate, was the keynote speaker for the Volunteer Recognition Breakfast.
While studying at IUP, Controneo worked as a writing tutor for students in the Department of English. After graduation, she pledged to Alpha Kappa Alpha sorority, Theta Pi Omega graduate chapter. She is currently a member of IUP's African American Alumni Scholarship Committee.
Controneo is a senior health care executive with more than 25 years of experience leading complex care delivery systems and nonprofit medical professional societies, foundations, and associations. She currently serves as the deputy chief executive officer and executive vice president at the Alliance for Academic Internal Medicine, a consortium of five medical professional associations and three affiliates.
Prior to her current work, Controneo served as chief operating officer at the National Patient Safety Foundation. Her earlier career opportunities include serving as a senior director at two of the nation's top-ranked hospitals: Wills Eye Hospital, where she was executive director of the Retina Service, the Retina Fellowship Program, and the Macular Degeneration Foundation; and the Children's Hospital of Philadelphia, where she was a director of Ambulatory Practice Management and director of Medical Staff Affairs.
While at the Children's Hospital of Philadelphia, Controneo was recruited to the American Society of Plastic Surgeons and Plastic Surgery Education Foundation, where she was assistant executive director of Education, Meetings, and Research.
She serves on several boards and councils, including the Women Business Leaders of the US Healthcare Industry Foundation Board of Directors, where she is the inaugural chair of the DE&I Committee; the Virginia Hospital Center Foundation Women's Health Circle Advisory Board; and the Carol Emmott Foundation Leadership Council. She was the first African American member of the Medical Group Management Association Board of Directors, where she was elected board chair in her second term.
Controneo is a Fellow of the American College of Medical Practice Executives, MGMA's certifying body, and holds a certificate in nonprofit leadership from Georgetown University's Center for Nonprofit Leadership.
Aspiring Alumni Award
The Aspiring Alumni Award was presented to Maura King, who will graduate in May with a perfect 4.0 grade point average in her childhood and special education major and middle-level mathematics minor.
King, of East Brady, is the daughter of Steve and Petula King. She currently serves as the student member of the IUP Council of Trustees, IUP's governing board. A member of the Cook Honors College, King is on the executive board of the Cook Honors College and is a member of the State Pennsylvania State Education Association, the IUP Ambassadors student-alumni group, and the Catholic Student Association. She participated in the Christian Appalachian Project in Kentucky in 2020 and 2022, rebuilding and repairing homes; was an IUP Welcome Week leader in 2022; and volunteered with the St. Thomas More University Parish.
Regional Impact Award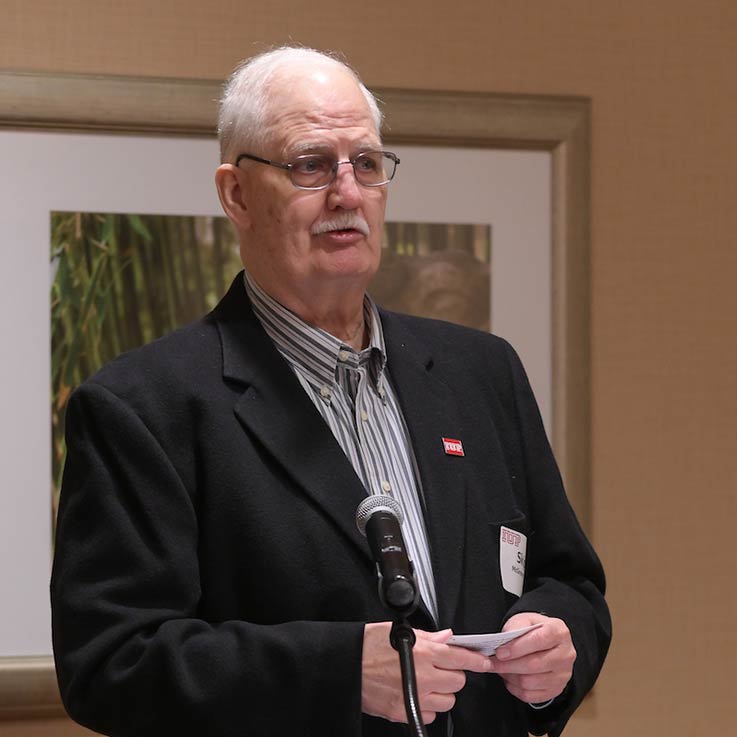 The Regional Impact Award was presented to Charles "Skip" McGreevy, of Indiana, a 1971 education-special education graduate of IUP.
The Regional Impact Award recognizes a volunteer who champions IUP in their region by engaging alumni through events, supporting recruitment efforts, or providing internship or employment opportunities.
McGreevy retired from his work as an educator, serving as a special education teacher in the Indiana Area School District for six years and as an educational consultant in a number of positions with the ARIN Intermediate Unit for 25 years. He was president of Yarnal Incorporated, working as the owner and manager of the Phone Booth Restaurant in downtown Indiana for 23 years.
He is a Pennsylvania Interscholastic Athletic Association officer for football, basketball, and softball and is a member of the Tri-County Interscholastic Official Association and the Tri-State Intercollegiate Basketball Officials Association. During his career, he was a member of many professional education organizations.
He is an active member of the community, working with the American Cancer Society, the American Red Cross, the Indiana County Health and Human Services Executive Board, the Miracle League of Indiana County, the Indiana County Chamber of Commerce (serving as a chamber ambassador), the YMCA Big Hearts Little Hands Executive Board, the Indiana County Humane Society, and the Indiana Regional Medical Center. He has been honored with the Indiana County Red Cross Walter Stiltz Award, the American Red Cross Clara Barton Award, and received the Indiana County Male Civic Leader Award in 2013.
He has also been an active IUP supporter and volunteer, working with the IUP Alumni Association. He is a member of the IUP Loyalty Society and IUP Leadership Society.
Advancement Support Award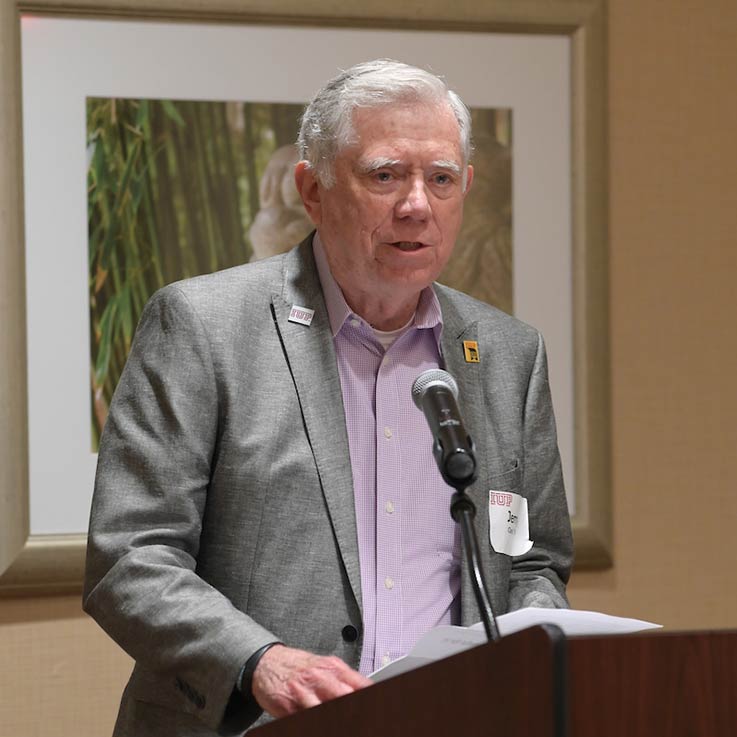 Jerry Clark, a 1969 business management graduate of IUP, was honored with the Advancement Support Award, which recognizes alumni who continually inspire others to give back their time and treasures to advance IUP.
Clark, of DuBois, and his wife, Cheryl Dunlap Clark, made a gift to establish the Jerry and Cheryl Clark Boardwalk Bowl Scholarship, one of a family of endowments established by members of IUP's Boardwalk Bowl football team to benefit student-athletes in the football program. The Boardwalk Bowl family of endowments was established in 2020 to perpetuate the Boardwalk Bowl Annual Scholarship, which was established in 2012—to date, 14 student-athletes have received 21 scholarships totaling over $109,000. Clark continues to support the projects and encourage additional funds from alumni to the scholarships.
While at IUP, Clark was a member of Theta Chi fraternity and played football and baseball. He was inducted into the IUP Athletic Hall of Fame and into the Punxsutawney Area High School Athletic Hall of Fame.
After graduating from IUP, he enlisted in the Army and attended the Infantry Officer's Candidate School at Fort Benning, Georgia. He was on active duty for two years and served for 20 additional years in the Army Reserves.
After his active-duty service, he worked at First Commonwealth Bank, retiring as an assistant vice president after a 29-year career. He recently retired from his work in the Right of Way Division of Stantec Consulting.
He continues to be active in his community, serving as a treasurer of the Fraternal Housing Corporation of Epsilon Eta and as a trustee of the Punxsutawney Athletic Foundation.
He has also served on the board of the DuBois Public Library and is the past president of the organization. He is a past treasurer of the Keystone Tall Tree Girl Scout Council, is a past member of the DuBois Area United Way Budget Committee, and is a past board member of the DuBois Little League.
He is a member of the IUP Athletic Advancement Council and is on the IUP Boardwalk Bowl Football Endowment Campaign.
Affinity Services Award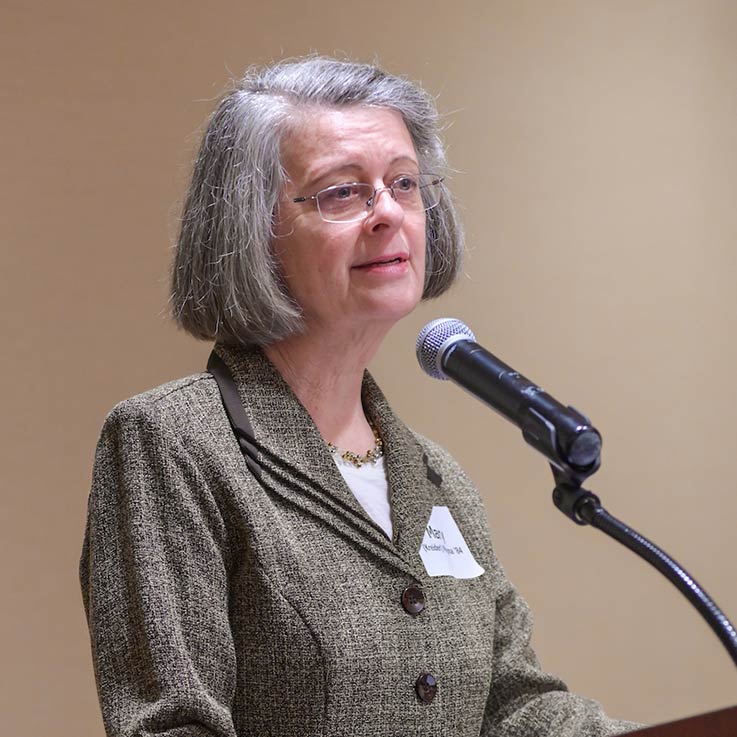 Mary Megna, of Mechanicsburg, a 1984 music education graduate of IUP, was honored with the Affinity Services Award, which recognizes a volunteer who engages alumni through reunions, departmental, and or college activities.
An active member of the IUP Marching Band, Megna was one of the organizers of the Marching Band's 100th-anniversary celebration in November 2022 and co-produced a video about the band's signature performance piece, "Amazing Grace," in honor of the band's centennial anniversary.
The video, Sustaining Grace, made its debut during the reunion event and is a fundraiser for the Marching Band. It tells the story of the marching band's historical journey with the song "Amazing Grace." She and the video co-producer, Jarrell Verbecken, a 2018 communications media graduate and marching band alumnus, raised $13,500 to create the video, which features the former band director and marching band alumni.
Following her time at IUP, Megna continued her education with a master's in mental health counseling and has her own business as a life coach for seniors, helping them with aging issues. Prior to that work, she was a mental health counselor and a music educator and was a flutist in the Continental Army Band for five years.
Distinguished Alumni Awards
Weekend events concluded with the university's Distinguished Alumni Awards gala on April 22.
Over the past 36 years, the IUP Alumni Association has honored less than 400 of its more than 150,000 alumni with the Distinguished Alumni Award. This award is the highest award given by the IUP Alumni Association to university alumni. It is presented to alumni who have achieved distinction in their chosen fields or who have demonstrated loyal and active service to their alma mater.
Recipients for 2023 are:
Christina Bennike, originally of Hatboro-Horshum, now of Doylestown, 1988 international studies graduate of IUP. She is executive director of Conflict Recovery International, a global not-for-profit organization based in Sarasota, Florida. Conflict Recovery coordinates the efforts to help vulnerable and marginalized survivors of conflict and disaster through effective sustainable recovery solutions.
Patrick Cambier, originally of Industry, Beaver County, now of Palm Harbor, Florida, a 1982 biology (pre-med) graduate of IUP. He is now a partner with Interventional Cardiology Consultants and is board certified in internal medicine, cardiology, and interventional cardiology.
Rich Caruso, originally of Kane who now lives in Meadow Lands, a 1983 accounting graduate of IUP. Before creating his own consulting firm, Caruso spent parts of four decades first as a certified public accountant, and later as an executive for several companies, including positions as the chief financial officer at Ravenswood Aluminum Corp., Ormet Corp., July Products, and RG Steel; CEO at Neenah Foundry; and COO at Winner Steel. Recently, he was named to the board of directors for VPX Pharmaceutical and also serves on the board of directors at School Specialty, JWA Aluminum, and H-D Advanced Manufacturing, as well as several nonprofit boards.

Tonya Anthony Hsiung, formerly of Rochester Mills and now of Lancaster, who earned two degrees from IUP: a secondary mathematics education bachelor's degree in 2000 and a master's degree in student affairs in higher education in 2003. The current president of the IUP Alumni Association Board of Directors, she was honored with the award for service. Hsiung works as program manager and instructor for the National Association of Student Financial Aid Administrators, a position she has held since 2019.

Mary Ordakowski Moore Morgan, a long-time Indiana resident and 1991 business administration graduate of IUP. She received the award for service. Morgan completed a 30-year career at IUP in 2022 that began with her work in Annual Giving and culminated with her role as assistant vice president for Alumni and Friends, where she was a highly involved and integral part of the IUP Division of Advancement.

Brandie Smith, originally of Indiana who currently lives in Potomac, Maryland, a 1994 biology graduate of IUP. Smith is director of the Smithsonian's National Zoo and Conservation Biology Institute in Washington, DC. She oversees every aspect of the 163-acre park that attracts more than two million visitors every year. She also oversees the Smithsonian Conservation Biology Institute, on 3,200 acres in Front Royal, Virginia, as well as 30 field sites around the world. She held previous positions for the Association of Zoos and Aquariums and the Dallas Zoo.

Gen. Robin Swan (retired), originally of Ford City, now living in Arlington, Virginia, a 1978 geology graduate of IUP. As a retired Army brigadier general and current Pentagon senior executive, he has served the nation and his alma mater throughout his career. Highlights of his 32 years of active-duty military service include commander, First Battalion, 26th Infantry Regiment in Bosnia; commanding general, Coalition Military Training Team in Iraq; deputy commanding general, Fourth Infantry Division and Multinational Division-Baghdad; and director, Army Strategy, Headquarters, Department of the Army. On retirement from uniformed service, he joined the Senior Executive Service at the Tier 3 (lieutenant general equivalent) level and reports directly to the Secretary of the Army as director, Army Office of Business Transformation. At IUP, he was a distinguished military graduate from the IUP Army ROTC program. He continues to support IUP's ROTC faculty and cadets and was the keynote speaker at the program's 100th-anniversary dinner in 2016.

Col. Daniel Toven, a native of Union City and now of West Point, New York, who received a bachelor of fine arts degree in music performance and a bachelor of science in music education in 1991 and 1992. He is the commander of the West Point Band, the Army's oldest band, which is comprised of professional musicians from some of the nation's top music schools and conservatories.
Find out more about the Distinguished Alumni Award Recipients for 2023.