Hundreds of Alumni Returning to Campus Nov. 4–5 to Celebrate IUP Marching Band Centennial
Posted on 11/1/22 1:17 PM
Will be Part of Nov. 5 Halftime and Post-game Show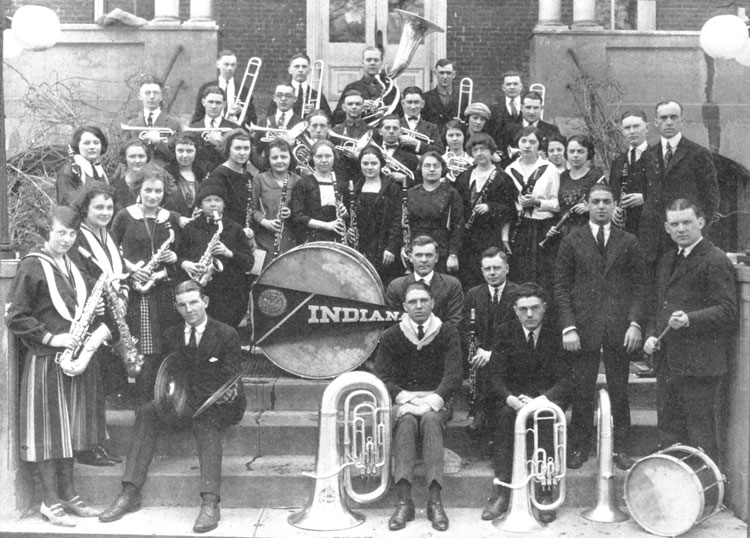 It's been a "Legend(ary)" 100 years.
More than 900 alumni and friends are expected to celebrate the 100 years of "The Legend," Indiana University of Pennsylvania's Marching Band, during events planned for November 4 and 5.
"The love and loyalty that our marching band alumni have for 'The Legend' is just incredible," Vice President for University Advancement Khatmeh Osseiran-Hanna said. "The marching band creates a connection across generations and ages," she said.
"We are very excited to welcome our marching band family to campus for this special reunion," she said.
The band had its one-hundredth anniversary in 2021 but postponed the centennial celebration to 2022 due to the pandemic.
The Marching Band is an ensemble offered through the Department of Music in the College of Arts and Humanities. It is open to all students, but video placement auditions are required in order to make band assignments. Instruments and equipment are provided to each playing member and for the color guard. Marching Band members are required to attend "Legend Week," the band camp that occurs the week prior to the first day of fall semester classes.
Band members have two-hour rehearsals on Mondays, Wednesdays, and Fridays, and play at each home football game and selected exhibitions and parades throughout the season.
"While most colleges and universities have marching bands, IUP's Marching Band is something unique," IUP Dean of the College of Arts and Humanities Curt Scheib said.
"The nickname 'The Legend' is absolutely correct—the Legend offers amazing performances from its musicians, rooted in a deep commitment to showcasing IUP at its best, and true support for one another. A love and pride for IUP and their fellow band members is the heart of every note they play and every step they take," Scheib said.
"It's not by accident that this group is celebrating 100 years. The commitment to the Legend by both current and former members is extraordinary. I am really looking forward to this weekend's events as a chance to say thank you to all who have been part of growing and sustaining this IUP tradition," he said. Scheib is a 1977 music education graduate of IUP.
In addition to a special dinner and program, returning alumni are invited to perform with the marching band during the November 5 football halftime show and postgame show. The game begins at 2:00 p.m. at Frank Cignetti Field. Starting at halftime, spectators are admitted free to the field.
In addition to a rehearsal on November 4 for the halftime and postgame shows, alumni will meet for a special alumni dinner and program on November 5. The highlight of the evening will be the debut of Sustaining Grace, a documentary produced and created by marching band alumni Mary Megna, a 1984 music education (flute) graduate, and Jarrell Verbecken, a 2018 communications media graduate.
The video tells the story of the marching band's historical journey with the beloved song "Amazing Grace."  
This video, funded through donations through a GoFundMe project, is available with a suggested donation of $30 by contacting Megna at marymegnalifecoach.com or mary.megna@verizon.net. 
All funds raised through sales of the video will be donated to the IUP Marching Band.
"Amazing Grace" (arranged by Chris McDonald) has been a tradition for the IUP Marching Band since its debut in 1981.
Megna was a sophomore the first time the band played "Grace" (as band members have nicknamed it).
"The first time we played 'Amazing Grace,' it was such a powerful experience. I've never forgotten it. I've played professionally with orchestras, with the Army band, and at private events, and I've never had another musical experience like it," Megna said.
Megna didn't realize that the IUP band was still playing the song until about 20 years ago when the IUP band was invited to play during a high school band event in her hometown of Mechanicsburg.
"They called themselves the Legend, and I kept telling everyone around me—that's me! I'm part of the Legend! And that's when I realized that I was there for the beginning of something really special that was ongoing and incredible," she said.
Megna came to campus in 2016 for the Marching Band's ninety-fifth reunion, when more than 250 alumni joined the Marching Band for a performance of "Amazing Grace" after a football game.
"It was wonderful and really emotional, but I had this feeling that young people really didn't know the history of the song," she said. "So, after that reunion, I got the idea that someone needs to tell the story, and that someone became me."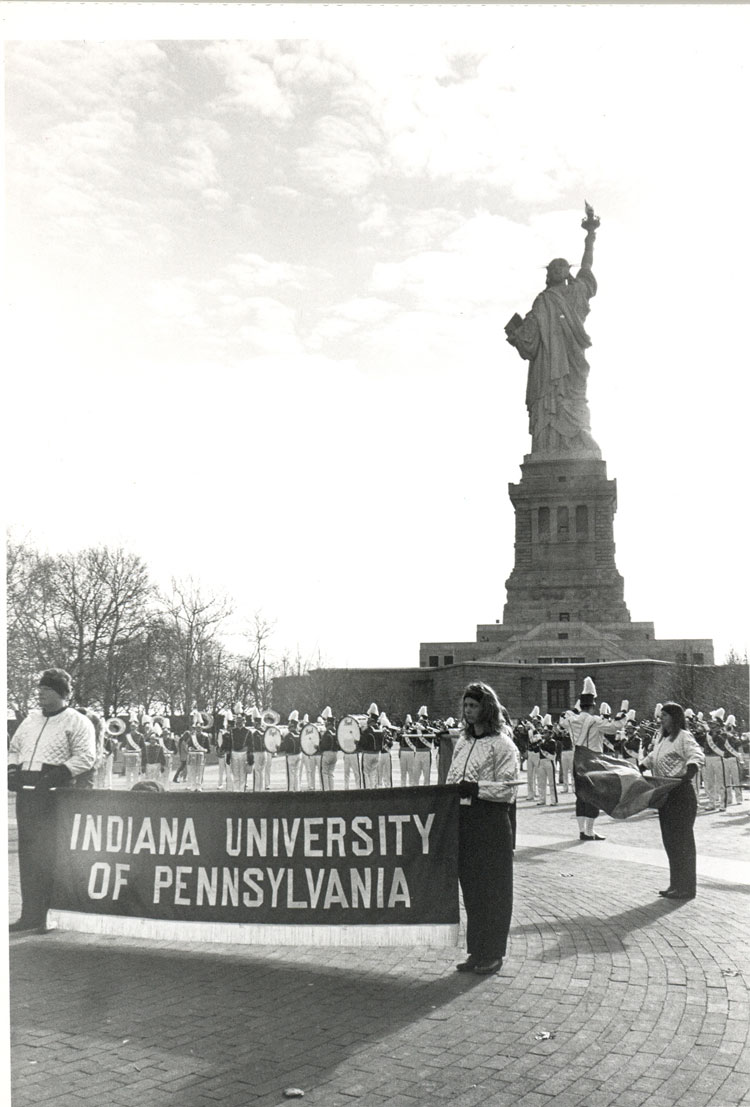 Originally, she thought it would be "about 10 minutes" long, but the story grew into a 54-minute-long documentary, starting out with what happened in 1981 when the marching band began performing the song, to today.
She created a GoFundMe page and raised $13,500, along with contacts who would become interview subjects, and also met Verbecken, managing director at VerbaMEdia of Pittsburgh, who agreed to create the video within the budget of the donated funds.
Megna selected her interview subjects from talking with long-time band director Charles Casavant and from Verbecken. She was committed to having the video be by, and with, IUP alumni or former faculty. "I wanted to tell the story of the Marching Band and this song and help the band if I can through sales of the video," she said.
"Jarrell and I really complemented each other because he knew marching band alumni from more recent years," she said. "We didn't let the coronavirus pandemic stop us—we followed all the COVID-19 safety protocols for our interviews, and we ended up with 14 alumni interviews along with an interview by Donald Robertson, psychology professor emeritus, who talked about why music affects the brain as it does."
Interviews also uncovered a number of alumni who named their daughters "Grace" after the song. "Casavant knew that there was quite a number of alumni children with that name," she said. "We include one of the 'Graces' in the video."
Megna and Verbecken also had a chance to interview "Amazing Grace" arranger McDonald. McDonald works in Nashville with a number of internationally known artists but agreed to do the arrangement for IUP because he knew Casavant's father, who was a very famous band director. "During our interview, he told us that he was really pleased to know that the IUP Marching Band was still performing his arrangement of 'Grace,' " she said.
"There's just something special about IUP, and something extraordinary about the IUP Marching Band," Megna said.
"People just want to relive their experiences here at IUP and with the marching band, even before 'Amazing Grace.' And these bonds as marching band alumni are there even if you weren't at IUP at the same time—when we interviewed the alumni, we had an instant connection and friendship—even if your time at IUP was 10 or 20 years before or after their time at IUP. It's really quite incredible."
About the IUP Marching Band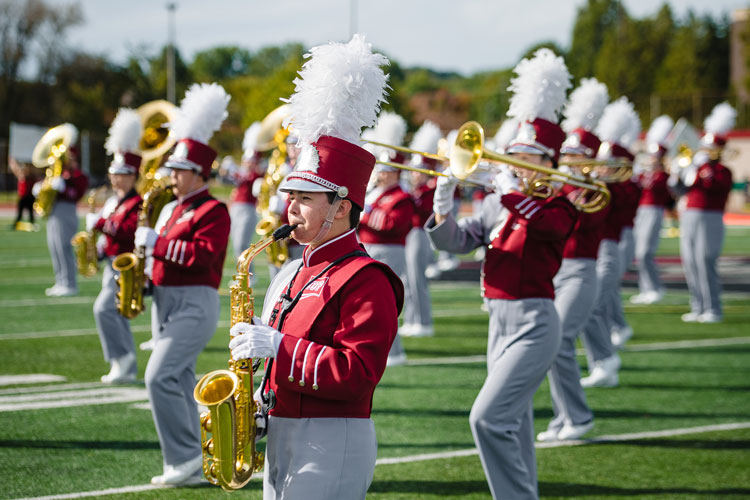 The IUP Marching Band was formed in 1921 under the conducting of D.O. Slyker. In May 1922, the 60-piece non-marching ensemble gave its first performance.
E.F. Sullivan came to the school in 1923 as director of the band and instructor in band music. In 1935, Lawrence Stitt took over the directing position. He directed for only three years, but during this time the band underwent some changes. Uniforms were purchased in 1936 and, in 1937, the band became an all-male unit.
Under the leadership of Irving Cheyette, director from 1937 to 1947, the band once again included female members. The group was disbanded in 1943 and 1944 because of World War II, but it was reorganized in 1945.
Although they had appeared as early as 1940, the first squad of majorettes was officially organized in 1947. When C. David McNaughton took over the band in 1948, he eliminated the majorettes and instructed the band in more marching drills.
In 1960, Daniel DiCicco, a former student of McNaughton, became marching band director During DiCicco's direction, the marching unit was asked to appear at half-time shows during Baltimore Colts and Pittsburgh Steelers football games.
In the early seventies, directorship changed hands from Richard Knab to Frank Dillard and finally to Charles Casavant in 1976.
In 1987, the ensemble was the official band at the US Constitution bicentennial celebration.
The attention IUP received there led to an invitation from Jacques Chirac, the mayor of Paris, to perform at the America's Day celebration of the French Bicentennial in the summer of 1989. In September of that same year, the Legend toured Washington, DC, with performances on the steps of the Lincoln Memorial and the Soldiers and Airmen's Home. In 1996 IUP made its debut performance at the annual Macy's Thanksgiving Day Parade in New York City, performing not only in the parade but also putting on a show in front of the Statue of Liberty.
The year 2000 marked Casavant's twenty-fifth and final year as director of the band. David Martynuik joined the band in 2001 as its director and served in that role until September 2021.
Nevin Saylor, a 1980 graduate of IUP who taught for 30 years in the Indiana Area School District, served as interim director of the band from September 2021 until the April 2022 appointment of Zach Cheever as assistant professor of music and director of the IUP Marching Band.
In addition to his leadership of the Marching Band, he also teaches a number of classes within the Department of Music. 
Prior to coming to IUP, Cheever studied wind conducting at the University of Colorado Boulder. He was actively involved in all facets of the band program at CU, including the Golden Buffalo Marching Band and Buff Basketball Band, all major concert band ensembles, as well as music education and conducting courses. Before CU, he taught at Trevecca Nazarene University, where he conducted both the wind ensemble and pep bands. 
Cheever is active as a conductor, educator, and composer/arranger. He has presented clinics and conducted ensembles at several institutions in the US. His compositions have been premiered by the University of Colorado Boulder, the Baylor School, and many marching bands around the country. His transcription of Missy Mazzoli's "Sinfonia for Orbiting Spheres" is available through G. Schirmer. 
Cheever holds a doctor of musical arts in wind conducting and literature from the University of Colorado Boulder under Donald McKinney; a master of music in instrumental conducting under Gregory Wolynec; and a bachelor of music in music theory and composition from Trevecca Nazarene University.