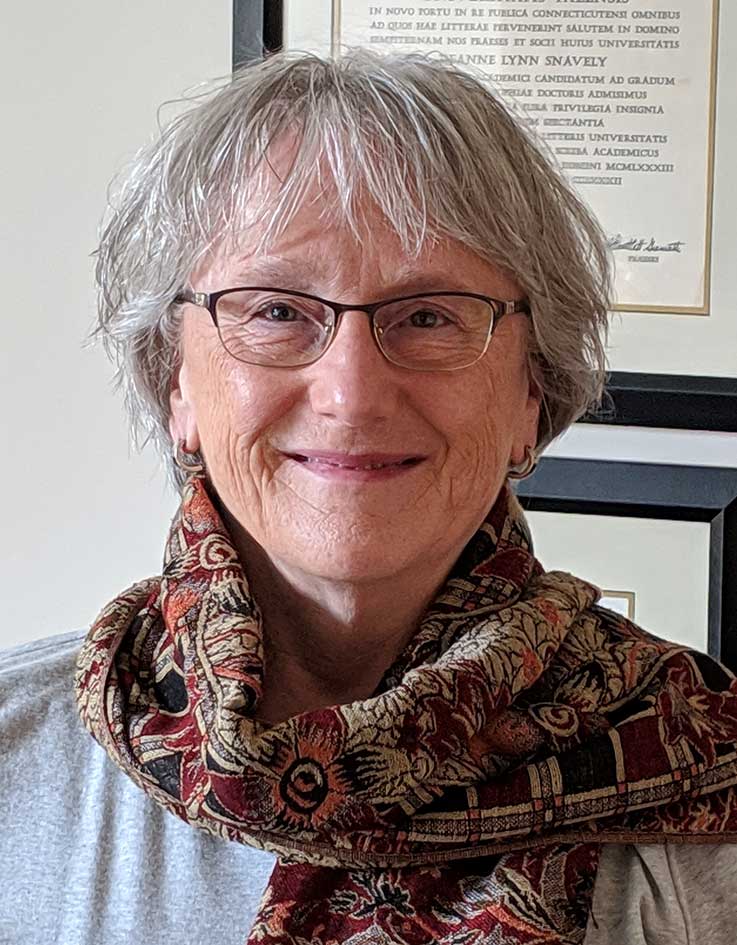 Dean Emerita Deanne Snavely
Includes Scholars Forum, Three-Minute Thesis Competition, Stem Women's Summit With Dean Emerita Snavely
Indiana University of Pennsylvania will celebrate innovative student and faculty research and creative work and welcome Dean Emerita Deanne Snavely as the Women in STEM Summit speaker during IUP's 2023 Research Appreciation Week, planned for April 3 to 6. STEM is Science, Technology, Engineering, and Mathematics.
All events will be held in person at the Kovalchick Convention and Athletic Complex (unless otherwise noted) and are free and open to the community.
Research Appreciation Week spotlights the spirit of innovation and collaboration shared by all disciplines and recognizes the contributions that IUP's original research and scholarship make to this region and to the world. IUP researchers received more than $12 million in research and sponsored activity funds for academic year 2021–22.
"While the research and creative work are always new and innovative every year, the purpose of this week remains true to the goals of our strategic plan: promoting the search for, production of, and dissemination of knowledge for the benefit of our students and society and providing opportunities for our students to develop their potential," IUP Dean of Graduate Studies and Research Hilliary Creely said.
"IUP encourages research in every discipline by all of our students, faculty, and staff," she said. "Our students are brimming with curiosity; but, too often, they don't see themselves as researchers or just aren't yet confident in their own abilities to do successful research. We're working very hard to change that."
In 2022, IUP was designated as a Doctoral University–High Research Activity (R2) by the National Center for Postsecondary Research's Carnegie Classification in recognition of its commitment to research and student success.
IUP is one of only two public universities in Pennsylvania and one of only 96 public universities with this ranking in the United States. More than 3,900 colleges and universities are included in the ranking system.
IUP STEM Women's Summit
The IUP STEM Women's Summit on April 3 will be held from 4:00 to 7:00 p.m. in Toretti Auditorium. It begins with a poster session of student research projects from 4:00 to 5:00 p.m.
During the formal program at 5:00 p.m., the Dr. Patricia Hilliard Robertson Memorial Scholarship for Outstanding Female Science Student Award will be presented by family members of the late Hilliard Robertson. Hilliard Robertson's mother, Ilse Hilliard of Homer City, was a faculty member at IUP in the Department of Sociology and Anthropology.
The Hilliard Robertson scholarship was established as a living legacy for Dr. Hilliard Robertson, a 1985 graduate of IUP from Homer City, who died May 24, 2001, in Houston. Hilliard Robertson had been assigned as a crew-support astronaut for the Expedition Two crew that was preparing for service aboard the International Space Station in 2001.
Hilliard Robertson received the Distinguished Alumni Award from IUP in 2000.
Following the scholarship presentation, Lindsay Matolyak, a 2012 IUP chemistry graduate and senior research chemist at PPG Industries, Pittsburgh, will provide introductory remarks and introduce Snavely. Matolyak's current work focuses on polymeric waterborne coatings. In addition to her IUP degree, she completed a PhD at Case Western Reserve University. She is a graduate of Greater Johnstown High School.
About Deanne Snavely
Deanne Snavely retired from her position as dean of the John J. and Char Kopchick College of Natural Sciences and Mathematics in June 2021.
During her tenure at IUP, Snavely achieved a number of priorities, including raising the profile of science and math at IUP and in the region, enabling and enhancing interdisciplinary research for faculty and students, encouraging updates and innovations to the academic programs, securing new instrumentation and refurbishing existing equipment, fundraising, developing programming to support women and emerging female scientists, and initiatives related to IUP's  new science building, John J. and Char Kopchick Hall.
Altogether, Snavely completed almost 38 years of work in higher education, both as a faculty member and as an administrator.
As part of her work to establish initiatives that welcome and support talented women and underrepresented students in STEM, Snavely was part of a consortium of western Pennsylvania and northern Ohio universities to promote gender equity for faculty in STEM programs through a $750,000 grant from the National Science Foundation's Advance Program.
One of IUP's newest programs of study, the environmental engineering degree, was established in her college in 2017.
Scholars Forum
The eighteenth annual Scholars Forum, featuring 159 IUP undergraduate and graduate students and 31 high school students, will be held April 5 from 9:00 a.m. to 1:00 p.m., concluding with the Three-Minute Thesis finals at 1:30 p.m.
The Three-Minute Thesis competition is an event for graduate students to present their original scholarship to a panel of judges in just three minutes with the aid of only one static PowerPoint slide as a visual aid.
Four doctoral students have advanced through the preliminary competitions to be part of the April 5 final presentations:
Jill Baumgardner (Business, Marketing): "Colors of COVID: Correlations Between Pandemic Stress and Consumer Color Choice"
Jenna Bluedorn (Communications Media): "Growing Brand Engagement through Gen Z TikTok Humor"
Brian Nuckols (Counseling): "Unconscious Values: How Counseling Discourse Constructs Substance Use Disorder"
Asmaa Radwan (Professional Studies in Education, Curriculum and Instruction): "Teacher Educators' Perception of Their Readiness to Prepare Preservice Teachers to Use AI in Their Teaching Practice: An Exploratory Study"
The Business Case Study Showcase from 9:00 to 10:00 a.m. in the Global Executive Room will feature students from IUP's Eberly College of Business "pitching" solutions to business case studies. 
A total of 20 original artworks will be part of the Scholars Forum Juried Art Exhibition. Displayed in the Mackey Lobby of the KCAC foyer from 9:00 a.m. to 1:00 p.m., this exhibition features artworks created by a select group of art students, juried by faculty members and representing the breadth of studio research conducted during the 2022–23 academic year.
A total of 92 research posters will be part of the poster presentation session from 9:00 a.m. to 1:00 p.m. on the KCAC arena floor. Posters are from IUP students and a select group of 31 high school students mentored by Emily Hixson.
Posters in the session address a broad variety of research topics:
Humanities and Social Sciences
Social Media and Psychology
Sociopolitical and Health Inquiries
Applied Mathematics and Finances
Safety Sciences
Chemistry, Biochemistry, Physics, and Engineering
Applied Archeology
Geology, Geography, and Environmental Planning
Biological Research
Concurrent podium presentation sessions for the day begin at 10:00 a.m. Presentations from 10:00 a.m. to noon are on biological and environmental planning (conference room 6), finance and economics (conference room 7), redevelopment and rehabilitation (conference room 8), and social media and psychology (conference room 9).
Presentations from 11:00 a.m. to 1:00 p.m. are on finance and economics (conference room 5), humanities and social sciences (conference room 8), and health and safety sciences (conference room 9).
Research awards and a number of workshops about research success have been scheduled throughout the week. A complete schedule of Research Appreciation Week events is on the IUP website.