Author and academic Roosevelt Montás will present "Rescuing Socrates: How the Great Books Changed My Life and Why They Matter for a New Generation" at Indiana University of Pennsylvania on March 2 at 7:30 p.m. in Sutton Hall's Gorell Auditorium.
The presentation is free and open to the community.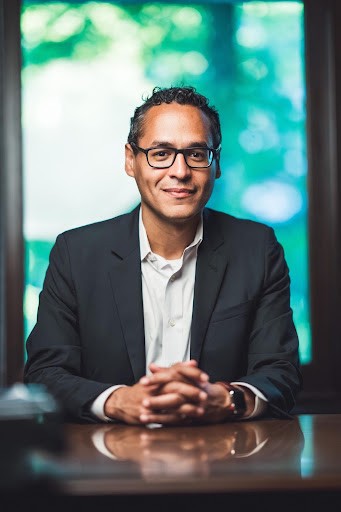 Montás, the author of Rescuing Socrates, was born in the Dominican Republic and emigrated to America with his family at age 12, making their home in Queens, New York. This program is his story of how the "Great Books" transformed his life—and why they have the power to speak to people of all backgrounds. His story confirms IUP's own good work in providing transformative opportunities for all students.
Montás' presentation at IUP is part of IUP's Big Ideas: Transformative Culture and the Professions, supported by the Teagle Foundation – National Endowment of the Humanities.
Additional IUP support for his presentation comes from the Office of Social Equity and Title IX; College of Arts and Humanities; Department of History; Department of English; Liberal Studies; and the Center for Teaching Excellence.
Growing up in Queens, Montás was exposed to the western classics as an undergraduate in Columbia University's "Core Curriculum," one of America's last remaining Great Books programs.
Montás says that the experience changed his life and determined his career—he went on to earn a PhD in English and comparative literature, serve as director of Columbia's Center for the Core Curriculum, and start a Great Books program for low-income high school students who aspire to be the first in their families to attend college.
Lynn Botelho, IUP Distinguished University Professor and professor of history, received a $200,000 grant from the Teagle Foundation – The National Endowment for the Humanities to implement the Big Ideas: Transformative Culture and the Professions program at IUP.
"Dr. Montás has an incredible story to tell about his own transformative experience due to a humanities education and how the 'Great Books' remain relevant to members of historically marginalized communities," Botelho said.
"Bringing Dr. Montás to our campus was one of the foundational events in planning for our program," she said. "He is a nationally recognized speaker on the value of a university education and the role that the humanities play in the development of citizen-leaders. Both Indiana and the IUP communities will be inspired by his story."
"In addition to the Teagle Foundation – The National Endowment for the Humanities, I want to thank all of our ongoing supporters, including the Office of Social Equity and Title IX, for the financial support for Mr. Montás appearance," she said.
"The Office of Social Equity and Title IX is very proud to support this important presentation," Chief Diversity and Inclusion Officer Elise Glenn said. "Providing opportunities for the community to hear from distinguished writers and thinkers with different backgrounds and perspectives is critical to our ongoing work to build a strong, diverse, and inclusive community," Glenn said. "Roosevelt Montás' work and Big Ideas remind us as educators that great books and critical thinking can inspire students to believe in themselves and envision their future successes in new ways."
As part of the Big Ideas project, Botelho, along with co-directors Bryna Siegel Finer and Melanie Holm, faculty in the IUP English department, are leading a team of faculty across the university to offer the certificate program, which is designed to integrate and embed the liberal arts into student career preparation.
"In this program, students work closely with faculty to gain a deeper understanding of the modern world and communicate more effectively across all disciplines. Students learn critical and creative thinking and the understanding that there are often non-technical answers to seemingly technical problems," Botelho said.
"Transformative texts" are defined as major works of literature, philosophy, historical sources, and religious books, as well as theater, poetry, and song, that encourage creative thinking, imaginative capacities, and problem solving. These texts are defined by the Big Ideas work group, in consultation with expert resource people and teaching faculty, and the work group collects feedback from Big Ideas faculty and adjusts texts according to student compatibility.
Over 200 IUP students are participating in IUP's Big Ideas program this year, which is designed to integrate the humanities into students' credit loads, rather than adding additional time and expense. Every IUP student is required to complete 40 credits of Liberal Studies courses (depending on the major); Big Ideas courses count toward the IUP Liberal Studies requirements.
The Big Ideas program also provides students with career-specific undergraduate research experiences.
Two College of Arts and Humanities classes (which qualify for Liberal Studies credit) lay the foundation in the students' first year through the reading and discussion of transformative texts.
During years two and three, Big Ideas students take additional humanities courses in one or more of the four themes that reflect their career interests: Law and Government; Mind, Body, and Health; Management, Information, and Organization; and Science and the Environment.
During their senior year, students integrate their pre-professional and humanities training into a final capstone project.