Adolescent Participants Being Invited
Sarah Gann, a student in Indiana University of Pennsylvania's clinical psychology doctoral program, is launching a study designed to determine how a virtual pet game application can affect adolescent mental health.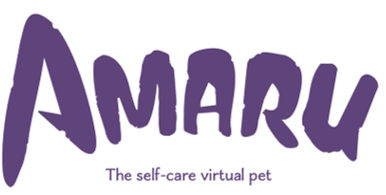 Gann's presentation of this proposed study, "Amaru: A Golden Key to the Adolescent Mental Health Crisis," won IUP's 2022's Three-Minute Thesis competion. After completing the university's required research approval process during the fall semester, Gann is ready to launch her research project and is looking for adolescent participants (children between the ages of 13 and 18).
"Adolescents have been experiencing a mental health crisis for years," said Gann, who is a therapist at Lake Psychological Services in Indiana in addition to her full-time studies at IUP.
"There are just not enough child and adolescent therapists and counselors available for children who are in need of these services—waiting lists can be up to six weeks for care—and there are not enough resources," she said. "Schools don't always have the resources to teach self-care and anti-anxiety strategies, and parents aren't always aware of how to help their children in this area," she said.
"This population is very connected to their phones, so I started thinking about the best ways to leverage teenagers' use of cellphones to help them improve self-care, and in turn, their mental health," Gann said.
"While there are many apps that target mental health, very few are engaging," Gann said. "While an app cannot replace therapy, I am hoping that Amaru can be one way to overcome some of the barriers to receiving treatment and help improve teen's mental health," she said.
"I really liked that the Amaru program was created by a psychologist, so it has a lot of evidence-based practices at its foundation. It's also very engaging and very simple to understand and play. It has a goal of just three self-care practices a day, so it can be easily adapted to almost anyone," she said.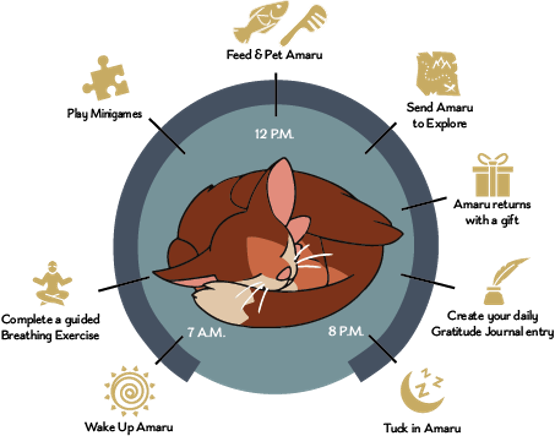 In the game, players are introduced to an anxious magical creature named Amaru. When Amaru feels anxious, the player must complete a self-care task to help him calm down. These self-care goals are selected by the player and include engaging in mindful meditations, journaling, taking screen breaks, movement, and bonding with Amaru, Gann said.
For the study, the participants will be asked to keep the goals of mindful meditation and journaling but are encouraged to select a goal most relevant to themselves for the third task.
Completing self-care tasks results in a strengthening of the player's "aura" and the appearance of "gratitude glints," which contain messages of encouragement and beads that can be used to virtually purchase items at the virtual shop.
The player can also bond with Amaru by giving him food, petting him, and playing relaxing mini-games, including puzzles and music memory games. The more the bond with Amaru grows and the player's aura grows, the less often Amaru experiences anxiety upon waking.
To encourage players to spend time away from the screen, Amaru loses energy after 15 minutes of play and must take a 30-minute nap to regain energy. Alternatively, Amaru can go on adventures to bring back artifacts, during which the player is encouraged to take a screen break. Sleep boundaries are also encouraged by setting sleep and wake times for the player, with Amaru losing energy at bedtime. The game does include a referral system where you can earn friend coins for inviting others, but it is not a social game and players do not interact. 
"I also think adolescents will like the fact that at its core, the app has them focusing on taking care of Amaru; to take care of Amaru, they need to take care of themselves," Gann said.
The game developer is Gabriel Pappalardo from Six Wing Studios.
While Six Wing Studios has conducted internal research to support its claims that Amaru benefits self-care practice, focus, anxiety, stress, and mood, Pappalardo was very supportive of a validation study from an external academic institution, Gann said.
While the game developer will see the results of Gann's study, no participant names will be used in reporting results.
Both the adolescent participants and parents will be required to fill out consent forms and short questionnaires at specific times during the study. Adolescents are asked to play the game daily for between 10 to 30 minutes. Parents and the adolescent participants will receive a modest stipend, which is funded through an IUP Graduate Student Research Grant.
Persons interested in participating in the study can contact Gann at cckbc@iup.edu, or Gann's faculty advisor, Stephanie Davis, at sdavis@iup.edu. Participants are being enrolled in the study on a rolling basis through the end of the spring semester; Gann is looking for 30 to 40 participants.
"The Amaru program was originally marketed towards adults to address burnout in the workplace," Gann said. "But because adolescent brains are still developing, adolescence is a critical time to learn skills that help with self-care and positive mental health strategies," she said.
Gann is the daughter of Paul and Michelle Gann and is a 2015 graduate of Normandy High School. While at IUP, she has participated in the Forensic Journal Club and the PsyD Graduate Student Organization.