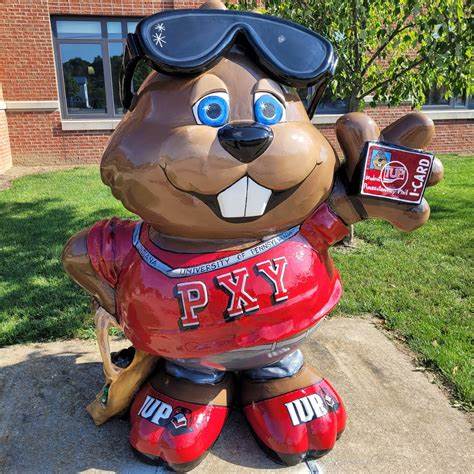 Indiana University of Pennsylvania will be an active part of helping visitors cheer on Punxsutawney Phil as he makes his 2023 weather prediction during this year's Groundhog Day celebration on February 2.
Thanks to IUP's long-standing relationship with Nemacolin, IUP is the official sponsor for the Hogspitality Village at the Gobbler's Knob Visitors Center Pavilion.
The Hogspitality Village, offered by the Punxsutawney Groundhog Club, is a ticketed event that raises funds for Phil's continued care, including the "elixir of life" that provides Phil with the potion that has sustained his longevity.
More than 350 tickets were sold for the Hogspitality Village, which offers visitors a heated pavilion, food, coffee, a live feed of Gobbler's Knob and Phil coming out to make his weather prediction, an exclusive souvenir, and a photo opportunity after the Groundhog Day ceremony.
Nemacolin will provide the food for the event, with three IUP Academy of Culinary Arts alumni and current Nemacolin staff working during the event.
"Groundhog Day at Gobbler's Knob is a great annual tradition, bringing together many local residents and visitors to our region," Senator Joe Pittman said. "The community partnership taking place between IUP and Nemacolin this year is a creative and innovative opportunity, allowing IUP graduates to utilize and showcase their skills. I'm pleased to support the ongoing development of programs and facilities of the Academy of Culinary Arts as they continue to grow to meet local hospitality workforce needs."
"The Punxsutawney Groundhog Club is very pleased and excited to be partnering with IUP-Nemacolin," President of the Punxsutawney Groundhog Club Thomas Dunkel said. "IUP's official sponsorship of the Hogspitality Village taking place on Groundhog Day at Gobbler's Knob 2023 will greatly enhance the experience of our guests. They are providing a beautifully prepared breakfast for our Hogspitality patrons that only IUP and Nemacolin could bring forth."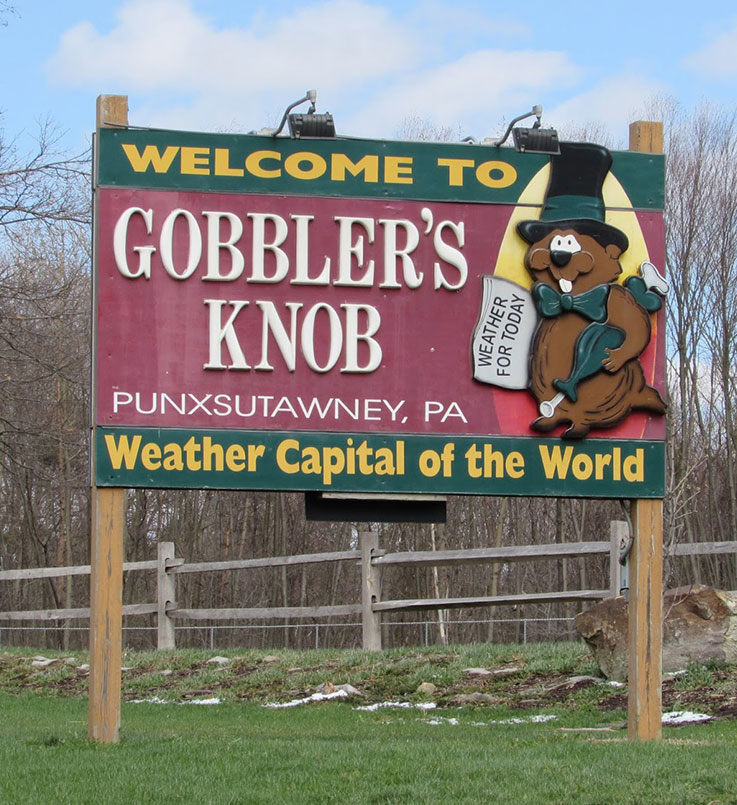 The Academy graduates working at the event include Kristin Butterworth, a 2002 graduate; Tyler Hutchison, a 2009 graduate; and David Carrier, a 2010 graduate.
Butterworth is executive chef at Nemacolin. When she was named to the position of executive chef at Lautrec, Nemacolin, in 2011, she was the youngest (at age 28) and only female chef in the world to helm a Forbes Five-Star, AAA Five-Diamond restaurant.
Hutchison is chef de cuisine at Aqueous, Nemacolin. Aqueous is a Forbes Four-Star and AAA Four-Diamond restaurant. Carrier is the chef de cuisine at the Tavern, Nemacolin, which is Nemacolin's classic pub, presenting comfort food in a fun and whimsical way.
Butterworth asked Nemacolin to donate the sponsorship of the Hogspitality Village to IUP. This is the first year that Nemacolin has provided the food and beverage for the Hogspitality Village and the inaugural year for IUP to be the Hogspitality Village sponsor.
"I am extremely excited to be representing IUP and the Academy of Culinary Arts at Groundhog Day this year, cooking for the community," Butterworth said. "The Academy was such a significant springboard for my career, so being able to put the Academy in the spotlight during Groundhog Day in Punxsutawney is very important to me.
"I'm very grateful to Nemacolin for being so supportive of me and my work with the IUP Culinary Alumni Steering Group," she said. "IUP and its continued success is incredibly near and dear to me."
IUP has a longstanding relationship with Nemacolin. Over the past 25 years, several hundred students have completed externships and continued on to prestigious careers that began under the tutelage of Chef Kristin Butterworth and the chefs at Nemacolin.
In 2019, Butterworth was honored with a $100,000 gift from the Hardy Family Trust/Nemacolin Woodlands Resort to IUP's Academy of Culinary Arts. The funds will be used to create a demonstration kitchen, which will be named the Kristin Butterworth Demonstration Kitchen.
The value of the food and labor provided by Nemacolin is valued at nearly $18,000.
"We appreciate Kristin's commitment to IUP and to the Academy and thank her for securing this sponsorship for IUP, which puts IUP in front of thousands of visitors from all over the world who come to Gobbler's Knob," IUP Vice President for University Advancement Khatmeh Osseiran-Hanna said.
"IUP has a longstanding and firm commitment to Jefferson County and Punxsutawney," she said. "We are very excited about the opportunities for our students and for the community that the Academy of Culinary Arts long-range plan provides, and we are proud to continue to serve as an active partner with the Punxsutawney Regional Advancement Council and Culinary Alumni Steering Group."
In addition to the events at Gobbler's Knob with Punxsutawney Phil, students at the Academy of Culinary Arts will offer an ice carving demonstration on both February 1 and 2 beginning at 8:00 a.m. in front of the Academy's Gilpin Street facility. Sculptures will remain on display for photo opportunities throughout the festivities.
In fall 2022, the State System of Higher Education Board of Governors approved a $2.9 million capital allocations budget for the Academy of Culinary Arts' long-range building plan. In addition, the 2023–24 budget shows a projected $16 million allocation for construction, and the 2025–26 budget shows a projected $2 million for furnishings and equipment. These budgets will be considered for approval by the State in future years.
The $2.9 million will be used for design of the project; specifically, the new academic facilities to be sited next to the Fairman Centre in downtown Punxsutawney. Design for this Department of General Services project, estimated at $22 million, is underway.
The Academy's long-range plan is focused on providing state-of-the-art facilities and new opportunities for increased enrollment by locating all the educational facilities for the Academy to new or renovated buildings in downtown Punxsutawney adjacent to the Academy's Fairman Centre along West Mahoning Street.
The long-range plan, approved in March 2022 by the IUP Council of Trustees, also includes a new, 45,000-square-foot education and multipurpose commercial site anchored in downtown Punxsutawney, with the facility to serve as the main educational, retail, and experiential hub for students and the surrounding community. The new facility, as proposed in the master plan, would offer between 32,836 and 36,644 square feet of instructional space for Academy students.
Students at the Academy of Culinary Arts have classes at the 36-year-old facility on Gilpin Street and at the Fairman Centre (the former J.B. Eberhart building) in downtown Punxsutawney, located at the corner of Mahoning and West Findley streets. Students also use classroom facilities at the IUP Punxsutawney Living-Learning Center on Winslow Street.