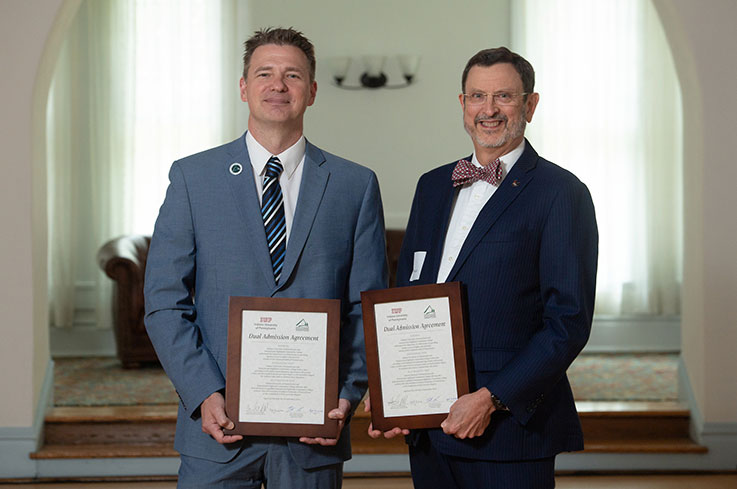 Indiana University of Pennsylvania President Michael Driscoll and Pennsylvania Highlands Community College President Steve Nunez signed a dual admissions program agreement on September 16, 2022, designed to streamline the process for students who earn an associate degree at Penn Highlands to complete a bachelor's degree program at IUP.
Under terms of the agreement, students enrolled at Penn Highlands who plan to complete a bachelor's degree at IUP will be given automatic acceptance to IUP, pending successful completion of all admissions requirements. No additional admissions application to IUP will be required for these students.
The program provides a curriculum plan for students that is a seamless transition from associate to bachelor's degree.
Students also will receive enhanced counseling, advising and transition support services from both institutions, and Penn Highlands students who have been accepted into this program will be given full access to IUP's resources, including housing, dining, the Co-op, the IUP Libraries, and IUP activities and events.
"IUP has a renewed focus on initiatives that are student-centered," President Driscoll said.
"This dual admissions agreement is designed to help eliminate potential barriers, and to show students from Penn Highlands that they are fully members of the IUP community, even before they begin their classes here," President Driscoll said.
"We value our ongoing partnership with Penn Highlands, and this dual admissions agreement is the right next step for our institutions and for the students that we serve," he said.
To qualify, students must be currently admitted and enrolled at Penn Highlands, maintain a minimum grade point average of 2.0 or the minimum grade point average required by the IUP program they have chosen, have earned less than 30 credit hours before applying for the dual admissions declaration, and plan to pursue both an associate degree and bachelor's degree.
"The collaboration amongst regional partners to provide our communities greater access to higher education is paramount to a community college's mission," President Nunez said. "This agreement highlights how the Penn Highlands and IUP communities can come together to create opportunities for success."
Since 2015, more than 100 students from Penn Highlands have transferred to IUP to complete their academic studies.
About IUP
IUP offers more than 160 academic degree programs, including more than 50 graduate programs. In addition, its nearly 9,000 students can complete more than 65 minors—including a unique teamwork minor—and scores of specialized tracks and certificate programs, including certificates in athletic coaching, gerontology, photography and digital imaging, popular music, and public history. IUP continues to add state-of-the-art programs of study for its students. Its newest undergraduate majors are public health and environmental engineering, both in-demand careers in Pennsylvania and throughout the nation. With the addition of a PhD in business program, IUP offers 14 different doctoral degrees.  
IUP has a longstanding commitment to research on all levels and in all disciplines. In 2021, IUP was selected as one of only two public universities in Pennsylvania and one of only 93 public universities in the United States selected for the "High Research Activity" designation by the Carnegie Classification of Higher Institutions of Higher Education. Visit IUP for more information.
About Pennsylvania Highlands Community College 
Pennsylvania Highlands Community College has served over 60,000 community members throughout western Pennsylvania and beyond. Offering over 35 academic programs through seven unique academic pathways, Penn Highlands has the highest graduation rate of all community colleges in Pennsylvania. For more information, call 1-888-385-PEAK (7325) or visit Pennsylvania Highlands Community College. 
Media Contacts:
Raymond Weible, Jr.
Director of Marketing and Communications
Pennsylvania Highlands Community College
814-262-3816
rweible@pennhighlands.edu
Michelle Fryling
Executive Director of Media Relations
Indiana University of Pennsylvania
412-309-1530
mfryling@iup.edu