IUP Student from North Huntingdon Selected for Fulbright Award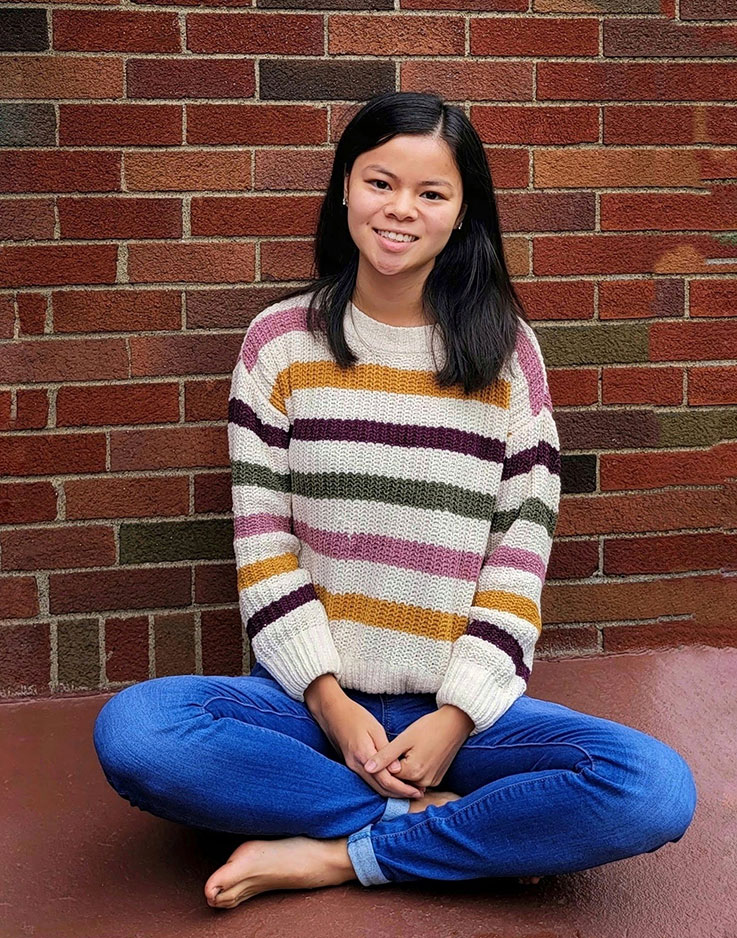 Grace Skarzynski of North Huntingdon, a May graduate of Indiana University of Pennsylvania's Student Affairs in Higher Education master's program, has been selected for a 2022–23 Fulbright English Teaching Assistant award to Greece.
Her selection brings to 18 the number of IUP student Fulbright winners. Close to 70 IUP faculty and administrators have received Fulbright scholarships.
Skarzynski, daughter of Michelle Skarzynski and Dave Skarzynski, is a 2016 graduate of Trinity Christian School and earned her bachelor's degree in business administration with a concentration in management and a minor in psychology from Geneva College.
During her studies at IUP, she was a graduate assistant with the IUP Office of International Education, working in SkillZone, the free drop-in center for IUP international students and scholars, providing tutoring support and development of academic skills for success. She also was a member of the Guides Program mentoring initiative for new students, and the Associates for Student Development organization.
As an award recipient, she will work as a Fulbright Fellow in the Office of International Education at Athens College-Hellenic American Educational Foundation (HAEF), in Psychiko, Greece (near Athens), as an English teaching assistant. The school is a co-educational private school that prepares students for post-secondary education. She will live at the school in specially provided housing for teaching assistants.
She will begin her Fulbright assignment in September and continue to work there through July 2023.
"The Fulbright award requires the recipient to serve as a young ambassador, strengthening the ties between the Foundation and the United States, and providing a cross-cultural educational experience to Grecian students," Christian Vaccaro, professor of sociology who served as IUP's Merit Scholarship Advisor during Skarzynski's application process, said.
"Recipients are expected to infuse their culture, enthusiasm, ideas, language, and knowledge into the school's community, so this Fulbright really blends Grace's education and career interests in a unique and amazing way. Working with Grace on her application was such a pleasure, and I am so glad to see her hard work awarded with this opportunity," he said.
The Fulbright application process is lengthy and involves a number of steps, including essays and letters of recommendation. Skarzynski began the process with Vaccaro in February 2021, after learning about the opportunity from Emma Archer, IUP director of International Student and Scholar Services in the Office of International Education. Skarzynski worked directly with Archer at SkillZone.
"I knew I wanted to work through IUP on the Fulbright process," Skarzynski said. "After an initial meeting with Dr. Vaccaro to discuss my interests, we decided that Greece would be a good fit. I submitted application materials in the fall, and then had an interview with the HAEF School.
"In March, I learned I was an alternate, so I assumed I wasn't selected to go, so I accepted a position with a university in Washington, DC in student affairs. When I found out I was accepted for the Fulbright, I declined that job offer and I'm so excited for this opportunity. I really think it's the best way forward for me as I work toward a career in international education," she said.
In preparation, Skarzynski and other members of the cohort who will be working at HAEF are taking modern Greek language lessons offered by the school and are also completing online work in educational pedagogy.
Skarzynski credits a number of members of the IUP community for inspiring and assisting her in securing the Fulbright.
"I worked very closely with Emma Archer at the SkillZone, and she is definitely a role model for what I would like to do in my career. Dr. Vaccaro was very helpful to me, very accessible and gave me great feedback on my application. I also want to thank Dr. John Mueller in the Student Affairs in Higher Education program for his support and his letter of recommendation," she said.
"I am so grateful for my time and experience at IUP," she said. "I know that the Fulbright would not have been possible without the knowledge, skills, and abilities that I gained during graduate school. I am looking forward to using all that I have learned from IUP in Greece as an English teaching assistant."
Skarzynski has done domestic travel during her time as a member of her college acapella choir, and separately, has been to six countries outside of the United States: Germany, Austria, the Republic of Ireland, Northern Ireland, Scotland, and Canada.
"A big part of my interest in travel and study abroad is my own background as an adopted child from China," she said. "While I've never been to China, I've always been interested in learning more about multicultural perspectives, other cultures, and building relationships with other cultures.
"When I traveled to Germany and Austria, I really enjoyed seeing new cultures and traditions, and it also made me appreciate our own culture in America. It gave me perspective to see that other cultures do things differently than we do," she said.