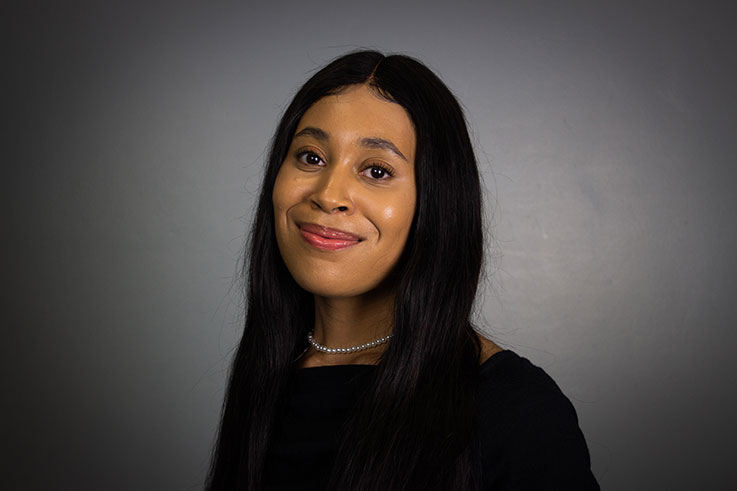 Sfen Kadirifu, a junior international studies major with a focus in fashion at Indiana University of Pennsylvania, has been selected for a 2022 Benjamin A. Gilman Scholarship.
The scholarship will help to fund her study at Yonsei University in South Korea for the fall 2022 semester of her senior year at IUP.
She is IUP's twenty-first Gilman scholarship recipient.
The Gilman Scholarship is awarded by the US Department of State and instituted by the Institute of International Education. It enables undergraduate students who receive Federal Pell Grant funding at two- or four-year colleges to study or intern abroad in a variety of disciplines at a university of their choosing. Recipients are selected from a pool of candidates from colleges and universities across the country based on their academic performance and a competitive application.
"Study abroad is required by my major, and that's one of the reasons why I chose my major," Kadirifu said. "As I grew, I realized that I really enjoyed learning about different cultures, understanding the history of the cultures, and how peoples' lives are so much different than mine. I wanted to do study abroad because I wanted a first-hand experience in a different culture and environment than mine and to have an opportunity to meet people that can mentor and expose me to different experiences.
"I also chose my major to prepare me to work globally," she said.
This will be Kadirifu's first time traveling outside of the United States. She will be living in one of the residence halls for international students at Yonsei University, which is one of the most competitive universities in South Korea. "The university expects exchange students to be on the same level as domestic students, so I am ready for a very challenging academic experience," she said.
From Philadelphia, Kadirifu is the daughter of Melissa Whaley of Philadelphia, who is a graduate of IUP, and Sadiki Kadirifu of Houston, Texas. She is a 2018 graduate of Freire Charter School. She is a dean's list student at IUP and is a member of the IUP chapter of the National Association for the Advancement of Colored People, serving as the marketing and promotions chairperson. She is also a member of the Women in Business organization.
In addition to learning from native South Koreans about their experiences and how their lives differ from life in the United States, Kadirifu will be working to get more fluent in the Korean language.
"I know it's going to be a bit of a culture shock, but I'm excited for that," she said.
She credited her parents for ongoing encouragement to complete the application, and her mother for her help in proofreading and editing the required essays. She also recognized Jessica Mulvihill, director of Education Abroad in IUP's Office of International Education, for introducing her to the scholarship and guiding her through the process.