Indiana Student at IUP Selected for Scholarship Established in Honor of IUP Graduate Physician Astronaut from Homer City
Posted on 4/12/22 9:44 AM
An Indiana student attending Indiana University of Pennsylvania has been selected as the recipient of the 2022 Patricia Hilliard Robertson Memorial Scholarship for Outstanding Female Science Student.
The award was presented to Kendra Bass, of Indiana, a junior biology pre-medicine major, daughter of Julie Sharbaugh and Jason Sharbaugh, Barclay Road, Indiana. She is a 2019 graduate of Indiana Area Senior High School.
At IUP, she is an active member of the American Medical Student Association at IUP, serving as a volunteer chair, and the Catholic Student Association. Bass works with biology faculty member Sarah Emel on the conservation of Appalachian rabbits.  
In addition to her studies at IUP, she works as an emergency medical technician in Indiana.
Bass was recently accepted into the College of Diabetes Network NextGen Fellowship program. The Fellowship runs from April through November with a rigorous schedule of leadership and professional development opportunities as well as peer connections, mentorship, and growth.
After graduating from IUP, Bass hopes to continue her education with the goal of becoming a pediatric endocrinologist.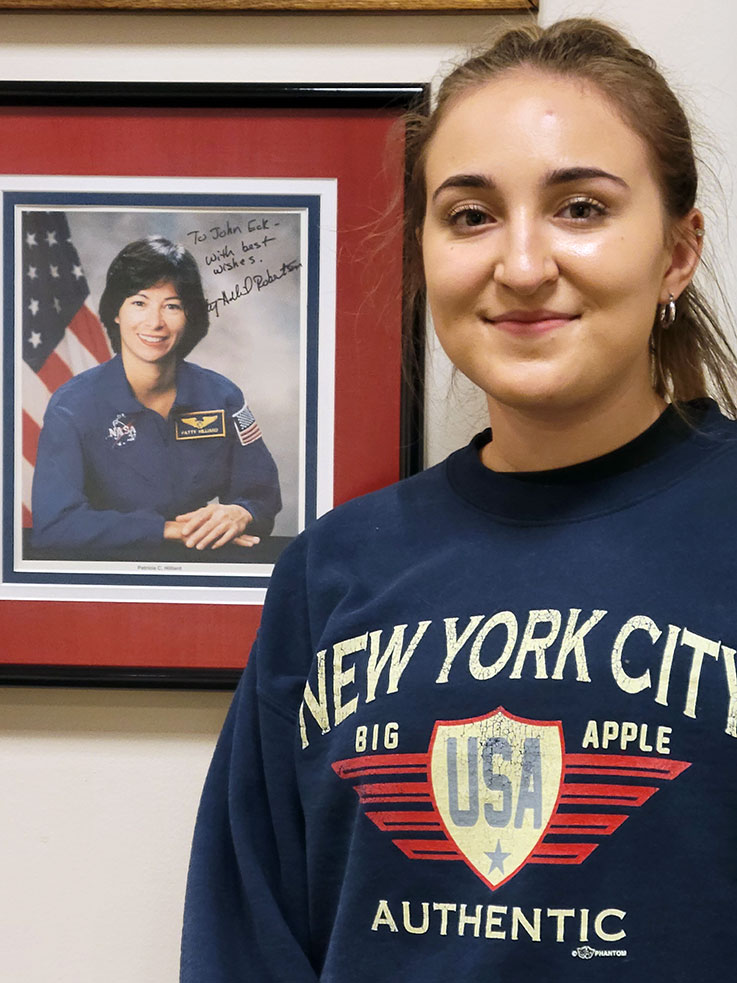 The Dr. Patricia Hilliard Robertson scholarship was established as a living legacy for Hilliard Robertson, a 1980 graduate of Homer-Center High School and a 1985 biology graduate of IUP who died May 24, 2001, in Houston from injuries sustained in the crash of a private plane at Wolfe Air Park in Manvel, Texas. Several members of Hilliard Robertson's family, including her mother, Ilse, currently live in the Indiana area.
Hilliard Robertson received the Distinguished Alumni Award from IUP in 2000.
Following her graduation from IUP, upon completion of a medical degree from the Medical College of Pennsylvania in Philadelphia in 1989, Robertson fulfilled the requirements for a three-year residency in family medicine and was certified by the American Board of Family Practice.
Pursuing medicine further, she was one of only two selected for a two-year fellowship in Space Medicine at the University of Texas Medical Branch and NASA's Lyndon B. Johnson Space Center in Houston, which she completed in 1997. She joined NASA's Flight Medicine Clinic at the Johnson Space Center in 1997, prior to being selected to be an astronaut.
Robertson was a member of the astronaut class of 1998 and was assigned as a crew support astronaut for the Expedition Two crew on board the International Space Station. In that role, she served as an interface between the Mission Control Center Flight Control Team and the Astronaut Office on issues related to the Expedition Two crew and, along with other astronauts, coordinated activities on the ground for the three crew members in space.
In addition to being a medical doctor, Robertson was a multi-engine-rated flight instructor and avid aerobatic pilot with more than 1,500 hours of flight time.
The Patricia Hilliard Robertson Center for Aviation Medicine at the Indiana Regional Medical Center was named in her honor in 2009.
The Hilliard Robertson scholarship is given annually during the university's Research Appreciation Week as part of the Women in STEM (Science, Technology, Engineering, and Mathematics) celebration.
The 2022 Women in STEM program included a poster session for women scientists and a presentation by scientist Kelly Tretter, head microbiologist and senior quality integration manager with New Belgium Brewing Company of Denver. 
Tretter's keynote address discussed her journey as a female scientist in a male-dominated field.
Research Appreciation Week events included the annual Scholars Forum, featuring 175 IUP and high school students, and the Three-Minute Thesis competition, an event for graduate students to present their original scholarship to a panel of judges in just three minutes with the aid of only one static PowerPoint slide as a visual aid.
A new event for Research Appreciation Week for 2022 was IUP-Indiana Regional Medical Center (IRMC) Day, established to celebrate the strong and growing collaboration between IUP and IRMC and rural health and wellness. Randall Longenecker, Ohio University assistant dean, Rural and Underserved Programs, delivered the keynote address for the event: "How Partnerships Can Define Rural Health Care."