Indiana University of Pennsylvania will mark the anniversary of the September 11, 2001, terrorist attacks on Sept. 10 starting at 11:40 a.m. in front of the 9/11 memorial in the IUP Oak Grove.
A livestream and recording of the event will be available here: IUP September 11 remembrance ceremony, 2021.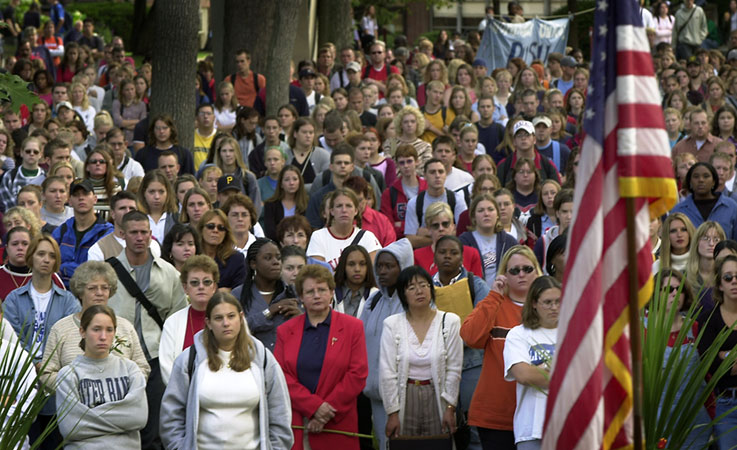 Speakers for the 2021 event will include IUP President Michael Driscoll; national award-winning journalist Tim Lambert, a 1992 communications media graduate, whose family owned part of the land where Flight 93 crashed on Sept. 11, 2001; and Bethany Barefoot, a 2016 finance and marketing graduate, who is the recipient of a scholarship established in honor of an IUP graduate who died in the attack on the World Trade Center on Sept. 11, 2001.
In addition to an opportunity to reflect on and mark the anniversary of the attacks on the United States on Sept. 11, 2001, the event includes a remembrance of the three IUP alumni lost in the World Trade Center attacks: Donald Jones, a 1980 graduate; William Moskal, a 1979 graduate; and William (Bill) Sugra, a 1993 graduate.
Jones and Sugra worked for Cantor Fitzgerald in the north tower of the World Trade Center. Jones was a bond broker from Bucks County.
Moskal, a safety sciences graduate and Johnstown native, was a risk consultant for Marsh and McLennan in Cleveland, specializing in heavy construction. He was in New York on Sept. 11, 2001, for a meeting at the World Trade Center.
Sugra lived in Manhattan and worked for e-Speed, Cantor Fitzgerald's electronic trading unit. Sugra's family, of Allentown, continue to provide the funding for an annual memorial scholarship in his honor.
Event speaker Barefoot was the 2014–15 IUP Bill Sugra Memorial Scholarship recipient.
Anthony Clement, interim director of Public Safety and University  Police, will serve as master of ceremonies  for the event. Music will be performed by members of the IUP Wind Ensemble under the direction of Timothy Paul, director of bands.
In the event of inclement weather, the program will be moved to the Performing Arts Center's Fisher Auditorium. Face coverings/masking is required indoors in in all IUP buildings; it is not required outdoors.
This annual event, usually held on Sept. 11, has been scheduled this year in conjunction with IUP's Common Hour, a time period each weekday set aside for events and programs.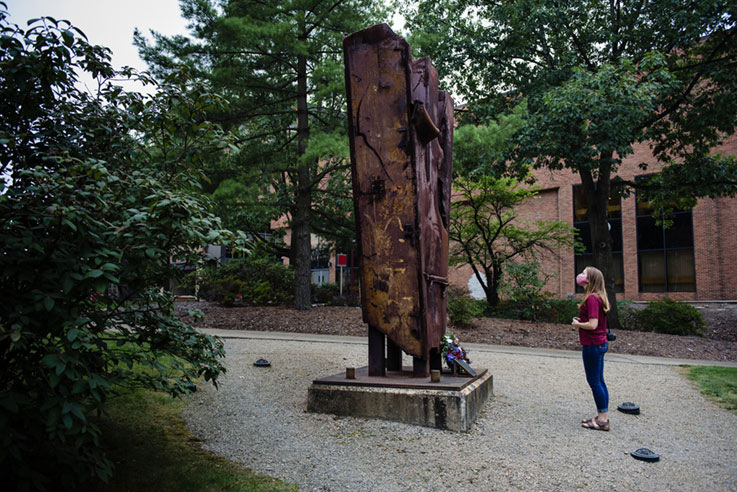 The university's September 11 memorial in the Oak Grove is located between Sutton Hall and Stapleton Library. It includes a 13-foot remnant of the World Trade Center, on long-term loan to the university from the Kovalchick family, of Indiana. During September, the IUP Libraries offers a special display in the first floor lobby area about the attacks.
Speaker Lambert is the multimedia news director for WITF-FM in Harrisburg, a public media organization, and is the local host of the NPR program Morning Edition. The title of Lambert's presentation is "Coming Together." Since June, Lambert has worked to oversee WITF's national coverage of the 20th anniversary of the Sept. 11, 2001, attacks, working NPR's Scott Detrow to bring the story of Flight 93 to a national audience.
The land owned by Lambert's family in Stonycreek Township is now part of the Flight 93 National Memorial. IUP students, under the direction of Distinguished University Professor Jeff Larkin and Mike Tyree, faculty in the Department of Biology, have been involved in the reforestation project around the Flight 93 National Memorial in Shanksville. Flight 93 is the only one of the four hijacked aircraft to have not hit its intended target, believed to be the US Capitol. The 40 passengers and crew members are credited with stopping the terrorists by fighting back and saving hundreds, if not thousands, of lives.
Lambert has been recognized for his work with the most prestigious national awards presented in the world of broadcast and multimedia news reporting. The award named for legendary radio reporter Edward R. Murrow is presented annually to recognize the most outstanding achievements in broadcast and digital journalism.
Lambert, a six-time national Murrow Award recipient, has reported on challenges faced by veterans, the wars in Iraq and Afghanistan, state government accountability, the opioid epidemic, and the toll and tragedy of COVID-19. One of Lambert's Murrow Awards came from reporting on the events of 9/11: "Flight 93: Five Years Later," when his unique association to that day brought his personal life and professional life together with the crash of Flight 93.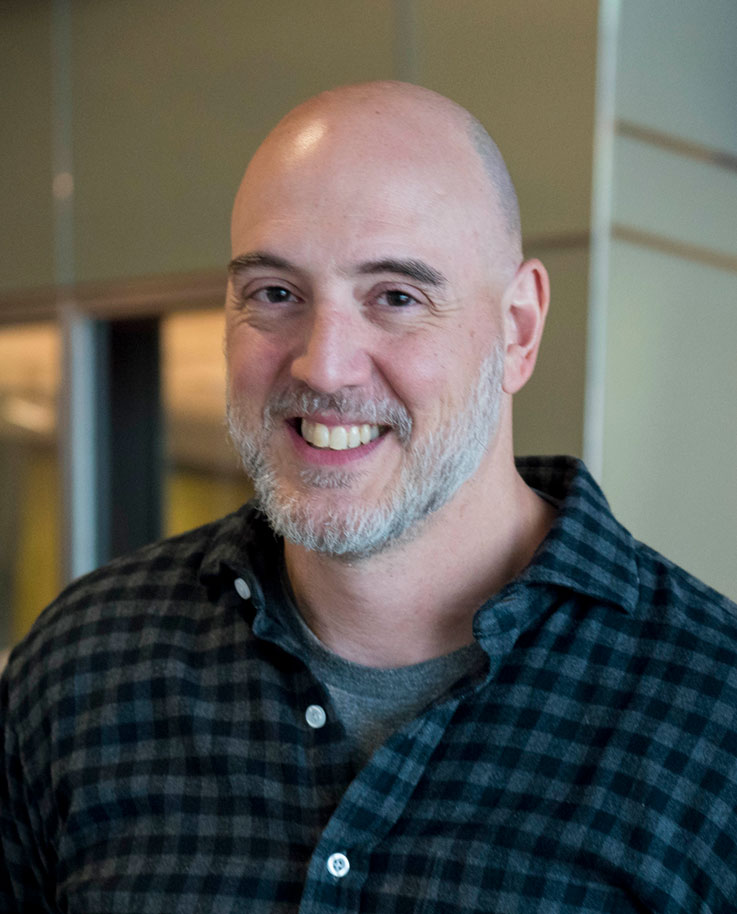 He also earned a 2007 Edward R. Murrow Regional Award and a Public Radio News Director Incorporated second place award for Families of the Fallen, a radio documentary he wrote and produced about how three central Pennsylvania families who lost loved ones in Iraq are dealing with their loss. His reporting has also been recognized with awards from the Pennsylvania Associated Press Broadcaster's Association.
His roles as a landowner and a journalist in the midst of such a high-profile story led to him being profiled by other national media, including CNN, USA Today, and U.S. News and World Report.
Lambert continues to keep close ties with his alma mater, sharing his 9/11 experience with IUP students as the Department of Communications Media commencement speaker in 2010. He was honored in spring 2021 with the IUP College of Education and Communications IMPACT Award, which recognizes alumni of the college for outstanding achievement in their profession, their engagement with IUP, and their leadership in their discipline or community.
While a student at IUP, Lambert was active as a member of WIUP-FM (the student-operated radio station), serving as sports director and announcer for IUP football and basketball. He was also a member of the IUP hockey club. He is an active member of his community and served as an initial member of the Flight 93 National Memorial Task Force and of the Friends of Flight 93.
He is regularly asked to speak to community and civic organizations about journalism, the First Amendment, his stories, and his 9/11 experience; but he has also openly shared the challenges his family faced as his mother battled Alzheimer's disease.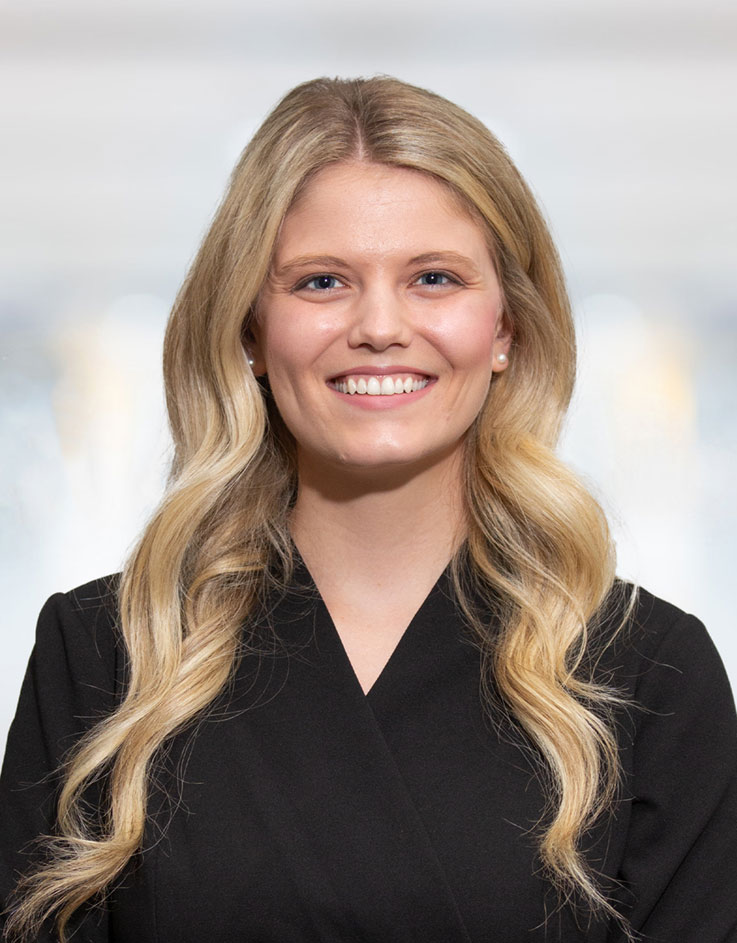 Speaker Barefoot joined the company her fiancé founded in 2015, Granitsa E-commerce Solutions, as its growth and development manager in May. She also lends her time to their family-owned business, Bakluva.
Prior to her current position, she worked primarily in finance at PNC Financial Services Group, Inc. in Pittsburgh, and as a project manager for PNC Grow Up Great, a $500-million initiative established to help prepare children from birth to age five for success in school and life.
In August 2020, she was selected by the Pittsburgh Business Times for its 30 Under 30 award. In the publication, Barefoot was recognized as a young professional who is making a difference and excelling in her career.
She was honored in 2021 with the Regional Impact Award from IUP for her work as a champion for IUP in her region through events, recruitment efforts, or internship and employee opportunities.
As a student at IUP, Barefoot, a native of Fishertown, was extensively involved in a number of leadership roles, including as a member of both the Cook Honors College and the Eberly College of Business Honors Program; as president of PGN (a professional development organization); as president of the College of Business Student Advisory Council; and as an active member of the IUP Finance Association. She also worked in Eberly's Student Services Office as an undergraduate.
Barefoot was selected as a Student Gallery winner for the class of 2016, recognized for her academic achievements and extracurricular involvement.
In addition to her volunteer service as a regional ambassador for the Pittsburgh region, she continues to serve as a speaker in classrooms and to student organizations.