Tim and Debra Phillips Cejka, 1973 graduates of Indiana University of Pennsylvania, have provided $350,000 in funding to promote IUP's ongoing diversity and inclusion initiatives, including programming, research and training, academic and social student support, and scholarships.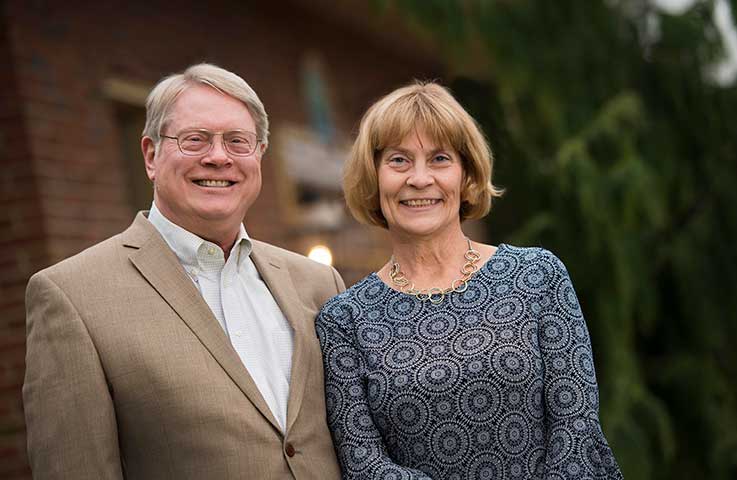 "The impact of this gift will have a positive effect on our entire community, especially the well-being of our students," IUP President Michael Driscoll said.
"As a member of the IUP Council of Trustees, Mr. Cejka is both setting an example and making a statement about what IUP, at the leadership level and beyond, values and supports. Our hope is that this gift from the Cejkas serves as a catalyst—inspiring others to follow in their footsteps and join the university in its support of diversity and inclusion initiatives at IUP," Driscoll said. Tim Cejka joined the IUP Council of Trustees in fall 2018.
The gift from Tim and Debra Cejka is part of the university's Imagine Unlimited Campaign; enhancing diversity and inclusion efforts at IUP is one of the campaign's top priorities.
"It's because of the support we receive from visionary leaders like Tim and Deb Cejka that we can more successfully engage our students and community in the critical issue of anti-racism," IUP Vice President for University Advancement Khatmeh Osseiran-Hanna said.
IUP's Office of Social Equity will be directing a number of the initiatives being funded by this gift, including creation of a coalition for diversity, inclusion, and equity to act as an umbrella organization for cultural, identity, and civility groups; cultural competency training for new and continuing students and employees; support for appropriate programming; and programming to recruit and retain diverse students and employees.
"This important gift has enabled IUP to fund a number of new student empowerment and employee training initiatives and will provide critical help for student needs and key projects," IUP Chief Diversity and Inclusion Officer, Title IX Coordinator, and Director of the Office of Social Equity Elise Glenn said. "In this urgent moment, when there is political will in America to effect real change, we are further strengthened to continue as a community to build a more inclusive, equitable, and diverse culture where hate has no place."
Tim Cejka, retired president of ExxonMobil Exploration Company and vice president of ExxonMobil, said he learned the value of diversity early in his life growing up in Pittsburgh.
"IUP has as its mission to help students become productive national and world citizens who exceed expectations personally and professionally," Tim said. "Racism, bigotry, and other forms of discrimination directly affect the IUP community and the success of IUP's mission.
"I saw the positive impact of diversity again in my college years at IUP, and it continued to be reinforced throughout my career. Diversity of viewpoints, of backgrounds, of gender, of race, of nationality, and of educational backgrounds help us to get better solutions."
As an executive at ExxonMobil, Tim said the company "put our money where our mouth was," and recruited employees from all over the world with many different backgrounds.
"We certainly could have taken the easy way out, and just focused on recruiting from those programs with specialty degrees in petroleum geology, who tended to enroll similar types of students. But looking, sounding, and thinking all the same wouldn't offer us the diversity of experiences and perspectives that we wanted and needed," he said.
The Cejkas are members of the IUP National Campaign Cabinet of the Imagine Unlimited comprehensive fundraising campaign and serve as chairs of the portion of the campaign that benefits the John J. and Char Kopchick College of Natural Sciences and Mathematics.
"When we started volunteering at IUP, one of the questions I asked during my first meeting was about the status of our diversity and inclusion programming," Tim said.
"Our numbers show that IUP is doing a good job recruiting diverse students, but that isn't the same as creating an inclusive community and helping our students to understand the value of inclusiveness. This can be an awkward subject to address," he said.
"It's very good to have a diverse population, but that's not the goal. The goal is inclusion, and that means not only creating a community where everyone feels included and respected, but helping people to understand the value of inclusion, and is actively working toward that goal."
Step one in the work of building a diverse and inclusive community is understanding how the community defines those terms, Tim said.
"There are a lot of different ideas about diversity and inclusion, but we need to get to a common definition before we can move forward. If everyone is not on the same team, it will be very hard to move forward together."
Educating students on the critical importance of diversity and inclusion isn't a choice or a wish: "it's a necessity," he said.
"This is how the university must be, this is the way that the real world works. Our future leaders must have this understanding; it's as fundamental as teaching our children their ABCs. The work that we do now with our students will help to make the world a better place."
Specifically, initiatives planned to be funded through this gift include:
Faculty and staff special projects that focus on diversity, inclusion, and equity issues;

Faculty education and training;

Faculty research and teaching;

An award program from deans and/or the provost for diversity, inclusion, and equity for students, staff, or faculty researchers and presenters;

Mentoring and counseling support;

Course development and curricula review and revision;

Remediation and bridge support, including remedial courses, training, and help with financial aid applications and documents; and scholarships.
In the Division of Student Affairs, funding is targeted for mentoring and counseling support; an intergroup dialogue program; and lectures, seminars, and panel discussions addressing the topic of diversity and inclusion.
In addition to this recent gift from the Cejkas, IUP has several funds established to support diversity and inclusion work, including the Diversity and Inclusion Fund, which supports work which assists in the creation of a campus environment that promotes diversity and value individual differences and helps to fund projects that include the Diversity Student Council, Diversity Peer Educator Program, diversity commissions, and Title IX-related activities; and the Multicultural-Intercultural Diversity Fund, established to support university-wide celebratory events associated with the university's mission to promote diversity.
IUP has a number of scholarships specifically designed to assist students of color in their studies at IUP. Work to increase funding for these and all university scholarships is a priority of the Imagine Unlimited Campaign.
Scholarships specifically established for diverse students include:
African American Alumni Scholarship Fund, open to students in all majors;

Mollie E. Bolling Memorial Scholarship for students majoring in sociology, preference given to African American students;

Virginia Ann Deem Memorial Scholarship for students majoring in journalism or communications media, preference given to minority students, non-traditional students, and female students;

Dressel Family Scholarship, for minority students in the Eberly College of Business and Information Technology;

W. Darryl Green Memorial Scholarship, for communications media students, preference given to African American students;

John and Delores Hillard Scholarship for Diversity in Fine Arts, for incoming, undergraduate freshmen students who are diverse and who are enrolled full-time in the IUP College of Fine Arts;

Dr. Yu-chen Liu Memorial Chinese American Scholarship, for Chinese American students;

The Millward Scholarship for Male African American Future Educators, open to male students of color to help to increase the number of African American male teachers; and

The Program for Minority Scholars, open to students in all majors.
IUP's $75-million Imagine Unlimited Campaign will enable IUP to step forward as a national leader by transforming the student experience through scholarships, program enhancements, and new and modernized facilities.