Brian Sateriale, a student in Indiana University of Pennsylvania's literature and criticism doctoral program, is the winner of the 2020 IUP 3MT (Three-Minute Thesis) competition—and is using his win to help other IUP students.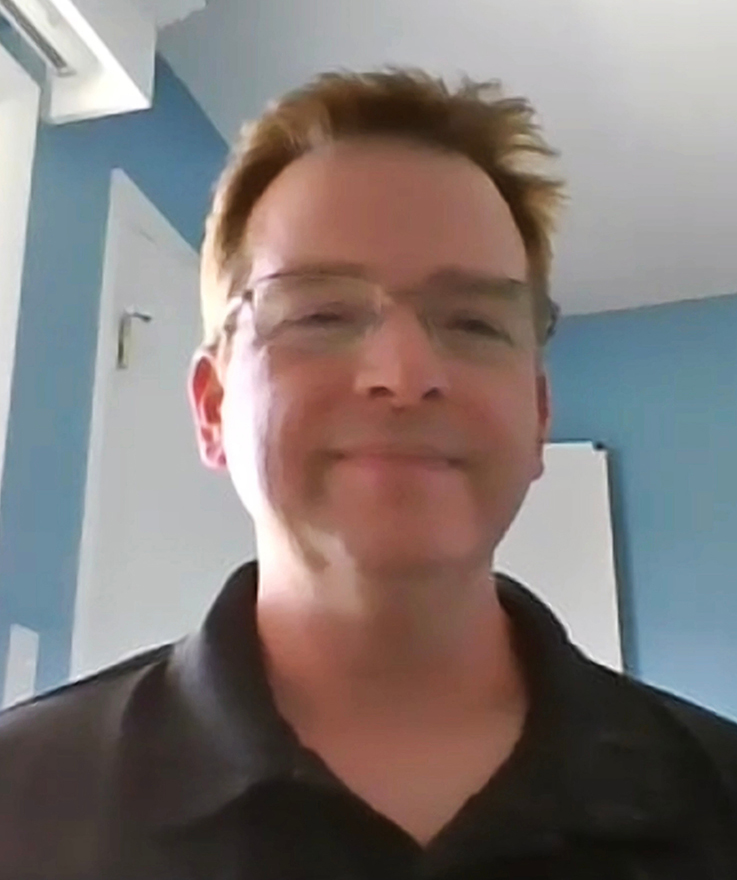 The competition, now in its fifth year, is sponsored by the IUP School of Graduate Studies and Research. 3MT is a competition founded by the University of Queensland, Australia, in 2008. It asks students to "cultivate [their] academic, presentation, and research communication skills (and) supports their capacity to effectively explain their research in three minutes, in a language appropriate to a non-specialist audience."
Associate Dean for Research in the IUP School of Graduate Studies and Research Hilliary Creely coordinated the event with her team.
"We were thrilled to be able to continue this event to showcase the research and scholarship of our students," Creely said. "Everyone was completely on board with transitioning from our original in-person format to Zoom, from the participants to the judges. I want to especially thank IUP's IT department for its help in making this event work so smoothly."
Sateriale advanced through a preliminary competition early in March and competed with four other graduate students in the April 9 competition. His research topic is "Androgynism: Balancing the Binary Forces of Human Nature to Achieve Subliminity." Veronica Watson is Sateriale's advisor.
As the winner of the competition, Sateriale received a $500 cash prize—which he donated to IUP's Emergency Response Fund, which helps IUP students who have financial challenges due to the coronavirus pandemic.
"IUP has given me so much this past year, I just wanted to give back," he said. "My family is healthy, both my wife and I are working, and we are leading a very blessed life. I know of so many people who have lost their jobs and who are struggling, including so many IUP students."
Khatmeh Osseiran-Hanna, vice president of University Advancement, offered her thanks for the donation.
"It is amazing how the IUP family has responded to support our students in need and especially the students who are able to give, they have stepped up to help their classmates. Brian's generosity is wholeheartedly felt and is a tremendous example of how the IUP family cares for one another," she said.
Originally from Boston, Sateriale and his family most recently lived in Pittsburgh, and he currently teaches online courses at the Community College of Allegheny County. In order to be closer to IUP to pursue his doctoral studies, he and his wife, Beth, and daughter Bryn, eight, moved to Indiana in the fall. Beth is a paraeducator at Ben Franklin Elementary School for special needs children.
Sateriale, who has his master's degree from Salem State University, has been teaching via distance education for the past 20 years and enjoying that work, but would like to transition to face-to-face instruction. His wife convinced him it was the right time to go on to complete doctoral studies. During the course of his work at CCAC, he met a representative of IUP, asked them about IUP's doctoral studies program, and was sold.
"I've been doing research and study on the topic of androgynism for the past 20 years," he said. "One of the things that attracted me to the IUP doctoral program is how willing and excited the faculty were for me to continue my studies on that topic."
"With the restrictions due to the pandemic, I wasn't sure that Three-Minute Thesis finals would be held, so I was thrilled when I was told it was continuing via Zoom. It was well organized, and I think that the medium was perfect. I never thought I would win—the other presenters were excellent," he said.
Sateriale describes his research in this way:
"Today, we live in a world of chaos. Just look at the current nature of the Three-Minute Thesis: we can no longer meet in person; we must talk to each other via a computer screen to avoid possibly endangering one another. I believe this world is the result of the imbalance of the male/female forces in nature and society. We live in a male-dominated world. Women earn, on average, 30 percent less than their male counterparts. Professional female athletes' contracts are fraction of those of male professional athletes—for example, the US Women's National Soccer Team. And, most alarming, in this presidential election year, there is not a single female candidate running for the Oval Office.

"These factors have led me to the creation of androgynism, which is the recognition of the human desire to obtain balance in the male/female forces of nature to achieve perfect harmony, internally and externally."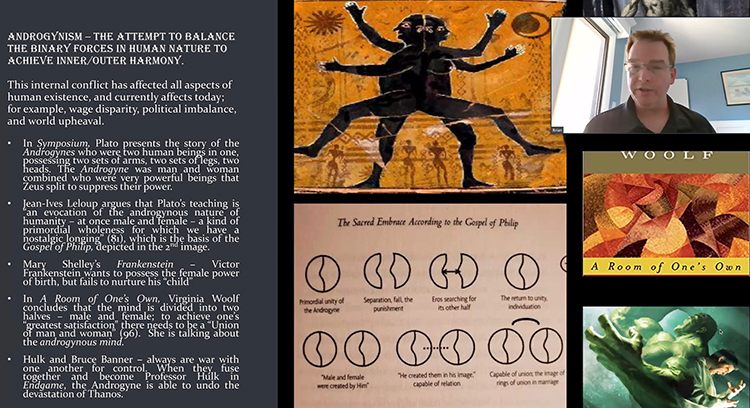 Finalists for the 2020 Three Minute Thesis competition included:
Elizabeth Laughlin, Composition and Literature doctoral student, "Redefining Mary Shelley's Creature alongside Nineteenth-Century Ghosts"

Abdul Habib Khalid, Professional Studies in Education doctoral student, "An Exploratory Qualitative Study of the Potential for Enhanced E-learning in Public Higher Education in Afghanistan"

Kalie Hoover, Safety Sciences master's student, "Examining Reaction Time and Compensatory Processes in Elderly Drivers"

Zainab Younus, Literature and Criticism doctoral student, "An Archive of Imagined Worlds and Futures: Environmental Speculative Fiction of the 20th and 21st Century"
Gifts to the IUP Emergency Response Fund will become part of IUP's $75-million Imagine Unlimited Campaign, which will enable IUP to step forward as a national leader by transforming the student experience through scholarships, program enhancements, and new and modernized facilities.