Indiana University of Pennsylvania's Council of Trustees approved resolutions on December 12, 2019, of appreciation for two long-time IUP administrators who are leaving the university.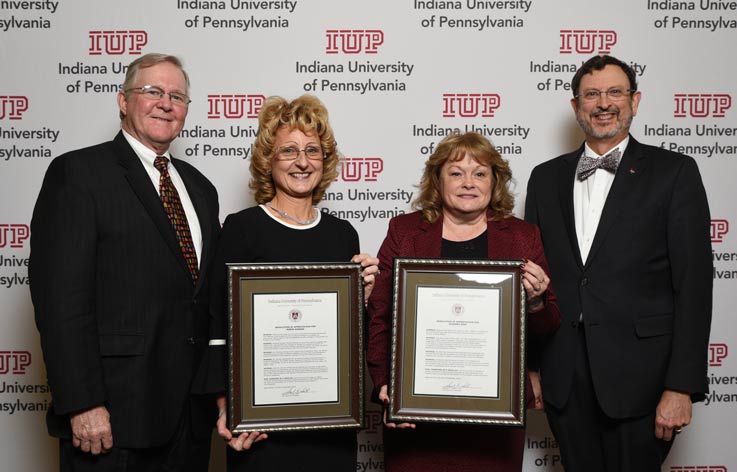 Trustees recognized Robin Gorman, executive assistant to the president for government and community relations, and Susanna Sink, interim vice president for Administration and Finance. Sink is a finance graduate of IUP.
Gorman, who was elected in November to serve as a member of the Indiana County Board of Commissioners, will be leaving the university in January. Sink will be retiring this month from the university after 35 years of service.
Gorman began her IUP career in the area of workforce development in the School of Continuing Education and in the Eberly College of Business and Information Technology. Because of that background and her deep knowledge of the political and government relations spectra, she was appointed executive assistant to the president by President Tony Atwater in September 2005.
The resolution from the trustees recognized that current IUP President Michael Driscoll "continued to rely on Mrs. Gorman's expertise and added to her responsibilities the oversight of making IUP a welcoming place to all constituents—parents, community members, government leaders, and more—as well as ensuring IUP retains a close connection with the communities it serves."
The resolution also lauded Gorman's role as a founding member of the Indiana Area Collaborative Team, and her success in developing the team's members credibility and trust, "which have strengthened mutual understanding and cooperation between IUP and the Indiana community."
Gorman's service on many boards with key government officials at the local, state, and federal levels also was highlighted in the resolution, as was her leadership in planning and executing high-profile events, both external and internal, including commencement.
"I can't remember a major event that happened without Robin's involvement," Driscoll said. "She has been tireless in making things perfect, and the work that she has done highlights both the office of the president and the university," Driscoll said.
"But even more important is that her work at IUP has been built on a deep and abiding care for our students, be it mentoring the student workers in her office, the sequence of student trustees, and helping any student facing challenges. While she is busy making sure every commencement ceremony is perfect—all business—most may not see her occasional tear of joy and pride for each and every new graduate, but it's always there. She has been an excellent liaison between the community and IUP and a great resource for government offices to connect with IUP."
Trustees recognized Sink's long career, which began in 1985 as a member of the Grant Accounting staff. She advanced through the ranks to become associate vice president for Finance in 2006. She has served two appointments as interim vice president for Administration and Finance.
The resolution also highlighted Sink's leadership in a wide range of projects advancing the university, including many software conversions, reaffirmation of the university's accreditation by the Middle States Commission on Higher Education, financing and early debt retirement of the Kovalchick Convention and Athletic Complex, construction of the Residential Revival housing initiative, and partnering with university affiliates. Under her watch, IUP has had balanced budgets and consistently clean financial audits (unmodified opinions on IUP's financial statements).
Sink led efforts to restructure Cheyney University as a loaned executive and is representing IUP in the current system redesign efforts.
"Susie has been a remarkable source of experience and institutional memory, both for IUP and across the State System," Driscoll said. "She is an exceptional partner with cabinet, and made the hard decisions where necessary, balancing those decisions with real understanding and concern about IUP and its students.
"We wish both Robin and Susie all the best. I want to thank them both, on behalf of the university and personally, for their commitment to IUP. They will be missed."
Following a national search, Debra Fitzsimons has been selected to serve as the vice president for Administration and Finance. She will begin work at IUP on December 16.