When Angaziya Malenge delivers her remarks at the ribbon cutting for Indiana University of Pennsylvania's University College on August 27, 2019, she'll be speaking from experience.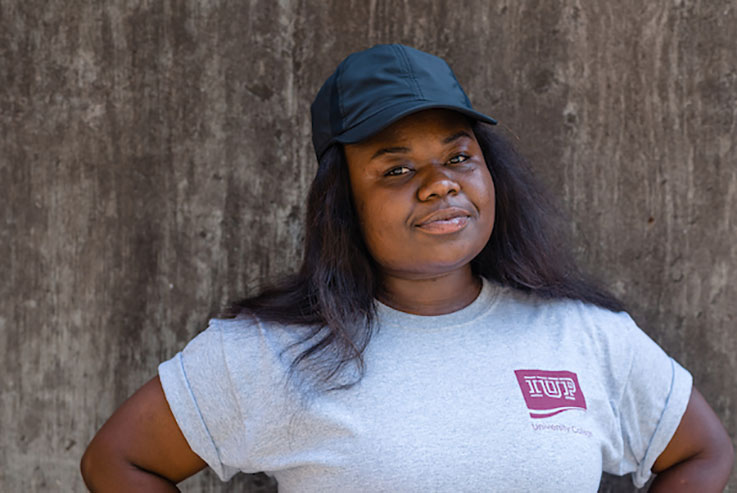 Malenge, a sophomore sociology human services major from Pittsburgh, was part of the first class of University College explorers in fall 2018.
She will be the student speaker for the IUP University College ribbon cutting on August 27 at 9:00 a.m. The ribbon cutting event, free and open to all, is at the Stabley Plaza entrance (across from Clark Hall). The University College is located on the ground floor of the IUP Libraries.
The University College is designed to give IUP students the best possible start and support, helping first-year students who are ready for college but who aren't sure of a major, and first-year students who need support to succeed in college.
New students who have not yet chosen a major are called "explorers," and in the exploratory studies area, students get specialized advising, learn about career paths, and try out classes in majors being considered. Students chose from seven subject-based, exploratory options as a starting point for finding the right major. These first-year classes count toward graduation, allowing explorers to decide upon a major in a way that is academically safe.
Academic support is offered by the University College with specialized advising, campus procedures and study skills workshops, peer mentors, tutors, and linked classes that are team-taught by professors from different departments.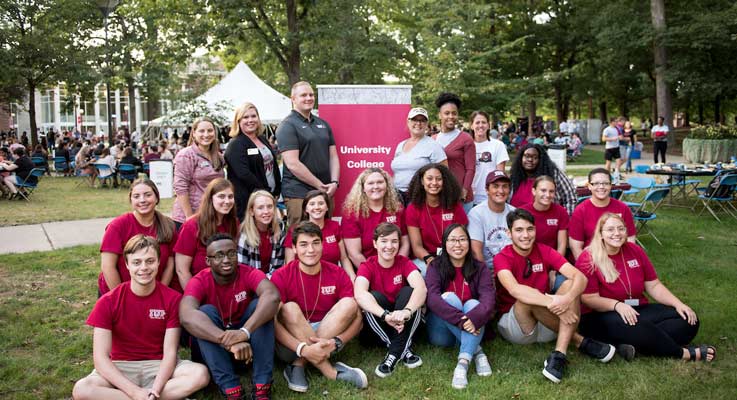 Most of the University College services are available to all undergraduate students, so students can take advantage of the University College throughout their time at IUP.
When Malenge came to IUP, "I was totally blank in terms of picking a major," she said. "There are so many careers out there, I just couldn't make a decision.
"At first, I wasn't sure where I could get help, but my peer mentor, my advisor, and all the professors who worked with the University College were really helpful," she said.
She credits the classes suggested by the University College—especially Introduction to Higher Education in her first semester and Career Exploration in her second semester—as key to helping her decide to major in sociology and human services and minor in psychology.
"I'm still exploring, but I feel confident that what I have selected will help me to meet my goal of helping people, and eventually getting my master's degree in my field," she said. "Helping people is definitely my passion."
One of her biggest challenges as a new college student was time management, she said. "I was able to overcome this challenge with help from the student mentors, staff, and programs offered by the University College. I've also used what they've taught me to stop procrastinating and to stop being late," she said.
Daughter of Matembo Mizumbi Philemon and Ponga Matele, Malenge is a graduate of Pittsburgh Brashear High School. At IUP, she has been active as a Student Success leader, a peer mentor, worked with the Major and Career Exploration Center, and is vice president of the Pan-African Student Association. She is the recipient of a NEED scholarship.
She was born in the Democratic Republic of the Congo and lived in South Africa until moving with her family to Pittsburgh in 2014.
Malenge said she chose IUP for several reasons, including a recommendation by her high school guidance counselor.
"IUP is close to home, it fits with my financial situation, and, when I did my first tour, I really liked the environment, especially how welcoming IUP was. I decided to apply, and I was so excited to be accepted."
She does have some advice to students about how to make the most of the IUP experience:
"Be open minded and be willing to accept the help that IUP has to offer. Don't be afraid of failure; failure is part of learning. Enjoy the college moments, try new things, and don't let anyone keep you from pursuing your dream."
IUP President Michael Driscoll, IUP Provost and Vice President for Academic Affairs Timothy Moerland, and Associate Vice Provost and Director of the University College Michele Norwood will join Malenge in offering remarks during the ribbon cutting.
In addition to remarks and light refreshments, those in attendance will be offered the opportunity to tour the facility and participate in an "Explorer's Expedition."
This scavenger hunt type of event will suggest a number of stops for participants, with giveaways at each stop. Places on the Explorer's Expedition that are part of or affiliated with the University College include the new student orientation office, walk-in tutoring center, Academic Success Resource Room, Kathleen Jones White Writing Center, Office of the Student Advocate, and the Major and Career Exploration Center.
The University Libraries will host additional stops on the Explorer's Expedition: the Serials Department Help Desk, Muslim Prayer Room, Study Zone map, circulation/reference desk, Stabley Library second floor library service spaces, and Special Collections.
In addition to Norwood, the University College staff includes Hillary Stitt, assistant director; and student support specialists Allison Baker, Jeremy Risinger, and Chartice Wyatt.