Rafoth Named 2010–11 University Professor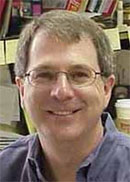 Dr. Bennett Rafoth, Department of English, has been selected as IUP's 2010–11 University Professor.
This award is presented to an IUP faculty member who demonstrates an outstanding record of teaching, research, and scholarly activity and service.
It was reinstituted at the university for the 2007–08 academic year by Dr. Tony Atwater, IUP president, and was awarded to Dr. Steve Hovan, Geoscience Department. Other recent recipients were Dr. Jack Stamp, Music Department, 2008–09, and Dr. Gian Pagnucci, English Department, 2009–10.
The award will continue to be presented on an annual basis. Recipients retain the University Professor title for a lifetime.
"Teaching and scholarship represent the heart and soul of the university's mission," Atwater said. "Our faculty members reflect the very best of the teacher-scholar model, and it is most appropriate to honor the best of the best with this prestigious honor. University Professors have a record of extraordinary instructional and intellectual success."
The purpose of the University Professorship is to recognize, reward, and encourage IUP faculty who are actively engaged in research and scholarly activity that advance the faculty member's discipline or the teaching of the discipline.
In addition to the lifetime title of University Professor, Rafoth will receive a $5,000 grant through the Foundation for IUP to support his research activities.
Rafoth joined the IUP community in 1987 as an assistant professor of English in the rhetoric and linguistics program. He was promoted to associate professor in 1991 and to professor in 1995.
Rafoth currently serves as director of the Writing Center, a position he also held from 1988 to 2006. From 2006 to 2009, he served as director of graduate studies in Composition and TESOL. He also served as interim dean of IUP Libraries in 1997 and 1998 and directed the Continuing Improvement Project for Stapleton Library during that time.
He was the invited keynote presenter for the Northern California Writing Center Association in 2010 and an invited keynote panelist for the European Writing Centers Association in 2006. He also was a presenter for a number of international, national, regional, and local conferences, and mentored students to present at many regional and local conferences.
In 2008, the International Writing Centers Association established the Ben Rafoth Graduate Student Research Award in recognition of his "many years of support for graduate student research in teaching writing and writing centers."
He received the International Writing Centers Association Book of the Year Award in 2005 and a National Conference on Peer Tutoring in Writing Distinguished Leadership Award in 2002.
He is an active member of several professional organizations, including the National Council of Teachers of English, Conference on College Composition and Communication, American Education Research Association, the International Writing Centers Association, and the National Conference on Peer Tutoring in Writing.
He has been coauthor of four books and author or coauthor of twenty professional articles, thirteen book chapters, ten reviews, and other publications. He is the recipient of more than $383,000 in grant funding for projects including Young Scientists for Pennsylvania and the Rural Scholars Program and for travel, research, and computer hardware and software.
Active in university and community service, he received a service award for his volunteer work with the Foundation for IUP and received the Point of Excellence Award from Kappa Delta Pi education honor society. He was the faculty writer for the Middle States Comprehensive Self-Study for IUP and has served on scores of university and department committees and advisory councils.
During his tenure as University Professor, Rafoth plans to work on two projects: a book focused on better serving multilingual writers in writing centers and an on-line writing center.
"Students who are non-native English speakers bring a wealth of diverse cultural, intellectual, and life experiences to IUP," Rafoth said. "Writing assignments, however, pose a formidable challenge for them, and instructors struggle to teach these students the rules and conventions of academic discourse. As students seek help from tutors in writing centers, the tutors themselves need better training and preparation because tutors need to apply different kinds of knowledge and skills for these writers than native speakers. The goal of my proposed book is aimed at providing this training and preparation."
His proposal to create an on-line writing center is based on assessment data that confirms that the IUP Writing Center is "enormously popular with students and effective in helping them to improve their writing."
"Next year, I would like to create a full-fledged on-line writing center for all IUP students who are enrolled in on-line classes," Rafoth said.