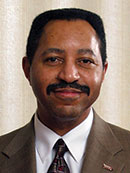 Dr. Tony Atwater, president of Indiana University of Pennsylvania, has been re-elected by the board of directors of the Allegheny Conference on Community Development to serve on the Pennsylvania Economy League of Southwestern Pennsylvania, LLC, Board of Directors.
The Pennsylvania Economy League of Southwestern Pennsylvania, LLC, the research affiliate of the Allegheny Conference on Community Development, provides research and analysis on specific public policy priorities. The information it provides serves the business, civic, and governmental leadership of southwestern Pennsylvania in support of improvements for living and doing business in the ten-county Pittsburgh region.
"I am pleased to have been re-elected to a second term of office on the Allegheny Conference," Atwater said. "This role represents an important and continuing economic development partnership between IUP and the greater Pittsburgh region."
In November, Atwater was selected for the 2009 New Pittsburgh Courier's "Men of Excellence" recognition.
The program, now in its second year, recognizes fifty African-American male executives, business owners, and community leaders who have displayed proven success within their profession, are positive role models whose contributions encourage others, and are active in community service or organizational involvement.
In April 2009, Atwater was selected for the Commander's Award for Public Service, one of the highest civilian service awards given by the United States Army. In March 2009, he was selected by Pennsylvania Business Central as one of the "Top 100 Business Leaders in Pennsylvania."
Atwater became IUP's twenty-fourth president in February 2005. Before coming to IUP, he served as provost and vice president for academic affairs at Youngstown State University.
Atwater earned a Ph.D. in communication research from Michigan State University, where he was the recipient of a competitive doctoral fellowship. He completed postdoctoral study in the department of communications at the University of Michigan.
Atwater is a Ford Foundation postdoctoral fellow. The focus of his research was news selection behavior in the mass media.
During his tenure at IUP, Atwater has assumed several leadership roles in addition to the role with the Allegheny Conference on Community Development.
He was appointed in 2007 by Governor Ed Rendell to serve as a member of the Pennsylvania Tuition Account Program Advisory Board and was selected to serve on the International Student Exchange Program Board of Directors and the American Council on Education's Commission on Lifelong Learning, a post he held from 2006 to 2009.
He is a member of the Economics Pennsylvania Board of Directors, Urban League of Greater Pittsburgh Board of Directors, Indiana County Chamber of Commerce Board of Directors, Greater Indiana Revitalization Steering Committee, and the board of the Indiana County Tourist Bureau. He also is an advisory member of the Indiana County KIZ Partnership Board.
He is a member of the Rotary Club of Indiana and has been recognized as a Paul Harris fellow.