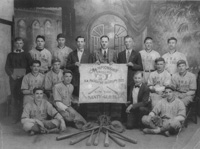 The University Museum's series on the region's coal history will continue Saturday, December 5, 2009, with "Researching Family History with Coal Culture Resources."
The program, which is free and open to the community, will be presented by Rhonda Yeager, assistant archivist in IUP's Special Collections and University Archives, at 4:00 p.m. in the University Museum, on the first floor of Sutton Hall.
Yeager served as the Rochester & Pittsburgh Coal Company project archivist for 2006–2007 and continues to assist patrons with research for the collection. She has taught a course on "Introduction to Genealogy" for IUP Continuing Education.
This is the final lecture in the series planned in conjunction with the exhibit "A Walk through Time: Western Pennsylvania Coal Culture" currently offered at the museum.
Registration for lectures is preferred but not required. To register or for information, contact Sally Daskivich at the College of Fine Arts at 724-357-2397 or sdaskivi@iup.edu.
The Pennsylvania Coal Culture exhibition will be available through December 5.
The museum is open Tuesday, Wednesday, and Friday from 2:00 to 6:30 p.m., Thursday from noon to 7:30 p.m., and Saturday from noon to 4:00 p.m. There is no charge for admission.
Parking on campus and in the IUP parking garage along Grant Street is free after 5:00 p.m. and on weekends.
The exhibit includes artifacts and documents of coal-mining life in Western Pennsylvania presented jointly by IUP Special Collections and University Archives, the Tri-Area Historical Society and Liberty Museum in Nanty Glo, the Historical and Genealogical Society of Indiana County, and private collectors.
The exhibit features artifacts, photographs, mine maps, and ledgers that document Western Pennsylvania bituminous coal culture, including the work and lives of miners and their families, the company towns, and community activities such as baseball games.
The show also features photos and items that document the operations of Rochester & Pittsburgh Coal Company and other companies, mine disasters, coal miner strikes, and unionization.