Marketing and Communications Wins Awards for Print, Video, and Design Work
Posted on 1/28/21 6:56 PM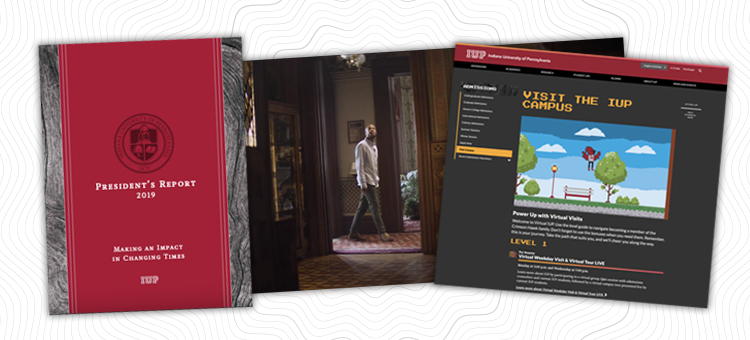 Marketing productions by the Division of Marketing and Communications in 2020 have won six Education Digital Marketing Awards and three CASE District II Accolades Awards.
The winning work includes IUP's new Flexible Identity System, several print publications, a television commercial, a website, digital advertising, social media content, and several online videos.
"These are all internal productions," noted Chris Noah, IUP's chief marketing officer. "The fact that we could make this award-winning work completely in house speaks to the talent of our MarCom team. The breadth of the work represented here speaks to the power and flexibility of the brand we are building."
IUP Flexible Identity System
Gold Award for Visual Identity Systems, CASE District II Accolades Awards
The IUP brand is more than just our logo, colors, and fonts. But getting those right is still important! A consistent visual appearance helps our audience identify IUP in the market and helps us tell our story.
The IUP Flexible Identity System was created to provide options for any situation in which visual branding was needed. It allows us to identify any sub-unit of IUP with different placements: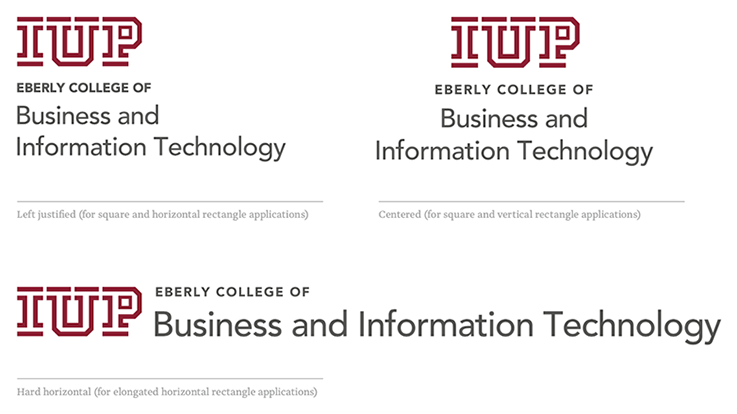 As well as different levels of formality and disciplinary emphasis: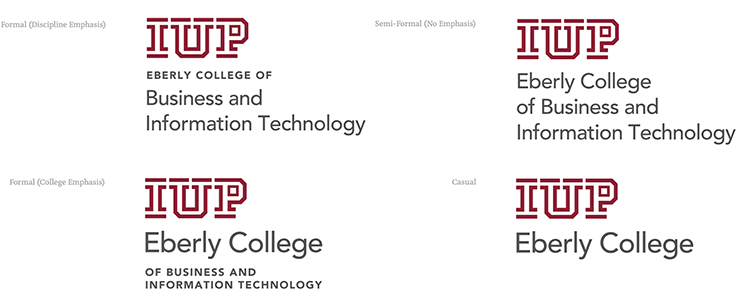 In addition, we looked back at several years' worth of requests for branded merchandise and made sure that we had branded IUP identifiers to put on just about anything: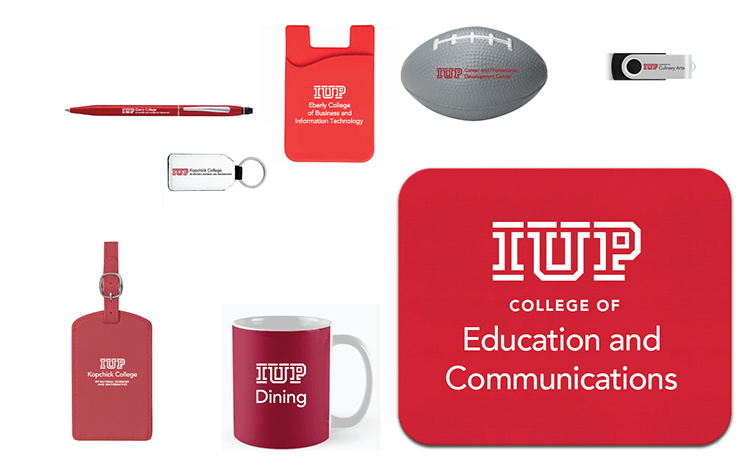 MarCom staff: David Raymond
President's Report
Gold Award for Institutional RelationsPresident's Reports and Annual Reports, CASE District II Accolades Awards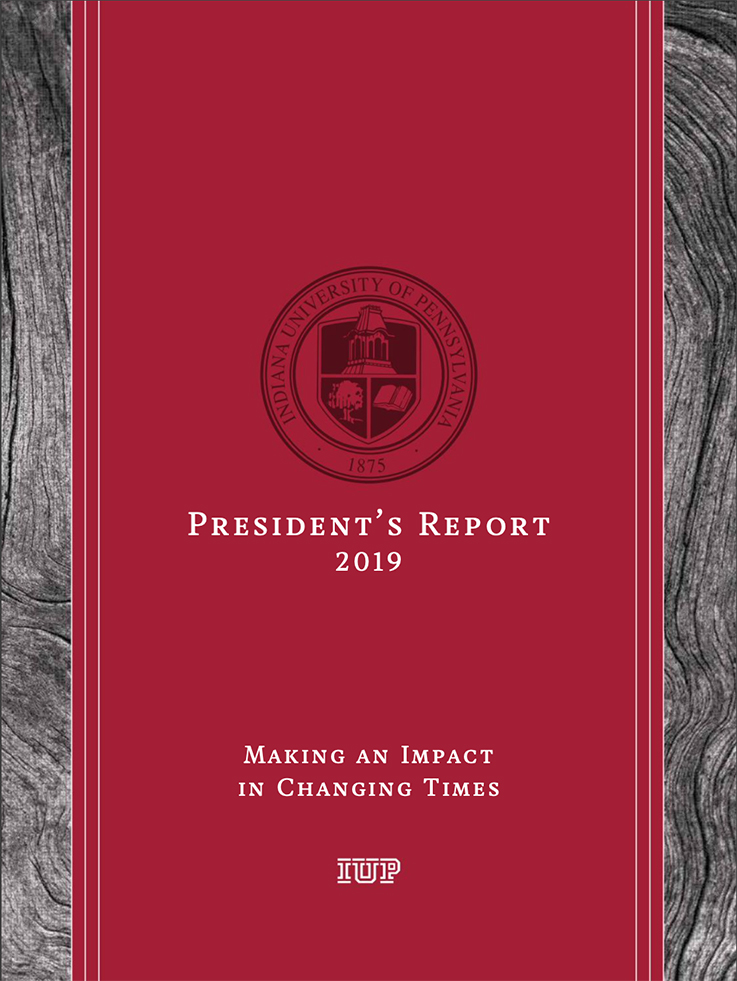 In keeping with our renewed commitment to telling the IUP story, we transformed what had been a strictly numbers-driven president's report to one that delves deeper into narratives of what direction the university is taking and what that means to the people we serve and engage. This publication makes use of large, impactful photography while hitting on a multitude of university efforts in a compact and easily digestible way.
With IUP's rebrand and emphasis on "cultivating transformation," the president's report was a natural place to communicate proof points in a narrative form. We took the opportunity to show (and not tell) of the transformation that occurs within our student body, our campus and region, and ultimately, the world.
See the President's Report online.
MarCom Staff: David Raymond, Regan Houser, Brian Henry, Elaine Smith, Simon Stuchlik
"Get to the Best Version of You"
Gold Award for Digital Video under Two Minutes, Educational Digital Marketing Awards
For our second year of television advertising using our updated brand, we delved into some of the student-centered programs IUP has recently created. "Get to the Best Version of You" presents our Exploratory Studies programs and University College. By using previously unused footage from earlier productions, we were able to create this (and seven other) commercials without investing in another large video shoot.
MarCom Staff: Bill Hamilton, Matt Burglund, Emily Smith, Regan Houser, David Raymond
"2018-19: A Year of Impact" (Report to Donors)
Silver Award for Publications on a Shoestring, CASE District II Accolades Awards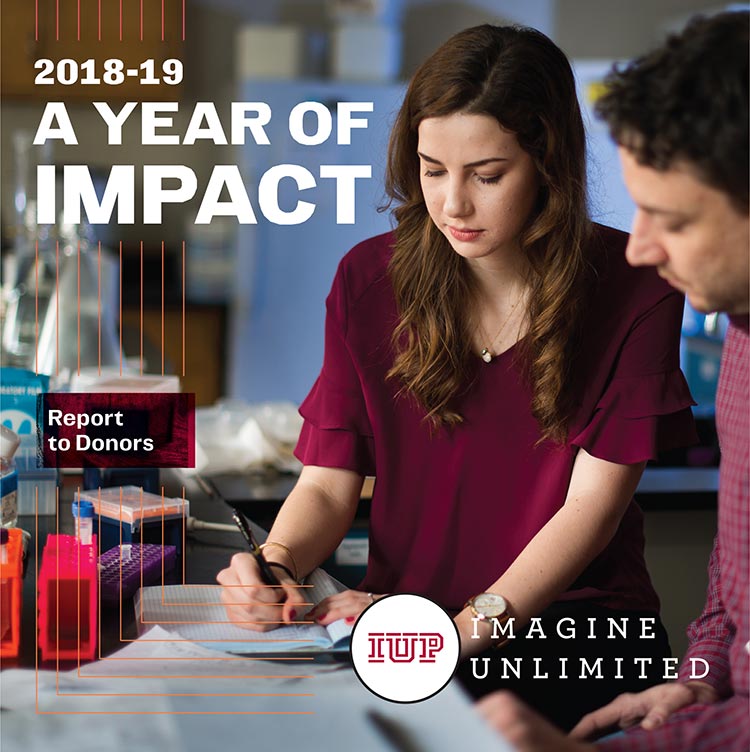 As the Imagine Unlimited campaign neared its completion, IUP needed a way to connect with everyone who had already given while continuing the push to engage further philanthropic support. And we needed to do it within a very limited budget for print materials.
We chose a simple print format: one sheet folded, with no binding. Then we paired donors with student beneficiaries to illustrate directly how gifts assist our students. All donors received this report, which provides a word of thanks, a snapshot of impact, an illustration of how donors can tailor their gifts to suit their own interests, and a friendly reminder that we are in the midst of a campaign and continue to need their helpboth financially and in terms of volunteersand a sense of accountability through a brief reporting of numbers.
MarCom Staff: David Raymond, Regan Houser, Brian Henry, Molly Russell, and the staff of University Advancement
"Virtual IUP"
Silver Award for Admissions Website or Microsite, Educational Digital Marketing Awards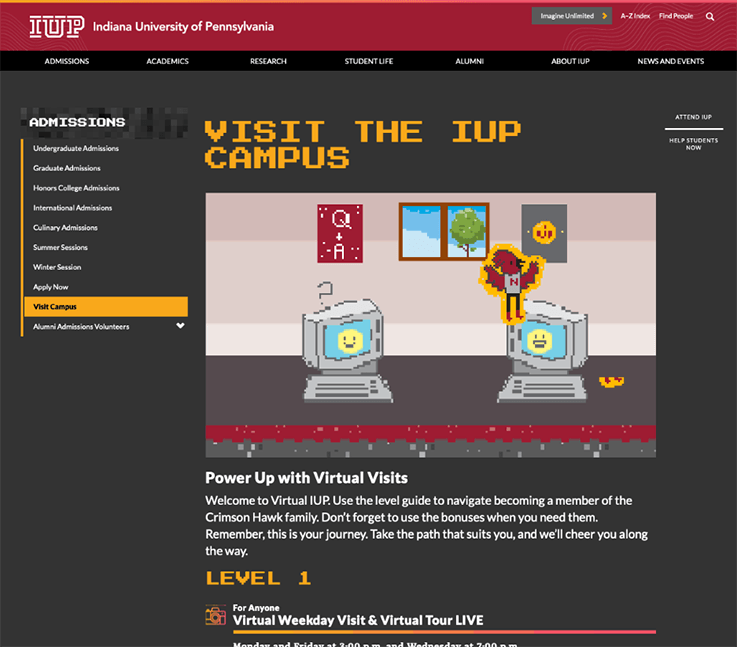 Prospective students who visit campus are several times more likelyto apply and attend IUP. So when the pandemic made in-person visits impossible, Admissions switched to virtual visits. The animated Virtual IUPmicrosite, and its associated digital advertising campaign, promotes our virtual visit opportunities in a whimsical and eye-catching way.
MarCom Staff: Ray Kiser, Matt Burglund, Brian Henry, Eric Pinkerton, Nikki Knox
"Meet Your Mentor"
Silver Award for Online Display Ad, Educational Digital Marketing Awards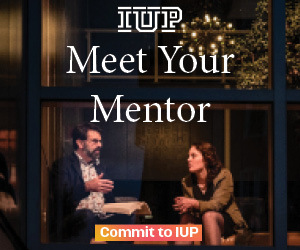 Digital display ads are an important part of our advertising mix. In a 2019 study, 63 percent of high school seniors told researchers they had clicked on an ad for a school they were interested in (RNL E-Expectations Trend Report 2019).
The "Meet Your Mentor" display ad was targeted to students who had been accepted to IUP, but who hadn't yet made their tuition deposit. It uses powerful photography and simple text to show prospective students the level of faculty support provided at IUP.
MarCom Staff: Brian Henry, Ray Kiser, Matt Burglund
"Making a Better Wikipedia,"The Innovators
Bronze Award forDigital Video over Two Minutes, Educational Digital Marketing Awards
IUP's research mission sets it apart from other State System schools.TheInnovatorsvideo series is designed to showcase our faculty and students, their research, and their expertise. Creative videography and use of b-roll takes what could be a simple interview into a much more exciting realm.
MarCom Staff: Emily Smith, Brian Henry, Mike Powers
"Power Up with Some Virtual Visits"
Bronze Award for Social Media ContentSingle Post, Educational Digital Marketing Awards
The counterpart to the Virtual IUP microsite (see above), these animated digital social posts put our virtual visit opportunities in front of potential students.
MarCom Staff: Ray Kiser, Matt Burglund, Nikki Knox
"What to Expect When You Return to IUP"
Merit Award for COVID Response, Educational Digital Marketing Awards
As the start of fall classes approached last summer, it was vital to get information out to students about how we would keep them safe when they returned. This video laid out our expectations for students returning to campus and explained how IUP would work to protect them.
MarCom Staff: Emily Smith, Bill Hamilton, Matt Burglund, Stephanie Keppich, Simon Stuchlik
About the Awards
The Education Digital Marketing Awards recognize the best educational websites, digital content, electronic communications, mobile media, and social media in the nation. Sponsored byHigher Education Marketing Report, the awards are made by a national panel of industry specialists who judge creativity, marketing execution, message impact, technology application, and innovation content.
CASE, the Council for Advancement and Support of Education, is a national professional organization for higher education alumni relations, communications, development, marketing, and advancement services. The Accolades Awards are made at the district level. With 700 member institutions, CASE District II is the largest of CASE's eight districts. It includes Delaware, the District of Columbia, Maryland, New Jersey, New York, Pennsylvania, Puerto Rico, the US Virgin Islands, West Virginia, and Ontario, Canada.