This page is a supplement to All about Alumni from the print edition of IUP Magazine.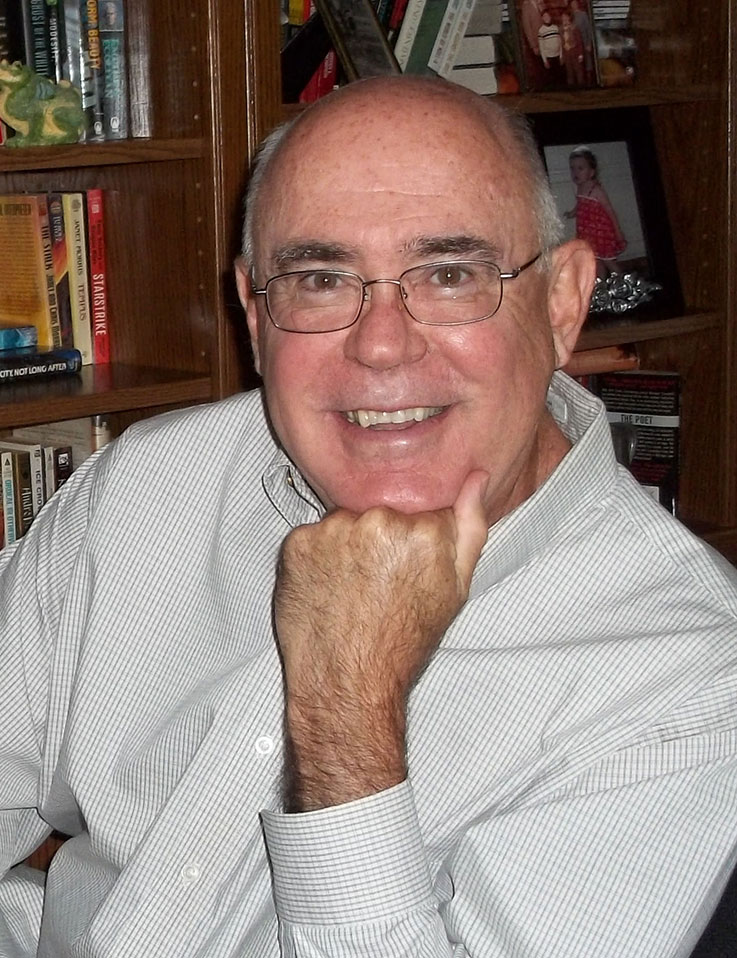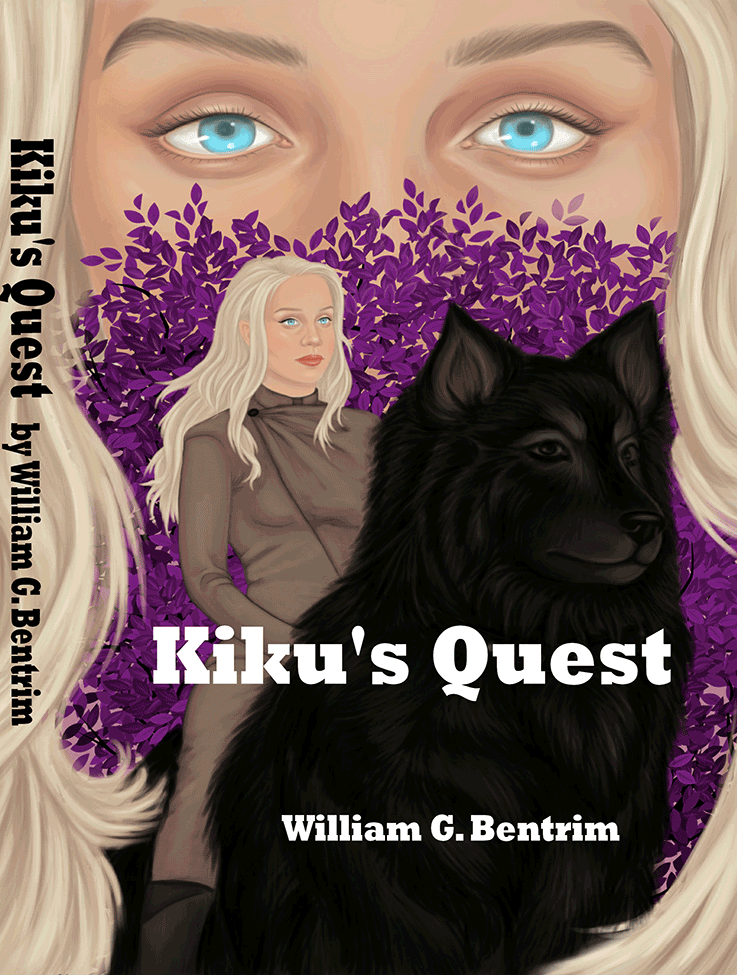 William Bentrim '68 Releases Science-Fiction Novel
The author of 40 picture and chapter books, William Bentrim '68 has released his first science-fiction novel, Kiku's Quest. Written for young adults, it is about a genetically engineered warrior who lives on the tough streets of a fringe planet and who is unaware of her special abilities. Released in March 2021 through Bearly Tolerable Publications, the book is available through major retailers.
---
Ralph Barone '73: "IUP in the Woods" Reunion Resumes
After missing their 2020 get-together because of the pandemic, the IUP friends from the early '70s that dubbed their annual reunion "IUP in the Woods" made it back to the Flying W Ranch near Tionesta last July. Participants included regulars Ralph Barone '73, George Bender '73, Gary Cleaver '73, Jim Griffith '73, Bob Young '73, Charlie Morgan '75, and Charlie Parke, plus new additions Mike Silvestri '73 and Bob Gibson. Paul Beam '74 and Fred Gagliardi were unable to make it in 2021. Their weekend activities included golf, kayaking, and trading stories around a campfire. The group welcomes new members. Contact Bob Young at keyrly122@zoominternet.net or George Bender at benderg@zoominternet.net to attend the next gathering, July 8–10, 2022.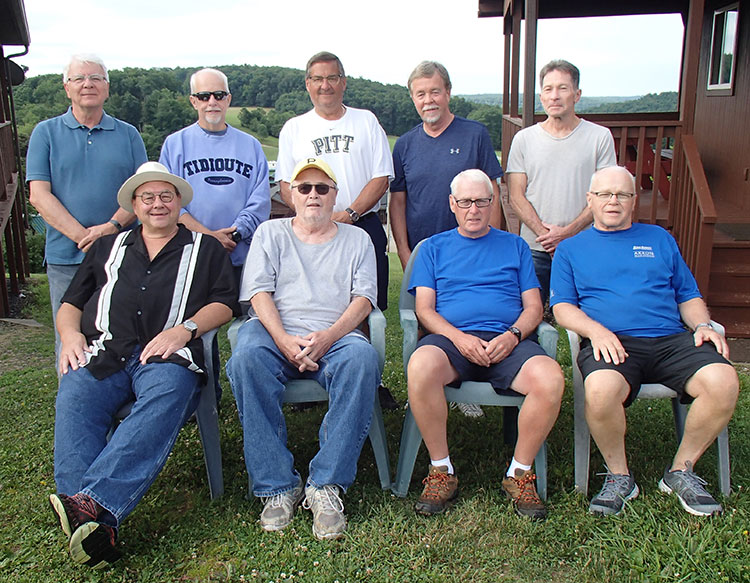 ---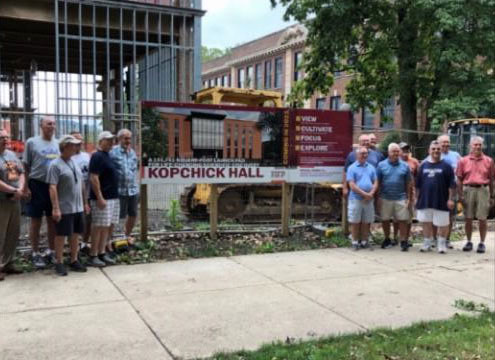 Jim Sadler '75: Chi Alpha Sigma Reunion
In August, brothers of Chi Alpha Sigma/Delta Tau Delta celebrated the 50th anniversary of the XAS founding with a reunion in Indiana. Jim Sadler '75 wrote that, while touring the IUP campus, they paused for photos at the construction site of John J. and Char Kopchick Hall, as John Kopchick '72, M'75 is a charter member of the fraternity.
---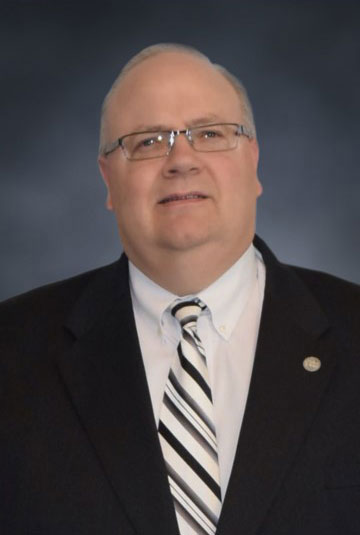 John Sanders '79 Retires from Norwood
After 25 years at Norwood Financial Corp., John Sanders '79 retired as senior vice president and retail lending manager. He worked in banking and financial services for 43 years.
---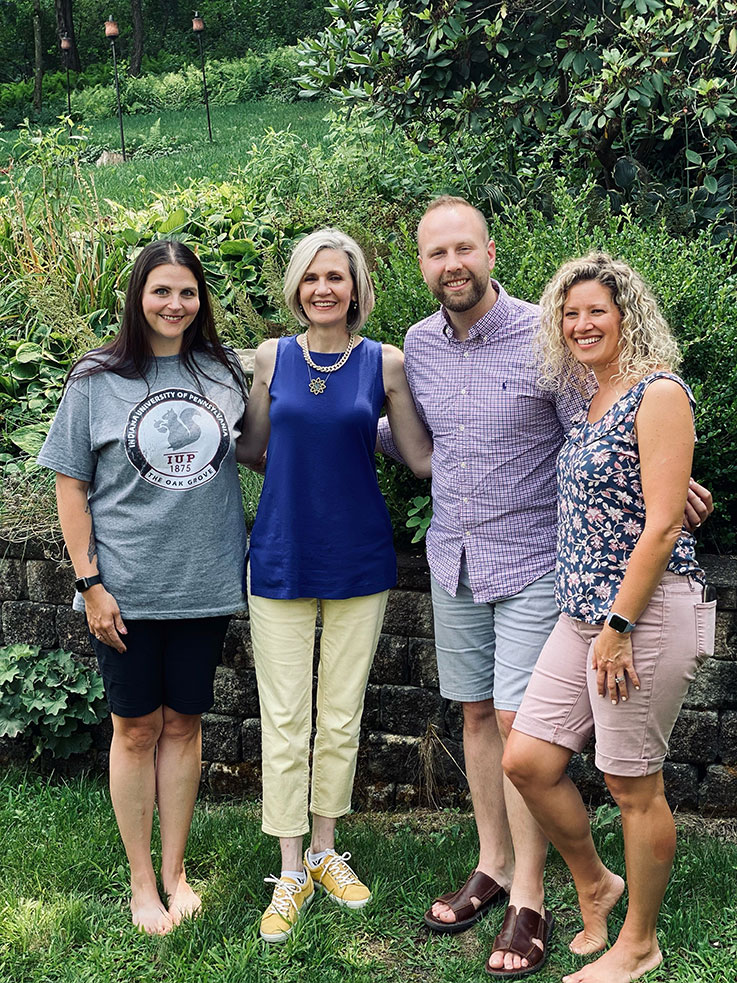 Angela Berna Milliren '98 Shares Get-Together Photo
Four IUP Music Department alumni and friends who hadn't gotten together since before the pandemic finally made that happen last summer. Lorraine Milovac '81, Beth Luther Eger '96, Angela Berna Milliren '98, and Ethan LaPlaca M'21 gathered at Beth's home in Wexford to have lunch, sing, and discuss their programs. They all teach high-school choir in the Pittsburgh area and are active in the Pennsylvania Music Educators Association.
---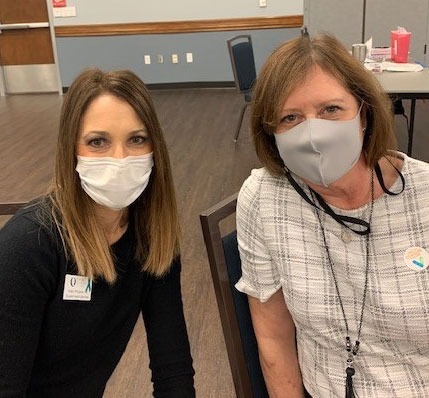 Lori Buell Zallie '83: Alumnae Connections at Vaccine Clinic
A member of the Department of Health Sciences at Florida Gulf Coast University, Lori Buell Zallie '83 wrote that she received her first dose of the COVID-19 vaccine last year from Kristin Weaver Phillipine '95, who, as a member of the Student Health Services staff, has led the school's vaccine distribution.
---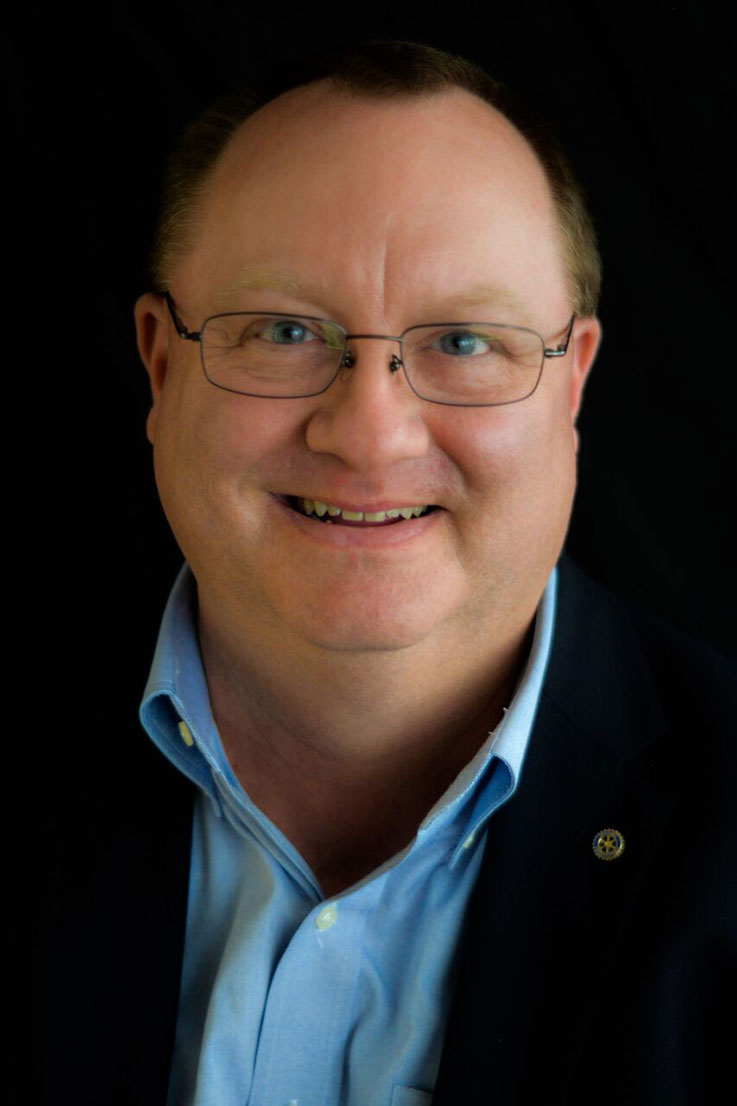 Vic Conrad '87 Marks 10 Years as Five Star Wealth Manager
The founder of Pinnacle Financial Strategies, an independent wealth management firm in Wexford, Vic Conrad '87 recently marked his 10th year of being named a Five Star Wealth Manager in Pittsburgh Magazine. He is one of only 66 professionals who have received this recognition each year since its 2012 start. Vic has been a financial advisor since 1994.
---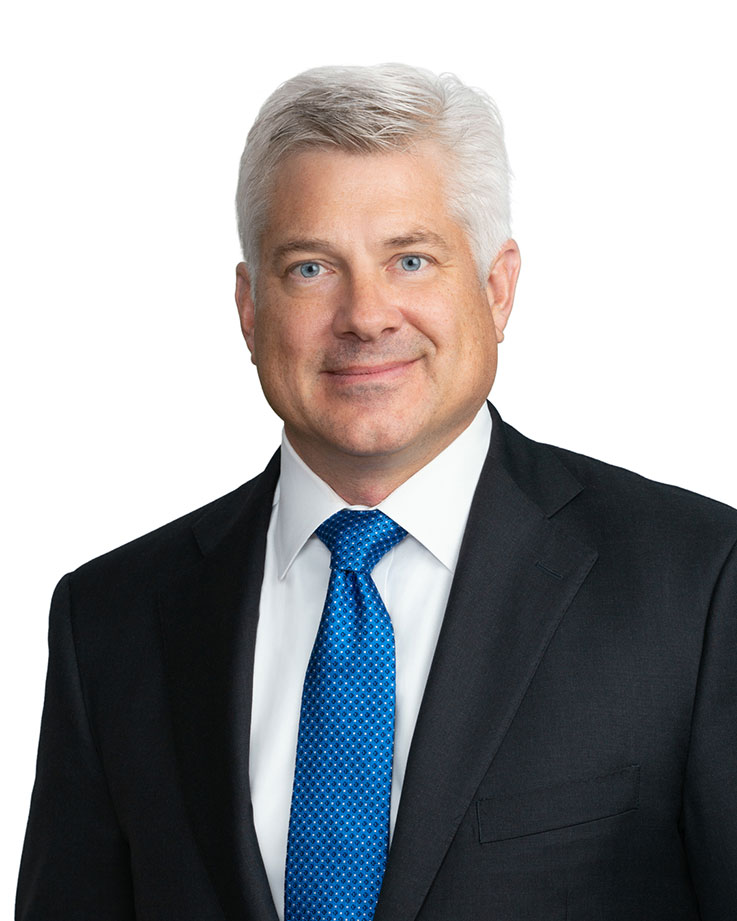 James Cole '90 Leads Marshall Dennehey Department
As the assistant director of Marshall Dennehey's Professional Liability Department for the past year, James Cole '90 has helped manage a team of more than 120 attorneys as they defend clients in claims and lawsuits. A member of the Philadelphia-based firm for 23 years, Jim is a longtime shareholder and cochair of three practice groups.
---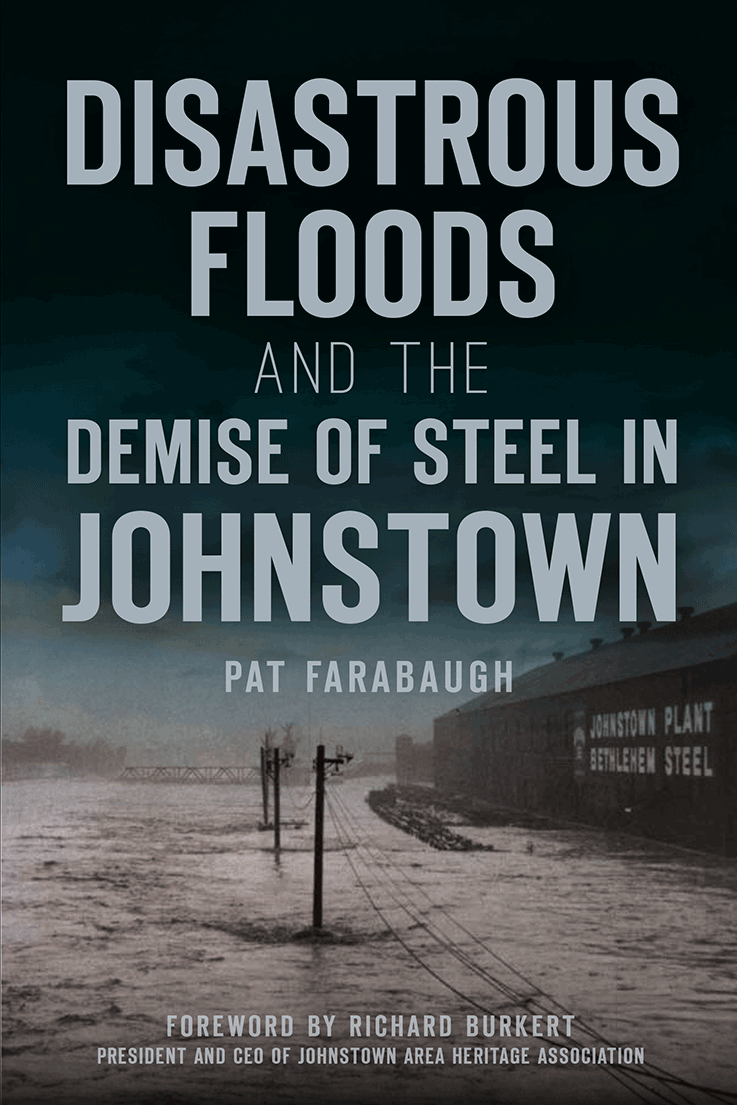 Pat Farabaugh '93 Book Explores Floods' Effects on Johnstown Steel
A professor of communications at Saint Francis University, Pat Farabaugh '93 recently published the book Disastrous Floods and the Demise of Steel in Johnstown, released by History Press in October. Pat spent four years on the IUP Journalism Department faculty before leaving in 2011.
---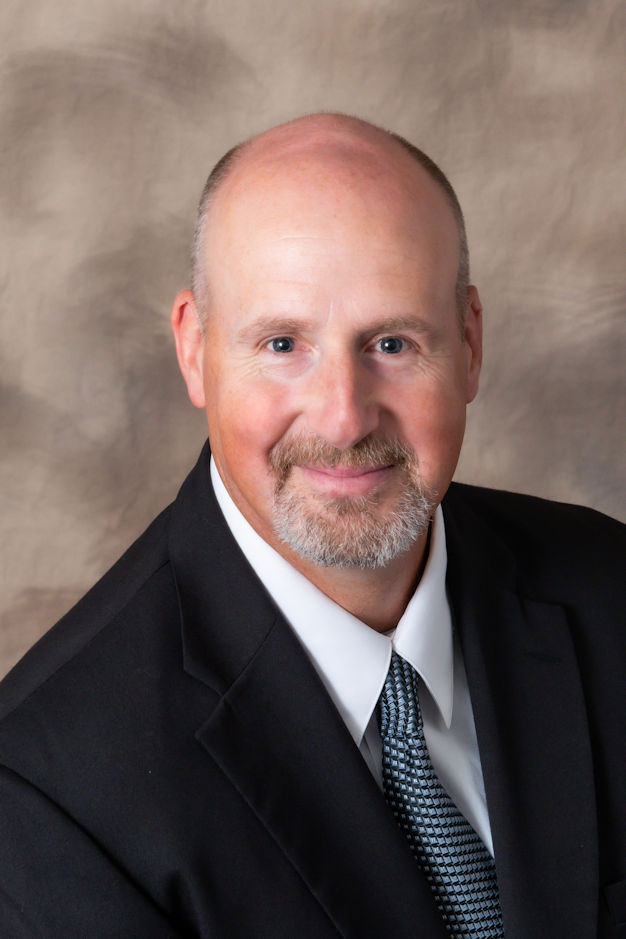 Craig Killian '02 Promoted at Belco
Belco Community Credit Union in Harrisburg recently promoted Craig Killian '02 to vice president of Account Resolutions, the area responsible for delinquent loan collection, fraud mitigation, and other services. He has been with Belco since 2015 and has worked in financial services more than 20 years.
---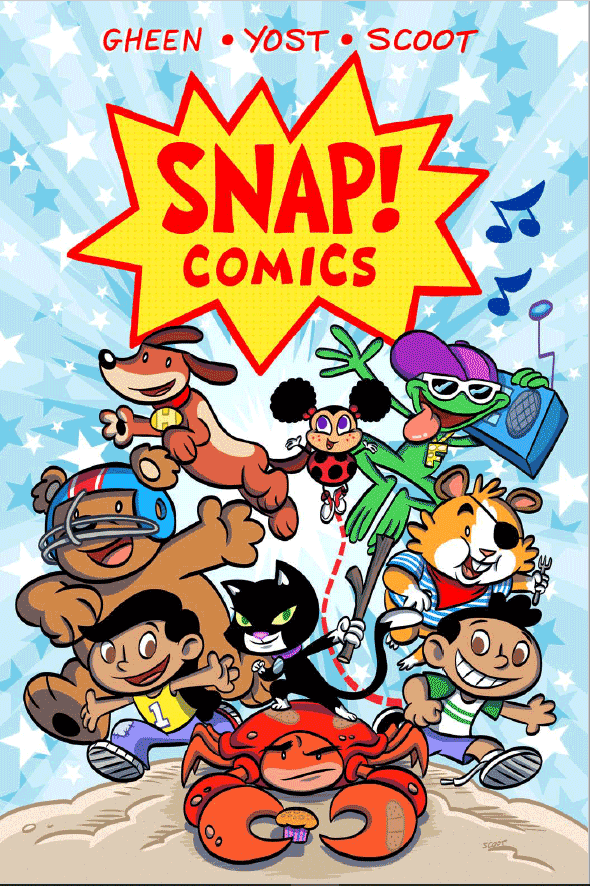 Melissa Shoup Gheen '05 Writes Snap Comics
As a kindergarten through second-grade teacher in Los Angeles, Melissa Shoup Gheen '05 found many texts for young readers to be too challenging. In response, she created Snap Comics, short stories with picture clues designed to help children become more confident, motivated readers. Melissa credits IUP faculty members Barbara Kupetz '73, M'77 and Gary Stoudt with inspiring her as an educator. Her book is available through major retailers.
---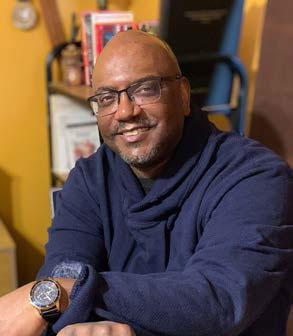 Anthony Todd Carlisle D'09 Publishes The Souls of Clayhatchee
An associate professor of English/journalism at California University of Pennsylvania, Anthony Todd Carlisle D'09 has published his first novel, The Souls of Clayhatchee, about a man who learns secrets about his parents as he reluctantly travels south to bury his mother in her Alabama hometown. A former newspaper reporter, Todd also served in the US Army Reserve for 14 years, achieving the rank of captain, and was deployed to the Middle East during Operation Iraqi Freedom. His book is available through major retailers.
---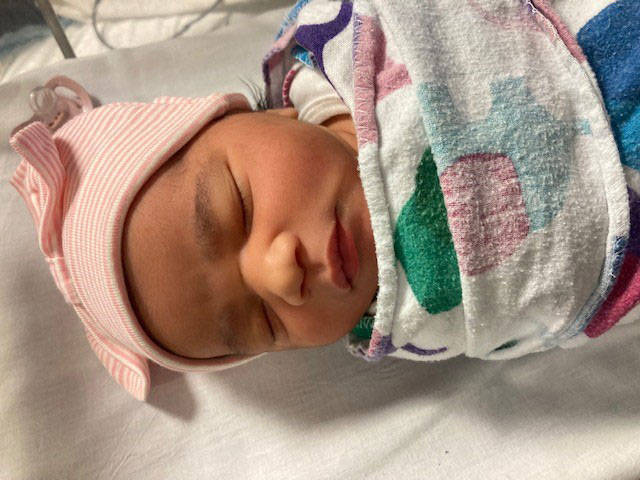 Justin Brown M'13 and Nicole Brown Welcome a Daughter
Justin Brown M'13 and his wife, Nicole, had a daughter, Alayna Renae, December 13, 2021.