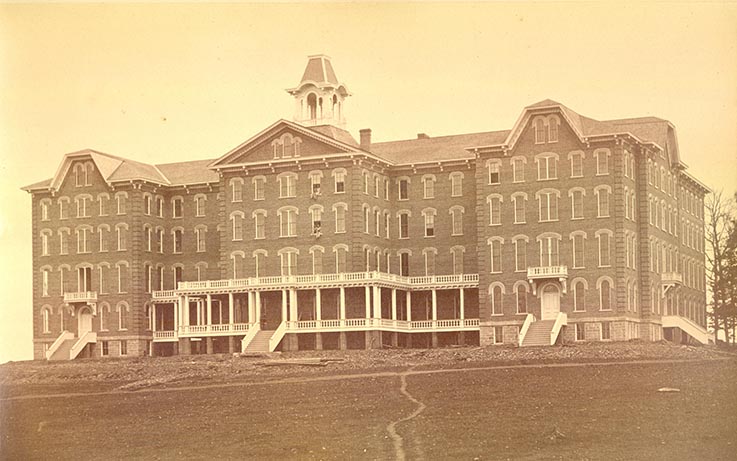 May 17, 1875145 years agomarked the beginning of the very first 10-week session at the State Normal School in Indiana, Pennsylvania. One hundred and fifty students attended the opening ceremony, and student enrollment reached 200 during the first week of classes.
The Normal School Act of 1857, "An Act to Provide for the Due Training of Teachers for the Common Schools of the State," led to the creation of 14 normal schools across the Commonwealth. Indiana State Normal School's first president of the Board of Trustees was John Sutton, and the school's first principal was E. B. Fairfield.
Jane Leonard, a graduate of Millersville State Normal School, was appointed as the preceptress of Indiana State Normal School (a position later known as the dean of Students and the vice president of Student Affairs) in 1875. Leonard also taught English and history, and she advised many students during her more than 46 years at Indiana State Normal School.
Leonard once wrote about the school's opening in 1875:
"before our furniture came, and when, do the best we could, the house would seem bare and empty. The boys for a week or two, cheered by Dr. Fairfield's hopeful words, bravely slept on the floor. He promised them that they would remember and laugh at their hardships someday, and be glad, in spite of them all, that they had been Indiana's first students."
When classes started at Indiana State Normal School, all classes, events, and activities were held in the only building on campus, which we now know as John Sutton Hall. The original campus building was designed by architect James W. Drum and constructed at a cost of $96,000 in 1874-75. It received its current name in 1904 to honor the first president of the Board of Trustees.
For more information about the history of Indiana University of Pennsylvania, visit IUP Special Collections and University Archives.