Employment Opportunities for Students
The Academy of Culinary Arts hires students for the positions listed below.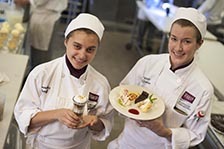 If you are interested in applying for a student worker position at the Academy of Culinary Arts, go to the Student Employment page. To apply, complete the online form. You'll find instructions on the page.
Student Ambassadors
Work culinary open houses and assist with mid-week group tours. Get catering and public relations experience, professional references, and an opportunity to work closely with your chefs and with culinary admissions staff. Specific work duties will vary depending on your job assignment. All jobs will include the following tasks:
Prep food and beverages for open house
Set-up food and program displays before the open house
Give tours to guests
Answer questions from guests
Qualifications
Good grades. Dependable. Friendly. Professional. Flexible. Must be available to work: set-up at lunch the week of the event, Friday after school before the event, and every open house date which will include four Saturdays (One date will be scheduled in October, November, March, and April .)
Hours will include hours for each open house plus lunch time set-up and one hour after school the week of each open house. Student ambassadors may be scheduled for additional hours working weekday programs, special events, peer-to-peer telecounseling or assisting with mail processing or other office assignments.
Storeroom Assistants
Chef Sones, our purchasing agent, will hire student workers for positions in the receiving kitchen and storeroom. See Chef Sones for more details and an application.
Qualifications
Organized, enthusiastic, dependable, must be a morning person
Student Office Worker for Culinary Admissions
One or two baking students will be hired to do general office work and assist with mid-week admissions visit programs and special projects.
Qualifications
Good basic computer skills, good attention to detail, professional and flexible
Alumni to Represent IUP ACA at IUP Undergraduate Admissions Expos
The Culinary Admissions Office will hire culinary or culinary/baking graduates who are current IUP students in Hospitality Management or Food and Nutrition to answer questions about the program at the Admissions Expos on the Indiana campus. Contact us at culinary-arts@iup.edu for details.
Alumni Ambassadors for Open House
The Admissions Office will hire graduates of the culinary or culinary-baking program who are current IUP students in Hospitality Management or Food and Nutrition to work culinary admissions open houses. Students will assist with open house facilitation, greet and talk with prospective students and their families, and assist chef instructors as needed. Contact us at culinary-arts@iup.edu for details.