Joel Goodling (2004) leveraged his opportunities to work at IUP-TV as a producer, host, and member of the station management. "Without the hands-on technical experience IUP was able to provide, I'm not sure I would be in the position I am today within the television industry. The Communications Media Department provided a nice balance of media history, theory, and tech in and out of the classroom to position me for success in the professional world." Joel is currently a producer for Fox Sports West, managing broadcast productions of major sports teams.
IUP-TV is a 24-hour access cable television station, operated by the Department of Communications Media in conjunction with student crews and production teams.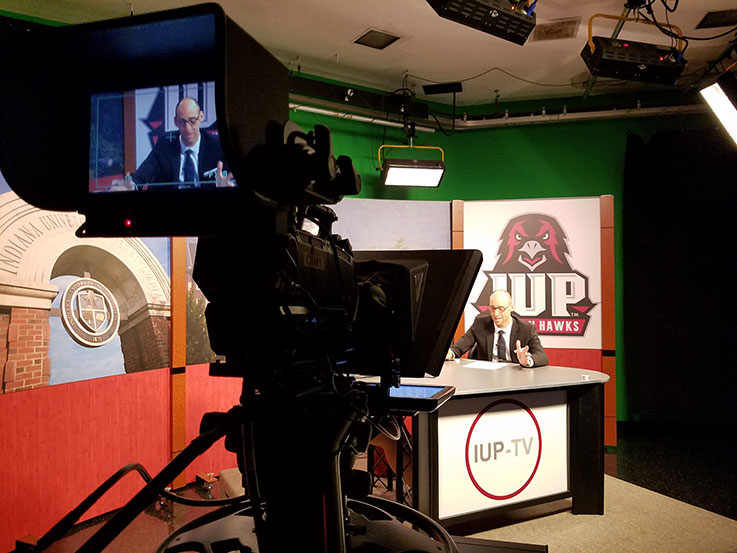 IUP's television station provides students with valuable learning experiences and its audiences with entertaining and reliable programming. IUP-TV reaches up to 100,000 local cable customers while enhancing the learning experience of the student volunteers who produce and host programming. This hands-on learning experience supplements students' education, creativity, and skills related to television production. IUP-TV is an opportunity for students to share their stories, highlight their excellence, and celebrate their talents with the surrounding community.
IUP-TV is uniquely different from most college television stations because of its direct connection to the academic mission of the Department of Communications Media at IUP. IUP-TV supports the academic curriculum by providing students with a working learning laboratory that includes state-of-the-art production equipment and editing software, operated and managed by a highly skilled professional staff.
Get Involved!
IUP-TV is open to all IUP students, not just communications media majors. Involvement in television production can develop skills that are desirable in many professional fields, including corporate communications, management, business planning, promotions, public relations, and marketing. IUP-TV open membership meetings are held at the beginning of each academic semester. To learn how you can be part of IUP-TV, contact the station's faculty advisor, Steven Kleinman, at kleinman@iup.edu.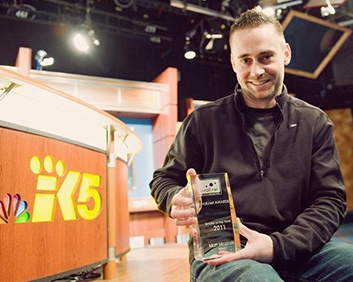 "I loved having the freedom to be artistically expressive at IUP-TV. It was early exposure to the art of television that allowed me to find my niche. The camaraderie of the students still exists today as alumni. I built lasting relationships and early skills that set the stage to be a nine-time Emmy winner, multinational award-winning journalist, and CEO of my own company. Some of the professors' words still ring in my head even today."
Matt Mrozinski '05,
Chief Photojournalist at WTHR-TV, Indianapolis, IN