Fall 2020 P3 Micro-Seminar Earns High Praise from Students
Posted on 12/7/20 8:26 PM
The Professional Preparation Program, or P3 Micro-Seminar, which was designed to provide students with career-ready knowledge, skills, and experiences, was launched by the IUP Career and Professional Development Center in fall 2020 and was deemed a success by students and CPDC staff.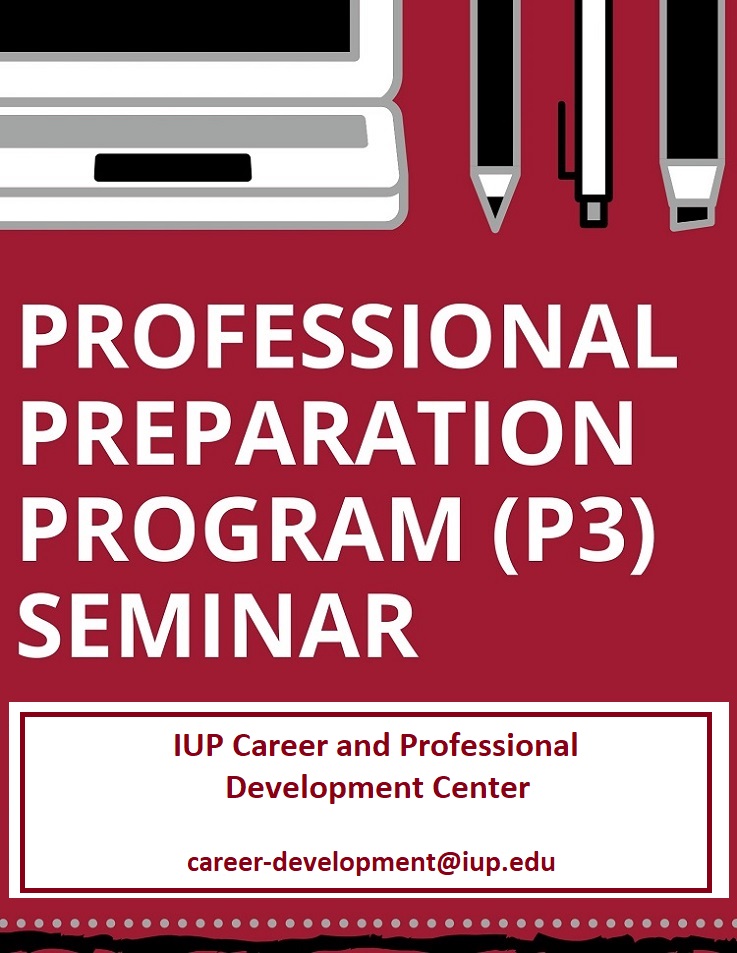 Students met virtually eight times during the semester for 60- to 90-minute seminars. According to Kacy McKeel, a sophomore accounting student, "My P3 experience pushed me to improve in many aspects of my life. It gave me many perspectives on the business world and how to communicate with it. I am so glad I chose to do P3 as it helped me in multiple ways."
"When I needed directions, P3 gave me a whole map," said Enoch Tariku. "I'm a freshman studying early childhood education, and I know school districts pay close attention to online presences. During those seven short weeks with Tammy and Kelsey, I crafted a very personable and professional LinkedIn profile, and I gained other valuable skills: rsum-building, networking, etiquette, etc. Don't let this opportunity pass you bypick P3!"
Tammy Manko, director of the CPDC, said, "I was impressed week after week with the creativity, intelligence, dedication, and engagement of the students involved with P3 this fall. Generally speaking, these students will most certainly have the edge over other students when it comes to internship opportunities and career growth due in part to their P3 experience."
Eleven students participated in all sessions, and three others attended at least one or two sessions for the full eight-week, noncredit micro-seminar. "This was essentially a pilot," said Manko. "We learned a great deal from this experience, which will be helpful as we make adjustments for future programs of this nature."
"We were so pleased at how well our first semester with P3 went this past fall," Kelsey Thompson, associate director of the CPDC, said. "We had a great group of students who consistently showed up each week, participated in discussions and activities, and took an active role in enhancing their own professional development. These students were some of the most dedicated students I've had the pleasure to work with, and I'm confident they will continue to do great things at IUP and after they graduate."
"We are planning and recruiting for P3-2, which is part 2 of P3 and will occur in spring 2021," Thompson said. "We will again have eight sessions, one per week with each session beginning at 5:00 p.m. and ending by 6:30 p.m. at the latest, each Wednesday beginning February 16 and running through April 6, 2021."
Students are encouraged to participate in the spring 2021 P3, Part 2 seminars, even if they were unable to participate in Part 1. Amy Parente, a freshman finance major, is an advocate of what can be gained by that participation. "Kelsey Thompson and Tammy Manko from IUP's Career and Professional Development Center know what's up," said Parente. "The P3 micro-seminars they provide are chock-full of valuable and invigorating tips and information. The friendly and caring P3 environment offers access to a treasure trove of useful skills and knowledge."

For more information on the P3 Micro-Seminars and other services offered by the CPDC, please go to the Career and Professional Development Center.