Ryan Miller is among the first few doctoral candidates to defend his dissertation in the fledgling PhD program in Business last week, and he was the first in the program to defend in a non-Zoom setting on campus.
Interim Dean Prashanth Bharadwaj, who was also Ryan's dissertation chair, said that this doctoral program was designed for working professionals who want to have a foot in the academic world and possibly transition into academia. Ryan is a senior director of quality for Dick's Sporting Goods' global supply chain. His PhD focus area was supply chain management. Ryan is also teaching part-time at Grove City College, thanks largely to his recent doctoral credentials.
Bharadwaj said, "Ryan was the perfect example of a doctoral candidate in our program. He brought in prior industry experience, and we gave him the academic tools in the program to dissect the supply chain literature and conduct in-depth research. His mixed-methods research on 'The Role of Situation Awareness during a Supply Chain Crisis' included empirical analysis of survey data using structural equation modeling (SEM) and in-depth case studies of Latin American textile supply chain pertaining to Dick's 800+ stores. He managed his time perfectly between a high-stress job that required travel, a young family, and his dissertation. It was heartening that he was joined by his wife and three teenage children when he successfully defended his dissertation."
Framarz Byramjee and John Lipinski were the other members of Ryan's dissertation committee.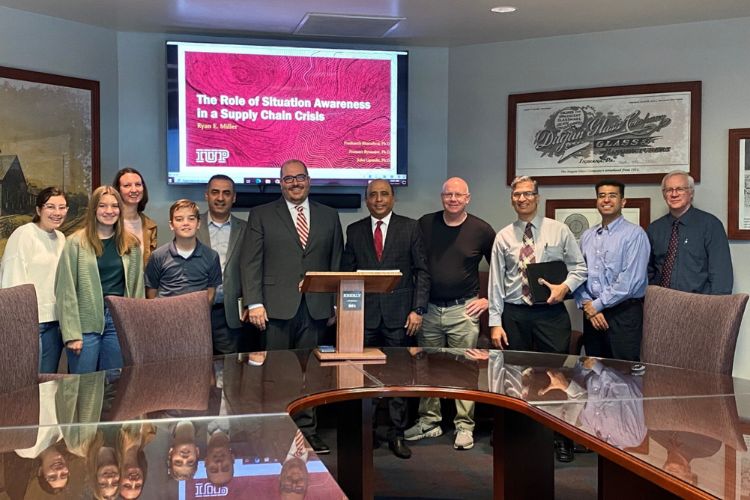 Mike Kosicek, who was the coordinator of the doctoral program for four years and worked with Bharadwaj to recruit doctoral students, said, "I recruited candidates like Ryan Miller to our unique program with passion since I personally did not have the opportunity to stay in my corporate job while pursuing my PhD. I had to quit my job in GE to pursue my PhD at a later stage in my life. Our PhD program provides a perfect opportunity for doctoral students like Ryan to realize their doctoral dream without having to give up their full-time jobs."
Dave Yerger, the current coordinator, said, "It was wonderful to leave Zoom behind and gather in person for Ryan's defense. His dissertation adds to the program's growing output of quality dissertations that will lead to well-received published academic journal articles. Ryan and his classmates are doing a great job demonstrating that IUP's Business PhD program makes it possible for working professionals to produce quality academic research that can advance them professionally."
Ryan commented, "I am incredibly grateful to have had the opportunity to participate in the inaugural PhD Business cohort! The balanced program enabled me to acquire new research methodology skills and unlock the empirical knowledge that I have gained as a practitioner to create scholarly literature."
Bharadwaj added, "Our PhD program currently has more than 60 doctoral students in various stages of their doctoral work and residing on multiple continents. The success of this program is attributable to the committed doctoral faculty in the Eberly College and the great support by our administrative staff, JoAnne Britcher and Karyl Miller."