The Eberly Biz Wiz Quiz Competition was an academic success, awarding $2,700 in scholarships sponsored by the Wall Street Journal, plus $150 from Eberly College, on November 17, 2021.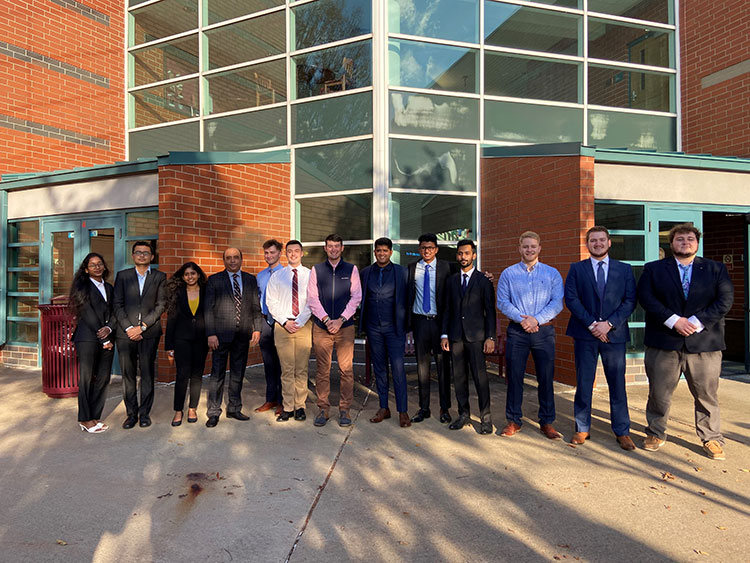 In early November, Prashanth Bhardwaj challenged student teams to engage in a multiple-choice exam that tested their basic knowledge of today's business functional areas, current events, facts/figures, and business trivia. The top four teams then advanced to the final round, which held components of game shows like Jeopardy, Wheel of Fortune, and Who Wants to be a Millionaire. The final round covered numerous business topics found in the Wall Street Journal, including information about current business and economic events, business leaders, business terminology, multinational companies, business products/services, logos/tag lines/TV advertisements, business strategies, etc.
Throughout the event, many opportunities and Wall Street Journal prizes were granted to over a hundred audience members who interacted and answered questions in between rounds.
Please help game show host, professor, and dean's associate, Prashanth Bharadwaj and the Eberly College of Business in congratulating the following event winners:
First place: Zane Billy (Finance), Matthew Hiles (Accounting), and John Steve (Finance) - $500 each
Second place: Ketan Kulkarni (MBA, Finance), Shobha Reddy (MBA, SCM), and Swathi Pandurangan (MBA, MIS) - $300 each
Third place: Akash Arun (MBA, Marketing), Suman Dutta (MBA, Finance), and Kiran Saravana (MBA, MIS) - $100
Fourth place: Angelo Juliana (MBA, Marketing), Dylan Lewis (SCM), and David Wright (SCM) - $50 each
Eberly College of Business