Indiana University of Pennsylvania's Council of Trustees today approved the naming of a conference room in the Eberly College of Business and Information Technology in honor of long-time dean and faculty member Robert C. Camp in recognition of his "extraordinary dedication" to IUP and his professional accomplishments.
Camp retired from his position as dean of the Eberly College in June 2020, transitioning to a member of the faculty in the Department of Management. He will retire from his faculty position in June.
"Dr. Camp has given his heart and soul to IUP, to the Eberly College of Business and Information Technology, and to our students during his 33 years at IUP," IUP President Michael Driscoll said.
In the resolution, Trustees recognized Camp as a "consummate educator and visionary leader, who advanced the college's reputation by enhancing the breadth of programs, exemplified by the Association to Advance College Schools of Business accreditation achieved during his tenure."
The Association to Advance College Schools of Business (AACSB International) is the premier accrediting body for business schools worldwide.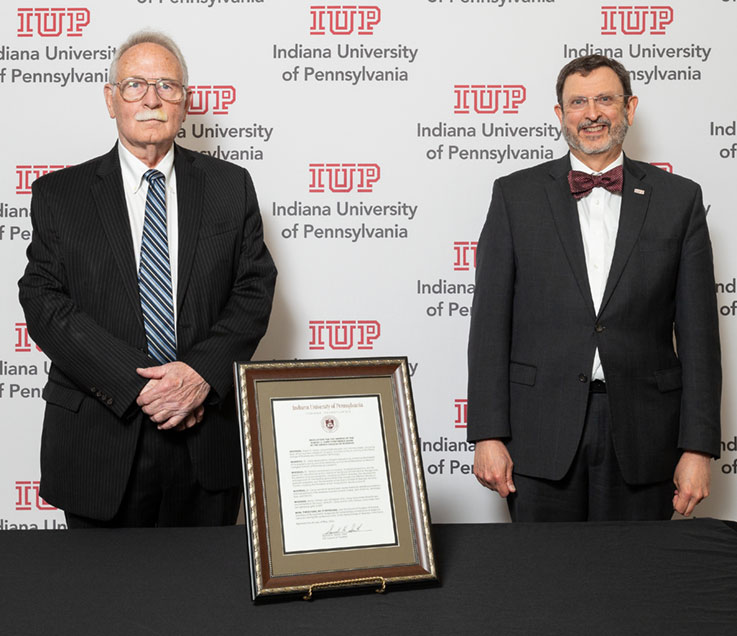 The resolution also acknowledged Camp's "commitment to inclusion, broad and global perspectives, and a passion for excellence that has led to the creation of the School of International Management, the expansion of programs including a PhD in business, expansion of international partnerships with offshore delivery of graduate programs, and broadening the Eberly College of Business Advisory Council, including a Young Alumni Advisory Council."
The resolution also noted that Camp has served several AACSB accreditation peer review teams and as chairperson of teams that reviewed business schools in Asia, Latin America, the Middle East, and the United States.
Family, friends, and colleagues have made philanthropic commitments in Camp's honor, and Camp and his wife, Carolyn Camp, have also provided financial support to IUP.
The Dr. Robert C. Camp Conference Room is located on the fourth floor of the Eberly College building.
The Eberly College, which was built during Camp's tenure, was so named in honor of the Eberly family of Uniontown in 1995. The College has continuously been cited in the Princeton Review's Best Business School publication since 2005. The College was featured on the cover of the publication in 2008.