Eberly Features Freshman Student Hamilton
Posted on 11/18/20 8:18 PM
The IUP Eberly College of Business and Information Technology is featuring freshman management major Eryca Hamilton, who chose to attend IUP because she has had many friends and relatives attend IUP who had nothing but praise for their education and experiences.
Eryca is from the town of Seward, Pennsylvania, which is located 25 minutes outside of Indiana. Eryca said, "Every person I know that came to IUP has succeeded after college, and that made my college choice easier. When I visited IUP, everyone was so welcoming. It was clear that the Eberly College works to help their students excel in both academic and extracurricular activities."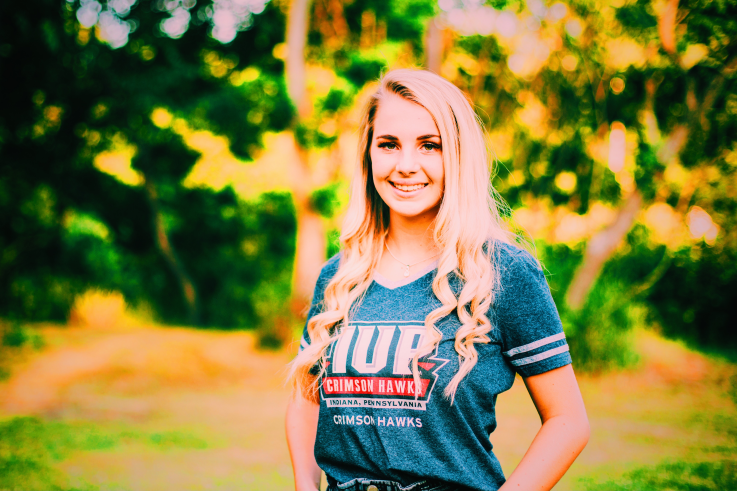 Regarding her experience joining the IUP community during the current COVID-19 pandemic, Eryca stated, "Since I am a freshman, I have had very little time in Eberly; but in that little amount of time I have loved every second of it. It is amazing knowing that everyone here is so helpful and always answers any questions or helps to resolve any issues that I have. The current conditions surrounding COVID-19 have not hindered my ability to receive quality coursework and support."
Eryca is still exploring options in business. "I am not sure exactly where I want to go in business, so I chose general management as a starting place. I can get more specialized as I learn more about the various fields in business. I plan to go on for my MBA after completing my undergraduate education."
While attending classes, Eryca has also picked up a student employment position within Eberly. "Employment in Eberly has led me to meet new people that work with me and to learn my way around Eberly better. I am so excited that I got the chance to have a job in the Eberly College of Business, so that I can learn how to work in a more business environment and get a feel of everything that is going on in Eberly every day. I encourage all students to look for positions on campus," said Eryca.
Eryca enjoys spending her free time traveling, playing basketball, swimming, baking, and shopping.
Eryca shared with us one of her favorite quotes: "You don't always need to understand your journey in life, you just need to trust that you are going in the right direction." Eryca went on to explain the significance of this quote to her, saying, "I personally love this quote because I do not exactly know what I want to do after college, but I know that the Eberly College of Business is providing me in the right direction."
About #EberlyAmazingStudents
The #EberlyAmazingStudents series features students who are involved in a variety of extra-curricular activities. Associate Dean Cyndy Strittmatter is overseeing the project. "We are proud of our students who balance their academics with extracurricular activities and recognize the commitment that it takes to excel at all levels. We look forward to sharing their accomplishments with the IUP community and beyond!"