Breezedale Alumni Center
Breezedale, the stately Victorian mansion that has graced the IUP campus since the mid-1800s, is home to the IUP Alumni Association and the IUP Office of Alumni and Friends.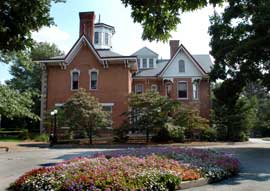 Breezedale was constructed in the late 1860s by James Sutton and his wife, Sarah Stansbury Sutton (James was the brother of John Sutton, Indiana's first board president). It was eventually sold to John Elkin, a Supreme Court justice and Pennsylvania gubernatorial candidate, and his wife, Adda Prothero Elkin. The interior reflects the Victorian and Edwardian periods, with bold colors, rich woodwork, and ornate furniture.

The mansion's second and third floors are home to the Alumni and Friends staff, but its first floor can be rented.

Use of Breezedale

(As of June 26, 2015)

Breezedale is available for small-group functions, such as special meetings, university receptions, workshops, and other appropriate events. Two groups may be scheduled simultaneously, but consideration must be given to the availability of parking and food service.

Events in Breezedale are scheduled through the IUP Office of Alumni and Friends. No private family events, such as wedding or baby showers, wedding rehearsal dinners, weddings, or receptions, are permitted.

The following provisions govern the scheduling of events:

Events in Breezedale will be directly supervised by the individual sponsoring the events. A trained facility manager will be assigned by the Office of Alumni and Friends for all events during nonbusiness hours.
All requests for seating arrangements or special setup of events in which food is not involved must be made through the maintenance office 10 working daysbefore the event.
For events that require food service, arrangements must be made with IUP Dining Service.
Five (5) eight-foot tables, 14 six-foot round tables, six (6) high-top tables, and 130 chairs are available for use in Breezedale. In addition, the Library is equipped with an 80-inch television screen. Cords are available to connect the screen to your own laptop or mobile device. Again, work orders or set-up arrangements must be made with catering for each event.

When requesting a date, all reservations are to be submitted using 25Live.