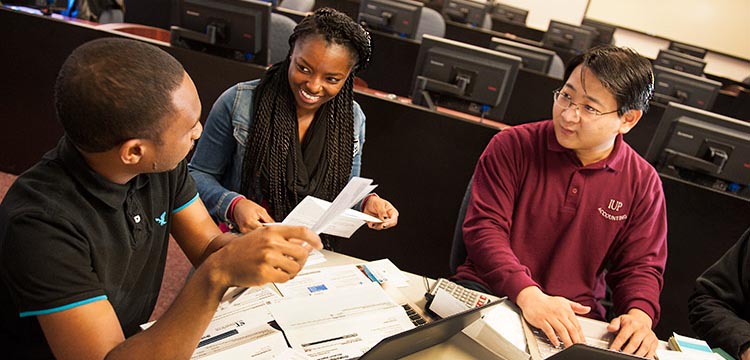 Get affordable, well-rounded expertise in accounting
The business world places a high value on precision, along with ethical attention to detail. The increasing globalization of business and the pressure to adhere to regulations to fight corporate fraud have led to added scrutiny of company finances and stricter accounting procedures.
As an accounting major, you'll learn financial reporting system design and analysis, managerial accounting, taxation, and nonprofit accounting-the training you need to pursue higher degrees and eventual certification. You'll also acquire the communication and writing skills critical for succeeding in large and complex business environments.
Why accounting?
A well-constructed accounting information system, properly detailed and administered, is essential for any company wishing to compete in the global market. Accounting not only helps determine a company's financial status - it also is invaluable for controlling assets, planning, and making decisions.
At IUP, you have the flexibility to apply your interest in accounting to many different areas - business, the arts, science, or law. Many students double major in accounting and other areas, such as finance and MIS, and graduate with powerful credentials.
The world needs accounting majors
All businesses-public or private, for profit or not-for-profit-need accounting.
With a BS in accounting, you can choose from multiple accounting career options in public accounting, government, industry, and nonprofit organizations.
The IUP difference
Eberly College of Business. As part of this college, you are enrolled in a business school accredited by AACSB, the premier accrediting body for collegiate business programs worldwide. Furthermore, you are connected to a network of approximately 13,000 alumni, many of them holding high-level positions in major corporations and accounting firms.
State-of-the-art facilities. At IUP, we provide you with an affordable, well-rounded education at one of the largest and most qualified accounting facilities in western Pennsylvania.
Accounting faculty. Our professors bring a mix of real-world, international, and national accounting experience along with exceptional scholarship. But what they are known for is their commitment to teaching their students and preparing them for successful careers in business.

Eberly College of Business is accredited by the Association to Advance Collegiate Schools of Business-the premier accrediting agency for collegiate business programs.