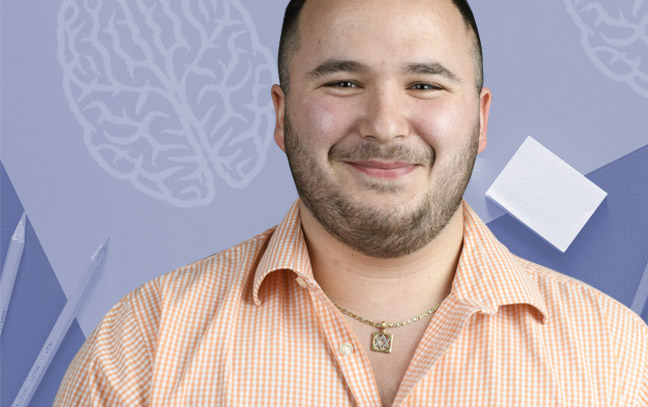 Support Student Development as an Educational Specialist
You want to help kids in schools. So you're thinking about becoming a school psychologist. School psychologists support the mental health, development, and learning needs of school-age kids by creating supportive school environments.
An educational specialist degree from IUP's School Psychology EdS program will prepare you to dive into the challenging and highly rewarding career as a school psychologist.
And when you're ready to broaden your career opportunities, you can go on for your PhD in School Psychology at IUP and be a lead school psychologist or take on supervisory positions in school psychology or student services.
IUP's EdS in School Psychology program is fully approved by the National Association of School Psychologists (NASP).
What You'll Learn
You'll build a foundation in
Behavioral studies
Cognitive, affective, and social bases of behavior
Educational and general psychology
Individual differences
Research
School psychologists take on several responsibilities beyond assessment. You'll learn about these through courses on
Counseling
Assessment
Exceptionalities
Intervention
Law/ethics
The use of psychological skills in multicultural educational settings
You'll get plenty of firsthand experience through practicums and a full-time internship.
Imagine Your Future
Your timing couldn't be better. Current school psychologists are reaching retirement age in large numbers. This is creating a nationwide shortage that will trend into the foreseeable future.
You'll be in demand across the country—especially if you hold a specialist degree in school psychology.
The job outlook is very promising for school psychology nationwide. The current shortage of school psychologists is making jobs available in nearly all regions of the US. And there will be even more opportunities for a new generation of school psychologists as many current practitioners are retiring.
With your education specialist degree in school psychology, some of the jobs you can take on include:
Certified School Psychologist
School District Administrator
Behavior Specialist Consultant
Have you thought about where you'd like to work? School districts may be the obvious setting you envision. But it can pay to keep your options open. You may find yourself working for an educational consultancy, other educational agencies, and even departments of education where you can have an even broader influence.
Employment of psychologists is projected to grow
from 2012–2031. One of the groups with the best job prospects is those with specialist or doctoral degrees in school psychology.
Classes and Requirements
You'll learn the clinical skills and professional knowledge you'll need to be an effective certified school psychologist. Your professors will work with you every step of the way to make sure you're ready.
Courses 
Your classes will focus on broad topics within school psychology. You'll cover the ways:
School psychologists support students, teachers, and school systems.
Schools and districts operate in service to students, families, and communities.
And you'll learn best practices for understanding, assessing, and intervening to promote student learning. 
Degree Requirements 
You'll need to maintain a minimum 3.25 GPA and a grade of B or better in all department courses to complete your education specialist degree.  
You'll get first-hand experience through practicums and a full-time, supervised internship. The internship is a minimum 1,200 hours, and at least half of this time takes place in a school setting. 
You have to complete all your internship hours and activities within one year of your first internship term. You'll have a maximum of 24 months to complete a part-time internship. 
You might be able to alter the scheduling of your credits (this will need to be approved by the department).
You'll need to be continually enrolled for at least 6 credits per semester, including summer. (This may be waived by the coordinator of the Specialist Program and the School Psychology Committee.)
At the end of the program, you will be responsible for fees related to national, regional, and/or state licensing exams.
Internship Requirements
Before you can start your internship, you will undergo a criminal background and child abuse clearance check. You'll also need to provide proof of:
Health insurance
Liability insurance
Immunization records
It will be up to you to meet all institutional and/or facility requirements where you're interning, including paying part or all of the associated costs. You'll need to arrange for transportation to and from off-campus experiences.
Full Academic Catalog Listing
The course catalog is the official reference for all our degree and course offerings. Check it out for a full listing of the classes available and requirements for this degree.