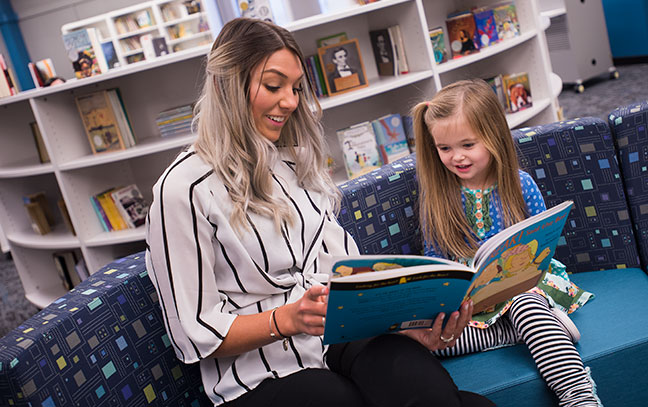 Add Career Options with New Credentials
The Reading Specialist Certificate program is designed for certified educators who desire graduate studies in reading and literacy theories, research, and instructional practices. Teachers can expand their options in the education job market with this certification, which covers reading specialization for pre-kindergarten through 12th grade.
IUP's closely-related MEd in Literacy degree requires one additional course beyond this certificate program and results in both the reading specialist certification and a master's degree in literacy.
Topics You'll Study
In this program, you'll study effective methods for assessing students' literacy knowledge, research-proven methods of effective literacy instruction, reading and literacy theories, and diverse texts for literacy instruction. You'll also learn how to translate research into practice and how to coach classroom teachers to integrate effective literacy instruction into their classrooms.
Program Benefits
All classes are taught online, most are asynchronous (any class meeting times are after school hours and on Zoom)
You can finish in one year full-time, or in up to five years
Outstanding practicum program and faculty support
Imagine Your Future
Graduates often continue in their current positions as classroom teachers or accept positions as reading specialists in school districts.
With the broad range of ages and diversity of learners within the scope of this program, educators at any level can incorporate what they learn about reading into their classrooms, from kindergarten to high school science.
Classes and Requirements
This 27-credit certificate program is carefully sequenced to mirror the academic year in a teaching position. For example, LTCY 701, the assessment course, is offered in the fall semester. This allows you to apply what you learn about essential literacy assessments to your own teaching as you gather student data. In this certificate program, you'll deepen your knowledge of professional content and pedagogy and gain hands-on experience through field-based assignments.
Full Academic Catalog Listing
The course catalog is the official reference for all our degree and course offerings. Check it out for a full listing of the classes available and requirements for this degree.
Access to the Bill and Judy Scheeren Literacy Center
The Bill and Judy Scheeren Literacy Center provides assessment and text materials required for effective literacy instruction. Students may access the digital catalog on the website and request materials for checkout.
Graduate Assistantships Available in the MEd in Literacy Program
A student who does not have a full-time teaching contract may serve as a literacy graduate assistant (GA) in a school district, upon successful acceptance into the MEd in Literacy program. The MEd in Literacy has most of the same courses as the Reading Specialist Certificate program and includes the certification.
Literacy GAs work as reading specialist "interns," providing literacy support to students and instructional support to teachers. Compensation is provided with tuition waivers and a living stipend.