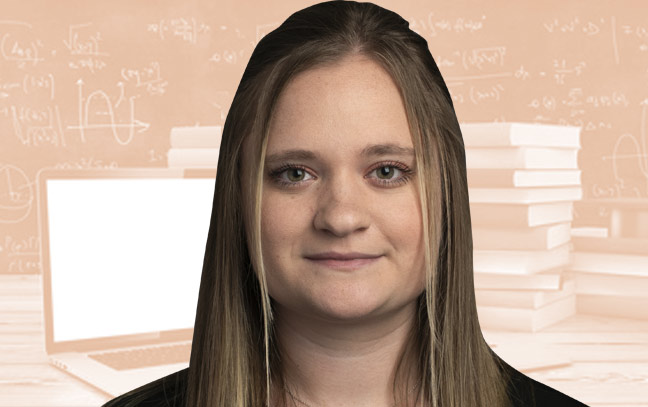 Find a Meaningful Career Focus in IUP's Education, Training, and Instructional Technology Program
You want your job to matter. You might be an educator, trainer, a corporate manager, an engineer, or even a medical professional—but you're wanting more meaningful career opportunities. You might enjoy becoming an instructional designer, technologist, or educator like other IUP graduates that have found purpose in the MA in Education, Training, and Instructional Technology program.
This degree also gives you the opportunity to work in various roles in human resources and training departments.
Why Earn an MA in Education, Training, and Instructional Technology at IUP?
At IUP, we understand life can be busy. That's why we give you options on how you can earn your degree:
Attend classes in person at the Indiana campus.
Attend classes at a distance using video conference technology.
Complete this program part-time or full-time.
The MA in Education, Training, and Instructional Technology program consists of 30 credits. You'll enjoy a high degree of interaction with your professors and fellow students as you learn:
The applications of current and emerging instructional technologies in education and training.
The best practices for training and adult education.
The theory and research in instructional design.
Your faculty will provide the mentorship and guidance necessary for you to develop your unique set of skills, so you reach your individual career goals.
What You'll Learn
Through your classes, you'll learn how to design education and training programs for a variety of settings and learners. Your courses will include setting goals and objectives, developing content, assessment, and evaluation plans. These classes will teach you to:
Critically reflect on the best digital theory and practice for education and training across a variety of contexts.
Design rich media applications for distance and face-to-face learning experiences.
Evaluate instructional and digital technologies for use in learning environments.
Use industry course authoring tools to create interactive training and education modules.
Create accessible and inclusive learning experiences.
Imagine Your Future
There are many jobs for training and development specialists. Since this degree can be used in a variety of industries, you have endless options for the type of environment where you can work. Graduates from this program work in corporations, the government, higher education, nonprofits, and K-12 education settings.
According to the Bureau of Labor Statistics, jobs for training and development specialists are projected to grow 8 percent from 2021 to 2031, which is faster than the average for all occupations. Median salaries for training professionals are listed below.
Career Opportunities for Training and Development
Instructional coordinator
Instructional designer
Instructional technologist
Training coordinator
Training and development specialist
Training and development manager
Related Occupations
Instructional media developer
Human resource manager
Human resource specialist
Classes and Requirements
Your classes will focus on hands-on training, teaching you how to apply educational theory in a variety of contexts. You'll also learn how to use available tools, resources, and education technology.
When you graduate, you'll know how to use different technologies including programs for developing interactive learning content.
Your classes will focus on essential qualities such as:
Collaboration
Project creation
Problem-solving
Skill building
To help you gain employment in the education and training field, you'll be required to complete a professional portfolio website. Your website will showcase the work you created in your classes. This helps prospective employers understand the depth of your skills.
You'll also be encouraged to complete an internship. An internship helps you develop practical experience and expand your working knowledge of industry processes. You can find an internship on your own, or apply for one of the internships available to students enrolled in this program.
Full Academic Catalog Listing
The course catalog is the official reference for all our degree and course offerings. Check it out for a full listing of the classes available and requirements for this degree.
Flexible Program Options
IUP gives you a variety of options so you can combine studying for your master's degree with your current lifestyle. Your classes are offered in the evenings to accommodate a full-time job. In addition, you can choose how you'll attend class:
Attend classes full or part-time
Complete the entire program remotely using synchronous video conference technology
Complete the program in-person on IUP's Indiana campus
IUP offers rolling admissions—start classes when you are ready—and you can take advantage of early enrollment. In addition, IUP's dual-degree option lets you combine your MA degree in Education, Training, and Instructional Technology with other graduate credentials.
Real World Experience
As a student enrolled in the MA in Education, Training and Instructional Technology program, you're invited to apply for a remote internship with the NeverTechLate program.
This program focuses on training older adults and promoting lifelong learning. The NeverTechLate program was developed by IUP alumna Florence Mauchant in partnership with the ETIT program and Associate Professor Jacqueline McGinty.
Previous NTL interns consistently report positive job outcomes because of the experience they had in this internship.
Graduate Assistant Positions, Work-Study, and Scholarships
There are several resources for you to earn an advanced degree without accumulating extensive student debt. You can apply for scholarships, work-study, and graduate assistant positions.
If you're accepted for a graduate assistant position, you can work with ETIT faculty on a variety of projects.
PDE Instructional Technology Endorsement
Are you a certified K-12 teacher in Pennsylvania?
You can expand your career opportunities by adding the Instructional Technology Specialist Endorsement. According to the Pennsylvania Department of Education, teachers who have the endorsement are qualified to advise on education technologies and to support staff and administration by integrating technology into the curriculum. 
K-12 teachers with initial certification can earn the endorsement as part of the Education, Training, and Instructional Technology graduate program. If you chose to complete the Instructional Technology pathway, you will complete your graduation portfolio to demonstrate mastery of the endorsement.