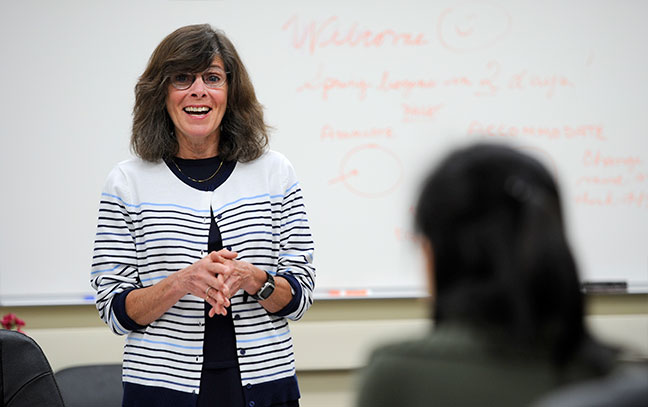 Advance Your Career with a Doctoral Program Designed for Your Workplace
You're ready to take your school administrative skills to the next level. IUP's Doctor of Education in Administration and Leadership Studies program is a three-year, part-time program that will get you there.
Our program's major objective is to educate quality leaders who can implement visionary programs in educational organizations. The program focuses on budgeting techniques, communication skills, team building, leadership theory, conflict resolution, research, and adult development.
A new cohort is generally admitted each summer.
The program is designed to accommodate the schedules of school administrators, college faculty, and college administrators. All classes meet five times per semester on Fridays from noon to the evening and on Saturdays throughout the day.
Imagine Your Future
Graduates will be able to:
implement leadership strategies at their place of work
develop and implement policies designed to improve the overall operation of their place of employment
analyze leadership characteristics of themselves and their fellow workers, and be able to help others develop leadership potential
develop plans and procedures for working with groups to solve specific problems
develop skills to initiate innovative changes designed to improve specific working conditions within their place of employment
resolve conflicts within an organization using conflict resolution techniques
use research methods such as surveys, interviews, data analysis, and questionnaire design to assist in solving on-the-job problems
analyze and diagnose on-the-job problems using skills learned in the administration and leadership courses
establish professional and personal relationships among peers and faculty to aid in your professional development throughout your career
Public school administrators (PK-12) will become eligible for the Superintendent's Letter of Eligibility upon successful completion of the coursework and internship, in addition to passing the School Superintendent current PDE-required Praxis Exam and meeting all PDE requirements, including experience requirements
Classes and Requirements
The Doctor of Education in Administration and Leadership Studies program offers a rich mixture of theory and application. You'll develop a spirit of camaraderie with your cohort as you develop leadership attributes through extensive reading, analysis of case studies, self-assessment profiles, and application of leadership skills in a field setting.
You'll be a member of a program that is small and highly selective—you'll learn with other top-quality candidates. We want to attract leaders into this program who can think critically, write well, and speak effectively. In addition, candidates for this program must be able to analyze complex problems, make rational decisions, and articulate their own personal philosophy.
We believe that leadership skills can be taught. We believe in creating an atmosphere of high expectations, requiring students to prepare for publication and organize professional leadership seminars. We believe that our program will empower you to become the best leader you can be and effect positive change within your organization.
Full Academic Catalog Listing
The course catalog is the official reference for all our degree and course offerings. Check it out for a full listing of the classes available and requirements for this degree.
Admissions
The following materials are required for admission:
All applicants must have a master's degree.
Neither the GRE or MAT is required.
Two letters of recommendation.
Application fee of $50.
Goal statement (approximately one to three pages in length).
Official undergraduate and graduate transcripts.
GPA of 3.0 or higher.
Participation in an interview.
Learn more about admissions requirements and our admissions FAQ.