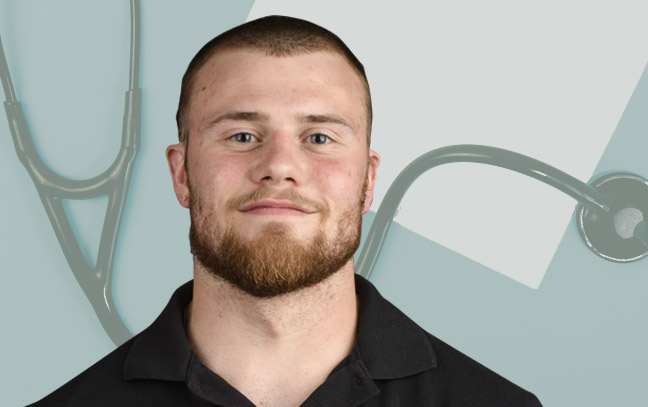 Become a PhD Nurse Educator or Nurse Researcher
You're ready to take the next step in your nursing career—influencing professional nursing practice through teaching and research. IUP's Nursing PhD degree program will get you there.
Your skills and passion are in high demand. With the shortage of nursing faculty across the country, your doctorate in nursing can prepare you to meet this critical need. You'll use your experience and knowledge to help determine the future of patient care.
IUP has been awarded a Nurse Faculty Loan Program grant that provides up to 85% loan forgiveness for master's and doctoral students who commit to work full-time for four years in nursing education.
Why Earn Your PhD in Nursing at IUP?
Skilled nursing faculty and researchers are in demand in Pennsylvania and around the country. You want to be fully prepared to fill these sought-after jobs. At IUP you'll immerse yourself in a doctorate in nursing program grounded in:
Cutting-edge research that advances nursing education.
Instructional practices in nursing education.
Faculty and nursing leadership development.
What You'll Learn
Along with learning how to be an effective leader in a variety of educational settings, you'll also gain valuable skills in how to conduct nursing education research that can make a difference beyond the classroom. Combined with your professional experience, you'll make your mark as a respected nurse educator and scholar.
Already Have a Doctor of Nursing Practice Degree?
Do you already have a doctor of nursing practice (DNP) degree but want to pursue a PhD also? IUP has a unique DNP to PhD program that puts prior work from your DNP program toward a shortened PhD curriculum.
Imagine Your Future
Do you see yourself leading classes of aspiring nurses? Colleges and universities in Pennsylvania and across the US are looking for nurse professionals like you who have a doctorate in nursing. You can choose whether to teach at a small college, a large research university, or anywhere in between. 
Maybe you're interested in working on research projects to advance knowledge within your discipline—to shape nursing instruction and potentially improve patient care outcomes. 
Or do you envision taking on a more administrative role, like being in charge of nurse development in a hospital setting. 
A combination of these roles may be the ideal way to tap into your goals and make the most of your talents. 
Armed with your PhD in Nursing from IUP, you'll create choices that will let you accomplish what you want.
Demand for Nurse Educators and Researchers
The 2022-23 Faculty Vacancy Report shows:
Classes and Requirements
Convenient online course delivery and flexible classes accommodate your work schedule. You can finish your coursework in as few as 11 semesters, including summer sessions—8 semesters for students in the DNP to PhD program.
When you graduate from IUP with your PhD in Nursing, you'll be able to:
Lead nursing students in diverse educational environments.
Blend knowledge and research from nursing and related fields to give students a more comprehensive learning experience.
Perform advanced nursing research that makes a difference in nursing education.
Full Academic Catalog Listing
The course catalog is the official reference for all our degree and course offerings. Check it out for a full listing of the classes available and requirements for this degree.
Nursing, DNP to PhD
Transition Your DNP to a PhD in Record Time
With the unique Doctor of Nursing Practice (DNP) to Doctor of Philosophy (PhD) program at IUP, students will easily combine the skills and education gained throughout their DNP program with the knowledge and teaching abilities provided by a PhD degree. As students progress through this accelerated PhD program, they will encounter a shortened curriculum offered in a convenient timeframe that accommodates their professional schedule and academic needs.
Students enrolled in the program will gain knowledge in everything from curriculum evaluation in nursing to conducting various kinds of research necessary for teaching in the university-level nursing classroom. With PhD-level nursing faculty in high demand nationwide, the DNP to PhD program at IUP prepares you for a career as a professor of nursing in various academic settings, including colleges and universities. It is perfect for nurses who already have a DNP and who wish to obtain tenure-track faculty positions within a university setting.
What the DNP to PhD Program at IUP Can Offer You:
Complete your PhD in half the time. As 27 credits from a DNP degree transfer to this innovative PhD, coursework is completed in a highly accelerated format, requiring only 33 semester hours of graduate credits to complete the DNP to PhD degree as opposed to the 60 hours required by the traditional nursing PhD.

Students will build a supportive professional and academic network with other students in a cohort, progressing throughout the coursework as a group.
Application Requirements
Submit the following items to the IUP Admissions Office for admission consideration:
Complete the application form online, or request a hard copy by emailing

 

graduate-admissions@iup.edu.
Nonrefundable $50 application fee.
Two letters of recommendation.
Signed and dated statement of career and academic goals: Identify your professional goals and research area of interest, a summation of your achievements within the field of practice, and a summary of your research abilities.
Official transcripts from all colleges and universities attended, including those institutions from which a degree was not earned.
Nursing license.
Current curriculum vitae.
Completed applications are forwarded by the Admission Office to the Department of Nursing and Allied Health Professions for review. Selected applicants are invited by the Department for an interview. Applications are accepted on a rolling admission basis.
Full Academic Catalog Listing
The course catalog is the official reference for all our degree and course offerings. Check it out for a full listing of the classes available and requirements for this degree.
Nurse Faculty Loan Program
IUP has been awarded a Nurse Faculty Loan Program grant by the Health Resources and Services Administration. The NFLP grant provides up to 85 percent of program funding to students who make a four-year commitment to serve as a full-time nursing educator at any accredited school of nursing or as a clinical educator at an accredited health facility. The program is not dependent on the student's financial status. Eligibility requirements include at least a 3.0 grade point average and at least part-time student status.
Please reach out to the program coordinator with questions about the grant.