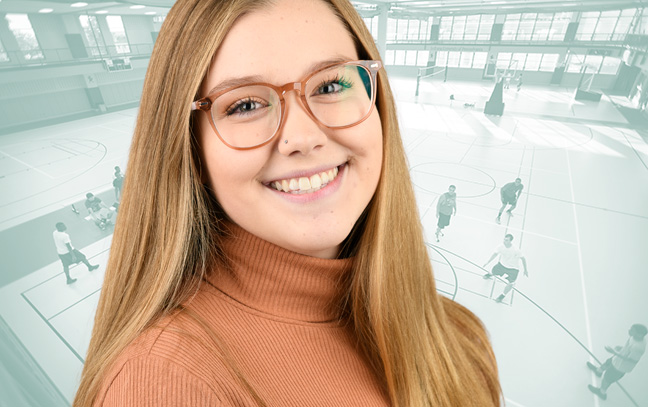 Pursue a Path as an Exceptional Health and Fitness Professional
If you love fitness and have a passion for helping others improve their health and athletic performance, IUP's Bachelor of Science in Kinesiology, Health, and Sport Science/Exercise Science is the degree that will prepare you for a fulfilling career in this field.
Prepare to be a Force for Change
Achieving and maintaining good health and well-being through exercise has become a priority for active and health-conscious people. Our BS in Exercise Science prepares you for working in this job market— one of the fastest growing in the country.
As a student, you'll develop the skills and knowledge to:
Pursue advanced degrees and certifications in health and fitness organizations, including certifications from The American College of Sports Medicine (ACSM) and the National Strength and Conditioning Association (NSCA).
Qualify for a variety of entry-level career opportunities in the health, fitness, and sports industries.
Work in settings that focus on exercise, fitness, health, and cardiac and pulmonary rehabilitation.
Imagine Your Future
IUP's BS in Kinesiology, Health, and Sport Science/Exercise Science program is the first step toward building career options in personal training, strength conditioning and coaching, corporate and community fitness, wellness coaching, and cardiac rehabilitation. After you graduate, you may also choose to continue your education and professional possibilities through postgraduate programs in physical and occupational therapy, chiropractic medicine, physician assistant and doctoral degrees, and other allied health profession study.
The demand for exercise science practitioners has been increasing, and the job prospects for professionals in the field are promising. The US Bureau of Labor Statistics projects that the need for fitness trainers, exercise physiologists, coaches, and other exercise science professionals will grow from 13 percent to 39 percent between 2020 and 2030—rates much higher than average for other professions.
Industries Looking for You
Exercise science professionals find challenging and fulfilling positions in a variety of settings:
Cardiac rehabilitation clinics
Collegiate and professional sports teams
Fitness facilities
Hospitals
Physical therapy facilities
Wellness centers
Similar Occupations
With a BS in Exercise Science from IUP, you'll be ready for professional jobs, including those in the following areas. You'll also be prepared for additional training and education in physical therapy, occupational therapy, and physician assistant graduate programs.
Cardiac/pulmonary rehabilitation
Community health
Exercise physiology
Health coaching
Personal training
Recreation and leisure supervision
Sports and athletic conditioning
Health promotion
Classes and Requirements
As a student in the BS in Exercise Science program, you'll take coursework in some of the following areas:
Aging
Anatomy and physiology
Exercise physiology
Exercise prescription
Health and fitness assessment
You will also take various courses related to group exercise training and strength and conditioning.
See the program's accreditation information from CAAHEP and CoAES.
Enhance Your Education with an Exercise Science Minor
If you have an interest in fitness and want a more specialized education and better career options, add to your major area of study at IUP with an Exercise Science Minor. At graduation, you'll have the knowledge and skills to perform basic fitness tests and conduct individual and small group exercise training. You'll also be qualified to take a variety of national certification exams at the personal trainer level.
Prior to applying for an Exercise Science Minor, students must successfully complete KHSS 221 or BIOL 150 with at least a "C" letter grade and have a minimum 2.5 overall GPA.
Full Academic Catalog Listing
The course catalog is the official reference for all our degree and course offerings. Check it out for a full listing of the classes available and requirements for this degree.
Clubs and Activities
Health and physical education/K-12 Teacher Education majors can engage in activities outside of the classroom, deepening their commitment to an area of expertise.
The Sport Management Club sponsors various events that help students improve their skills and understanding of the field.
The Exercise Science Club gathers students engaged in this track to support their studies and help them learn about professional trends.
The Health, Physical Education, and Sports Majors Club helps majors with their studies by inviting professionals to speak.
Health and Physical Education Living-Learning Community
The Health and Physical Education Living-Learning Community is ideal for students who live on campus. By sharing the Suites on Maple East with fellow health and physical education majors, you can form friendships and easily collaborate on projects.
Here is where you can keep yourself fit. Enjoy the personal and clean atmosphere, work with accommodating staff, and experience the biomechanically-correct equipment.