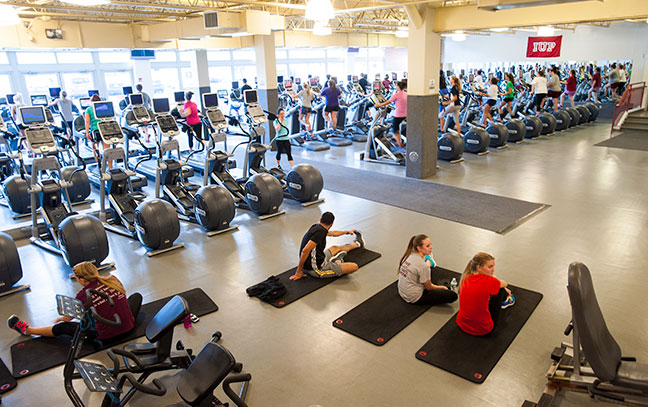 Help People Feel and Be Their Best through Exercise Science
If you're ready to grow professionally as a leader in health, wellness, and human performance, the MS in Sport Science/Exercise Science program can help you reach that goal.
With this advanced degree from IUP, you'll be well-prepared for a variety of positions in allied health, fitness, sport, and clinical settings, or for a career in research to expand what we know about exercise and its importance for every individual.
Virtual Information Session
Tuesday, June 27, 2023
6:00 PM - 7:00 PM Eastern Standard Time
Status: Space Available
Location: Online
Build a Stronger Body of Knowledge or Pursue Hands-on Roles
IUP's MS in Sport Science/Exercise Science program is versatile, with two options to choose from as you plan your career path:
A thesis option that offers experience in the design and implementation of research in the field of exercise science.
A non-thesis option that includes hands-on learning through internships at hospitals, wellness centers, and corporate and community-based fitness facilities.
When you complete the program, you'll be prepared to pursue the certifications from organizations including:
American College of Sports Medicine (ACSM)
National Strength and Conditioning Association (NSCA)
National Academy of Sports Medicine (NASM)
Imagine Your Future
As a graduate of the MS in Sport Science/Exercise Science program, you'll have a competitive advantage that sets you apart as you build your career.
Some graduates focus on opportunities to design and conduct research, and build rewarding careers advancing the body of knowledge for exercise science.
Other graduates pursue hands-on roles helping individuals achieve health and fitness goals in a variety of settings, including:
Cardiac rehabilitation
Chiropractic medicine
Community health
Corporate health and wellness
Health coaching
Occupational therapy
Personal training
Physical therapy
Private fitness business ownership
Strength and conditioning coaching
Wellness
As a graduate of the MS in Sport Science/Exercise Science program, you will be well-prepared to pursue a doctoral degree if you want to continue formal education in this field.
Industries Looking for You
Graduates of the MS in Sport Science/Exercise Science program are prepared to pursue job opportunities in a wide range of settings, including:
Colleges and universities
Government agencies
Hospitals
Industry
Personal training facilities
Wellness centers
Similar Occupations
Chiropractor
College professor
Occupational therapist
Personal trainer
Physical therapist
Strength and conditioning coach
Classes and Requirements
he Master of Science degree in Sport Science is designed to meet the needs of students from nonteaching professions, as well as from the teaching profession. The program is discipline specific with provision for students to choose from among different academic tracks: Sport Management, Exercise Science, and Sport Studies.
According to their selected program of study, students are prepared for a variety of competitive employment opportunities, including management and administration of sport and athletic programs, corporate and community health and fitness facilities, hospital and medical-based exercise programs, and recreational programs in school and community settings.
Full Academic Catalog Listing
The course catalog is the official reference for all our degree and course offerings. Check it out for a full listing of the classes available and requirements for this degree.