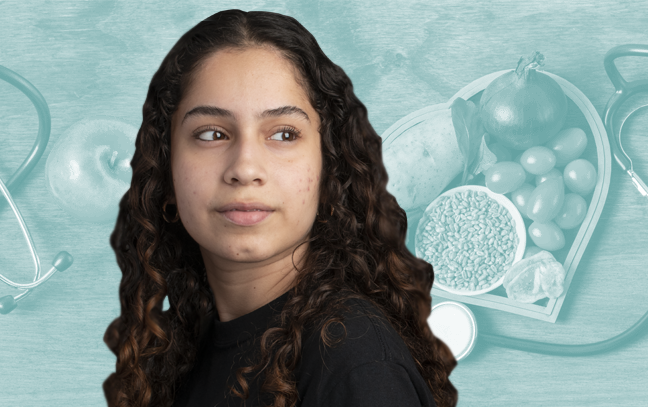 Become a Dietitian and Promote Good Health through Food
If you feel like your mission in life is to inspire others to see food and nutrition as a building block for better health—being a dietitian may just be your passion. The Bachelor of Science in Nutrition/Dietetics program at IUP prepares you to lead individuals, groups, and organizations to use food as a way to promote health and prevent disease.
You'll get to choose one of two concentrations from the BS in Dietetics program:
Culinary Dietetics
Food and Health Promotion
After graduating with your BS in Dietetics you'll be eligible to apply to a Dietetic Supervised Practice Program at the Masters level. Or you'll be able to apply to take the NDTR exam or apply for a position in the field in:
The food industry
Food administration
Research
WIC - nutritionist
Why Earn Your Nutrition and Dietetics Degree at IUP?
As a dietetics student, you'll be well prepared for a variety of fast-growing careers that help address our collective health concerns.
Enrich your studies by adding a minor, another degree, or overseas study.
Join organizations like the Student Association of Nutrition and Dietetics (SAND) so you and other students in the program can learn with and support each other.
Learn from distinguished faculty who will guide you throughout your four-year program.
Volunteer with local organizations and events. These off-campus experiences allow you to put what you're learning into practice while you expand your professional network.
What You'll Learn as a Nutrition/Dietetics Major
Because learning doesn't happen only in class, you'll learn through hands-on instruction that combines the best classroom technologies with community activities. You'll have opportunities to share your passion for food and nutrition with the local community and with specific groups like athletes, children, community leaders, and other health professionals.
You'll build a strong foundation for your future career through a balanced blend of courses in:
Clinical
Community nutrition
Cultural food
Food experimentation
Food preparation
Food service management
Imagine Your Future
As a nutrition and dietetics professional, you'll enter a field that impacts everyone, everywhere. Across the nation, there's growing interest in healthier lifestyles and understanding how food choices play a role in our health.
You'll be able to help by offering guidance on how our eating habits affect us, and how people can make healthy choices.
As a graduate of IUP's program, you'll have a wide range of opportunities to share your expertise and passion for food and nutrition as a pathway to health. Areas of interest include:
Clinical nutrition
Community nutrition
Food service management
Integrative and functional nutrition
Nutrition education
Policy-making
Research
Sustainable food practices
Classes and Requirements
Food and nutrition is a very broad area of study. As a student in nutrition/dietetics program, you'll get a very well-rounded education. Some of the wide-ranging topics you'll learn are:
Careers in food and nutrition
Experimental foods
Food and culture
Hospitality purchasing
Human resource management
Integrative and functional nutrition
Nutrition and disease
Nutrition counseling
Sustainability in food and nutrition
Completing the nutrition/dietetics program prepares you to apply for a dietetics-supervised practice that is accredited by the Accreditation Council for Education in Nutrition and Dietetics (ACEND). This is an accredited supervised practice on your way to becoming a registered dietitian. 
If you successfully complete the BS in Food and Nutrition, you'll earn your ACEND-accredited Didactic Program in Dietetics verification statement. With this verification statement, you are eligible to sit for the Nutrition and Dietetics Technician Registered exam. 
Full Academic Catalog Listing
The course catalog is the official reference for all our degree and course offerings. Check it out for a full listing of the classes available and requirements for this degree.
Accreditation Council for Education in Nutrition and Dietetics
ACEND serves the public by establishing and enforcing eligibility requirements and accreditation standards that ensure the quality and continued improvement of nutrition and dietetics programs. The Indiana University of Pennsylvania DPD program has been granted accreditation by the Accreditation Council for Education in Nutrition and Dietetics (ACEND) of the Academy of Nutrition and Dietetics until June 30, 2029.