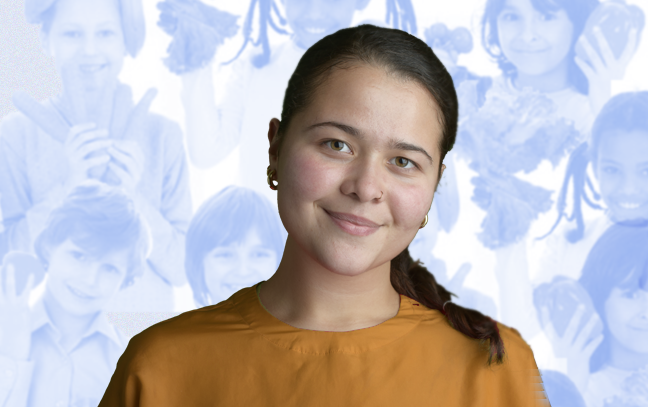 Prepare to Become a Registered Dietitian-Nutritionist with a Master's Degree
There's so much to explore and do in the expanding field of nutrition and dietetics—and so much to accomplish when it comes to promoting nutritional health.
Invest in your passion for nutrition and helping others by becoming a registered dietitian-nutritionist through IUP's 24-month Dietitian-Nutritionist Program (DNP). If you have a bachelor's degree and meet the prerequisites below, you're ready to take this next step. When you complete this program you'll earn your MS in Food and Nutrition. Not only that, you'll qualify to sit for the national examination for registered dietitian-nutritionists. 
The DNP is accredited to admit 18 students across two tracks. You can be considered for both through the application process:
The In-residence Track is ideal only if you live within driving distance to IUP's main campus, which is 60 miles east of Pittsburgh. The DNP director arranges your field placements.
If you don't live near our main campus, the Distance Track is for you. You can live anywhere in the US (except California which doesn't participate in the National Council for State Authorization Reciprocity Agreements (NC-SARA)). We encourage you to be well-networked before applying as field placement agreements must be in place as part of your application process.
What You'll Learn
Professional worksite experiences—supervised by experienced nutrition, healthcare, or other field professionals—are a key part of your master's degree program, allowing you to put your nutrition and dietetics studies to practical use.
The DNP develops your skills in popular sectors including clinical care, community nutrition, and food service.
You'll be introduced to many populations, disease states, and conditions.
You'll take most of your courses online, though you'll have to make two or three scheduled trips to campus as part of the program's simulation experiences and mentorship program.
You'll get to interact with faculty and peers online as well, in both synchronous and asynchronous formats.
Imagine Your Future
The opportunities available to you in nutrition and dietetics are truly endless. IUP's Master of Science in Food and Nutrition can open doors for you in a variety of job roles. Curious? Here are just a few to consider: 
Academia – Community colleges and four-year universities need food- and nutrition-focused professionals for both the classroom and the campus administration.
Clinical nutrition – Practice medical nutrition therapy and nutrition care in acute and long-term care settings.
Community nutrition — Provide nutrition counseling, nutrition education programs, outpatient nutrition services, and guidance for those in federal nutrition assistance programs.
Corporate wellness – Oversee wellness programs that inspire employees to start or maintain healthier lifestyles.
Food service management – Manage everything from volume food production to food safety to evaluation.
Public health – Promote healthier populations and communities through advocacy, education, and public nutrition programs.
Research – Use the knowledge and research skills you acquire during your graduate program as a foundation for a research career or to pursue further education at the doctoral level.
Annual Median Salary Ranges of Registered Dietitian Nutritionists in Various Positions
Classes and Requirements
Professional worksite experiences, supervised by experienced nutrition, healthcare, and other professionals, are a critical part of your master's degree program, allowing you to put your nutrition and dietetics studies to practical use. While fieldwork consists of most practice hours, a total of 191 hours is divided across the coursework, to provide students with deeper knowledge and skills through simulation, case study work, activities, evidence-based practice discussions, and more.
Community Nutrition
This 320-hour practicum consists of:
Education programs work: Create wide-ranging nutrition-based education materials for everyone of all ages, from lessons to displays to multi-platform videos.
Federally funded community nutrition programs: Build on your counseling, verbal communication and instructional skills as you provide nutrition guidance for select program audiences.
Nutrition counseling: Working with individuals and small groups, you'll interact directly with a variety of people on their wellness, perinatal care, weight management, and disordered eating.
Clinical (Acute Care and Long-Term Care)
In these long-term care (96 hours) and acute care (224 hours) practicum courses, you'll practice medical nutrition therapy and all aspects of the nutrition care process. You'll get to work alongside generalist and specialized dietetic professionals.
Food Service
Put your skills into action in this 192-hour practicum. Focus is on quantity food production, human resource management, application of Hazard Analysis and Critical Control Point (HACCP) plans, food safety and sanitation, budgeting, quality assurance, and evaluation.
Continuing Education Opportunities
Grow both your knowledge base and your professional network by attending group events such as professional meetings, seminars, and webinars.
Advanced Practice
Students get the opportunity to dive deeper into an area of interest through the advanced practice fieldwork rotation for 140 hours.
Supervised Experiential Learning Opportunities
Apply what you're learning to the real world. You'll receive 1,163 hours (about 8.5 months) of supervised experiential learning throughout the 24-month curriculum using a combination of professional worksites and authentic learning activities. The experiential learning opportunities cover four main areas:
Acute care (clinical)
Community nutrition
Food service
Long-term care (clinical)
Graduation Requirements
The purpose of the MS in Food and Nutrition/Dietitian-Nutritionist Program (DNP) is to educate students to achieve a successful career in the field of dietetics and nutrition. The program director, faculty, and site preceptors work with each student to ensure successful completion of the program. Nevertheless, it is the full responsibility of each student to satisfactorily complete the program, as described on this website. Successful completion of the program ensures that students will receive a Verification Statement, which is required to take the national registration exam.
For a full description of policies and procedures, review the Dietitian-Nutritionist Program Handbook.