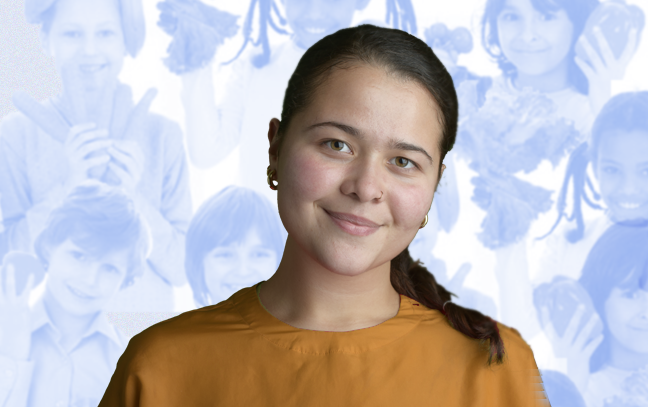 Prepare to Become a Registered Dietitian-Nutritionist with a Master's Degree
There's so much to explore and do in the expanding field of nutrition and dietetics—and so much to accomplish when it comes to promoting nutritional health.
Virtual Information Session
Wednesday, January 24, 2024
7:00 p.m. Eastern Standard Time
Status: Space available
Location: Online
Invest in your passion for nutrition and helping others by becoming a registered dietitian-nutritionist through IUP's 24-month Dietitian-Nutritionist Program (DNP). If you have a bachelor's degree and meet the prerequisites below, you're ready to take this next step. When you complete this program you'll earn your MS in Food and Nutrition. Not only that, you'll qualify to sit for the national examination for registered dietitian-nutritionists. 
The DNP is accredited to admit 18 students across two tracks. You can be considered for both through the application process:
The In-residence Track is ideal only if you live within driving distance to IUP's main campus, which is 60 miles east of Pittsburgh. The DNP director arranges your field placements.
If you don't live near our main campus, the Distance Track is for you. You can live anywhere in the US (except California which doesn't participate in the National Council for State Authorization Reciprocity Agreements (NC-SARA)). We encourage you to be well-networked before applying as field placement agreements must be in place as part of your application process.
What You'll Learn
Professional worksite experiences—supervised by experienced nutrition, healthcare, or other field professionals—are a key part of your master's degree program, allowing you to put your nutrition and dietetics studies to practical use.
The DNP develops your skills in popular sectors including clinical care, community nutrition, and food service.
You'll be introduced to many populations, disease states, and conditions.
You'll take most of your courses online, though you'll have to make two or three scheduled trips to campus as part of the program's simulation experiences and mentorship program.
You'll get to interact with faculty and peers online as well, in both synchronous and asynchronous formats.
Imagine Your Future
The opportunities available to you in nutrition and dietetics are truly endless. IUP's Master of Science in Food and Nutrition can open doors for you in a variety of job roles. Curious? Here are just a few to consider: 
Academia – Community colleges and four-year universities need food- and nutrition-focused professionals for both the classroom and the campus administration.
Clinical nutrition – Practice medical nutrition therapy and nutrition care in acute and long-term care settings.
Community nutrition — Provide nutrition counseling, nutrition education programs, outpatient nutrition services, and guidance for those in federal nutrition assistance programs.
Corporate wellness – Oversee wellness programs that inspire employees to start or maintain healthier lifestyles.
Food service management – Manage everything from volume food production to food safety to evaluation.
Public health – Promote healthier populations and communities through advocacy, education, and public nutrition programs.
Research – Use the knowledge and research skills you acquire during your graduate program as a foundation for a research career or to pursue further education at the doctoral level.
Annual Median Salary Ranges of Registered Dietitian Nutritionists in Various Positions
Classes and Requirements
Professional worksite experiences, supervised by experienced nutrition, healthcare, and other professionals, are a critical part of your master's degree program, allowing you to put your nutrition and dietetics studies to practical use. While fieldwork consists of most practice hours (below), a total of 191 hours is divided across the coursework to provide students with deeper knowledge and skills through simulation, case study work, activities, evidence-based practice discussions, and more.
Learn more about Supervised Experiential Learning Opportunities.
Apply what you're learning to the real world. You'll receive 1,163 hours (about 8.5 months) of supervised experiential learning throughout the 24-month curriculum using a combination of professional worksites and authentic learning activities. The experiential learning opportunities cover four main areas: Acute care (clinical), long-term care (clinical), community nutrition, and food service.
Clinical (Acute Care and Long-term Care)
Two practicum courses, Clinical 1 and Clinical 2, focus on the areas of long-term care (96 hours) and acute care (224 hours) for a total of 320 clinical hours at professional worksites. In the clinical practica, students practice medical nutrition therapy and all aspects of the nutrition care process, under the supervision of registered dietitians. Students quickly progress from performing the responsibilities of support staff to working side-by-side with generalist and specialized dietetic professionals. Students perform staff relief at the end of the acute care portion of the rotation.
In addition to applying medical nutrition therapy principles, students perform a quality management project and collect information for a case study presentation. In long-term care, students complete the standardized assessment for long-term care residents (MDS), represent residents at team care planning meetings, and work with speech pathologists.
Community Nutrition
This 320-hour professional worksite experience is a combination of nutrition counseling, federally funded community nutrition programs, and education programs work.
Nutrition Counseling
Individual and small group nutrition counseling practice focuses on clients in the areas of wellness, perinatal care, weight management, and disordered eating. Thus, students participate in the continuing care of diverse clientele.
Federally Funded Community Nutrition Programs
Students are involved in the Special Supplemental Nutrition Program for Women, Infants, and Children as well as the USDA PowerUp nutrition education program. Continuing to build on counseling-related skills, students also incorporate instructional design that includes active learning strategies. Lesson presentations and subsequent evaluations will be observed and practiced. Emphasis is on enhancing oral communication skills while incorporating current instructional technology to provide food and nutrition education for a variety of target audiences.
Education Programs Work
Students develop and implement lessons for adults and children of various ages, design nutrition education displays, and develop nutrition-based videos for use on multiple media platforms.
Food Service
In the second summer, students engage in the food service practicum, which includes 192 hours in a food-service management professional worksite setting. Students are supervised by experienced food-service managers and apply knowledge to all aspects of quantity food production, human resource management, application of HAACP plans, food safety and sanitation, budgeting, quality assurance, and evaluation.
Continuing Education Opportunities
In addition to completing supervised practice hours (rotations), continuing education contributes to updating and expanding your professional knowledge base as well as expanding your network. These group events allow students to gain hours. Students will attend the following:
Scheduled meetings and transition days
Western Pennsylvania Dietetic Education Study Group Seminars
Pittsburgh Academy of Nutrition and Dietetics
Pennsylvania Academy of Nutrition and Dietetics
Webinars, readings, and other opportunities are announced
Attendance at one or more professional meetings and/or seminars for a total of 15 hours may be required depending on availability and time of year.
All supervised experiential learning hours must be met, along with all required didactic coursework, to complete the MS in Food and Nutrition-DNP and receive a verification statement.
Application Fee: $50
IUP Graduate Tuition and Fees
IUP dietetic students will receive a bill from the IUP Student Billing Office each semester for tuition and fees associated with being enrolled as a graduate student. This bill can be paid through the student's MyIUP account using EasyPay.
Payments can be made by electronic check or with the following credit cards: MasterCard, American Express, or Discover. Please note there is a 2.75 percent convenience fee assessed to all credit card payments. Electronic payments require a bank routing number and account number. Payments can be made from a personal checking or savings account. You cannot use corporate checks, credit cards, home equity, traveler's checks, etc.
All payments are due on the date set. A $10 per business day late fee will assessed if deadlines are
not met.
Estimate your cost to attend IUP, including tuition, fees, and room and board
For financial aid purposes, a full-time graduate student is defined as any student taking nine or more credits per semester (fall and spring). Regardless of semester (fall, spring, summer), all graduate students are charged per credit. This program follows the distance education tuition and fee rates.
For International Students Only
Orientation Fee: $125 one-time fee
Evacuation and Repatriation Fee:
This fee must be paid by all international students.

$45 fall
$60 spring/summer

Immigration Fee: $75 each semester
Following the September 11, 2001, tragedies and the implementation of the US Patriot Act, international offices across the USA are required to provide more detailed and frequent immigration information related to all international students, visitors, and their dependents. A $50 fee will be assessed each academic semester to all registered international students. Funds generated will be used to support personnel and operating costs associated with these reporting requirements. This fee is not refundable.
Additional Expenses
In addition to tuition and expenses, students are responsible for funding additional program expenses such as uniforms, program-required CastleBranch and associated requirements (e.g., immunizations, required clearances, drug screens), memberships, travel, vehicle maintenance and insurance, health insurance, and general living expenses. The full list of additional anticipated program expenses can be obtained by contacting jseybold@iup.edu and is shared with each cohort in the first week of the program's start.
Dietitian-Nutritionist Program Schedule
Semester
Course
Course Title
Hours in Professional Work Setting
Hours in Alternate Experiences
Sum 1
FDNT 564
Food and Nutrition Research Methods
 
5 hours
FDNT 771
Nutrition in the Life Cycle
 
10 hours
FDNT 651
Professional Dietetic Practice
 
5 hours
FDNT 653
Leadership for Nutrition Professionals
 
5 hours
Fall 1
FDNT 522
Public Health Nutrition and Epidemiology
 
10 hours
FDNT 515
Sustainable Nutrition
 
10 hours
FDNT 631
Eating Behaviors and Food Habits
 
10 hours
FDNT 636
Nutrition Intervention and Education
 
10 hours
Spring 1
FDNT 625
Community Nutrition and Policy
 
10 hours
FDNT 637
Nutrition Intervention and Counseling
 
10 hours
FDNT 770
Clinical Nutrition Assessment
 
10 hours
FDNT 696: Community
Community Nutrition Practicum
320 Total Hours breakdown:
WIC 96 hours
Power Up 96 hours
Nutrition Counseling 96 hours
 Special Projects 32 hours
 
Sum 2
FDNT 696: Foodservice
Foodservice Practicum
Food service: 192 hours (site examples include summer feeding programs. acute care, long-term care)
 
FDNT 612
FDNT 612
Administration of Foodservice Systems
10 hours
 
Fall 2
FDNT 645
Proteins, Carb, and Fats
 
5 hours
FDNT 772
Clinical Nutrition Therapy I
     
10 hours
FDNT 571
Integrative Nutrition in Complementary and Alternative Healthcare
 
5 hours
FDNT 696: Clinical 1
Clinical Practicum 1:
Long-term care
Clinical: 96 hours (site examples include long-term care, transitional care) Advanced Practice: 140 hours (potential focus areas include nutrition education, nutrition counseling, integrative nutrition, sports nutrition, research)
     
Spring 2
FDNT 649
Vitamins, Minerals, Water
 
5 hours
FDNT 696: Clinical 2
Clinical Practicum 2
Acute Care: 224 hours (site examples include acute care hospitals)
 
FDNT 773
Clinical Nutrition Therapy II
 
10 hours
TOTAL per hours type
972 hours
140 hours
TOTAL HOURS = 1,112
Break schedules follow IUP's academic calendar.
Information for Preceptors
Are you a current professional working in the food and nutrition field? Interested in giving back to the profession through mentoring dietetic students?
How to Become a Preceptor
Refer to the Dietetics Preceptor Training through the Online Training Campus offered by the Commission on Dietetic Registration.
How to Count Precepting Hours as Continuing Professional Education
From the Commission on Dietetic Registration
In 2017, the CDR began recognizing hours spent working with dietetic students as continuing professional education units (CPEU). The table below is a breakdown of hours equivalent to CPEUs.
Breakdown of Hours Equivalent to CPEUs

| Hours Spent Precepting (per year) | CPEUs |
| --- | --- |
| 1-25 contact hours | 1 |
| 26-50 contact hours | 2 |
| 51+ contact hours | 3 |
For more information, as well as forms related to counting precepting hours, see CDR's preceptor web page.
IUP's DNP provides each preceptor a yearly letter for their service to validate their time spent with students.
Preceptor Training
Working with students is rewarding and exciting. To best prepare, or refresh, the Commission on Dietetic Registration developed a free 8-CPEU online preceptor training program. The IUP DNP encourages all preceptors to complete this course in preparation for working with students. For more information about the course and how to complete it, visit CDR's Online Training Campus and click Dietetics Preceptor Training Program.
Nutrition and Dietetics Educators and Preceptor Group, Academy of Nutrition and Dietetics
Interested in connecting with other preceptors, as well as dietetic program educators? Join the Nutrition and Dietetics Educators and Preceptors Group through the Academy of Nutrition and Dietetics. Become a voice guiding the future of nutrition education and supervised practice.
IUP Department of Food and Nutrition Advisory Board
Share your expertise and perspective by serving on the Advisory Board of the Department of Food and Nutrition. Meetings are held annually, focusing on current education practices and changes in our profession. Help guide nutrition curriculum and experiences by sharing your professional insight on trending practices. For more information, connect with us at food-nutrition@iup.edu.
Admission Requirements and How To Apply
The IUP MS in Food and Nutrition, Dietitian-Nutritionist Program is open to prospective students meeting the Selection Criteria.
Application Submission Period: To be considered for the next cohort, all students must submit their application to the IUP School of Graduate Studies and Research for the MS in Food and Nutrition, Dietitian-Nutritionist Program between January 2 through March 1 of each year. 
During the application submission period, applicant interviews take place on a rolling basis and end by March 15 of each year. 
All applicants are notified of admission decisions between March 16 and April 15 of each year. 
Graduation Requirements
The purpose of the MS in Food and Nutrition/Dietitian-Nutritionist Program (DNP) is to educate students to achieve a successful career in the field of dietetics and nutrition. The program director, faculty, and site preceptors work with each student to ensure successful completion of the program. Nevertheless, it is the full responsibility of each student to satisfactorily complete the program, as described on this website. Successful completion of the program ensures that students will receive a Verification Statement, which is required to take the national registration exam.
For a full description of policies and procedures, review the Dietitian-Nutritionist Program Handbook.
For prospective and new students interested in an assessment of prior experience to potentially waive field hours, please review the Dietitian-Nutritionist Program handbook for that process.